About Me
New To the Group
Hi Im Cassandra.Im married to a wonderful man who mean the world to me. We have 2 Handsome sons whom I love with all my Heart My husband and I been married For over a year now. And still in Love. & just recently found out xmas Day im expecting another bundle of joy. Due Sept 6th.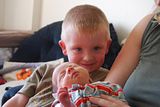 twiggie
I have 83 kids and live in Ireland
August 2

34 weeks ha ha i know i cant believe it!!! your lil ba is sooo cute, cant wait to have mine!!
Mama C~
I have 10 kids and live in CHERRY POINT, North Carolina
April 26

Congrats on your baby boy hun. I cant believe how fast that went. He is a cutie.:)