HAYDEN,AUSTIN AND RYAN'S
507 Posts | Joined BG: Aug 16, 2008
Last Visit: 6 years ago
Age

31



Gender

Female



Status

Married



Work

STAY AT HOME MOMMY



Location

Texas



I AM THE 24 YEAR OLD MOMMY OF 2 WONDERFUL BOYS AGES4 YRS OLD(HAYDEN) AND2 YRS OLD(AUSTIN). WE WERE EXPECTING OUR THIRD IN OCT 2009,A LITTLE GIRL!!OUR NEWEST ADDITION,RYAN LUCAS,WAS BORN ON SEPT 29,2009 AND WE GOT A HUGE SHOCK "SHE" WAS ACTUALLY A HE!!! ALTHOUGH WE WERE SURPRISED WE WOULDN'T CHANGE IT FOR THE WORLD! HE FITS OUR FAMILY PERFECTLY AND NOW I COULDN''T IMAGINE HAVING A LITTLE GIRL IN OUR FAMILY...OUR FAMILY IS NOW COMPLETE!! WE HAVE BEEN THROUGH ALOT THIS PREGNANCY...WE FEEL THAT HE IS MEANT TO BE....OUR OWN PERSONAL ANGEL!I HAVE BEEN MARRIED FOR A LITTLE OVER 4 YEARS TO A WONDERFUL MAN!!!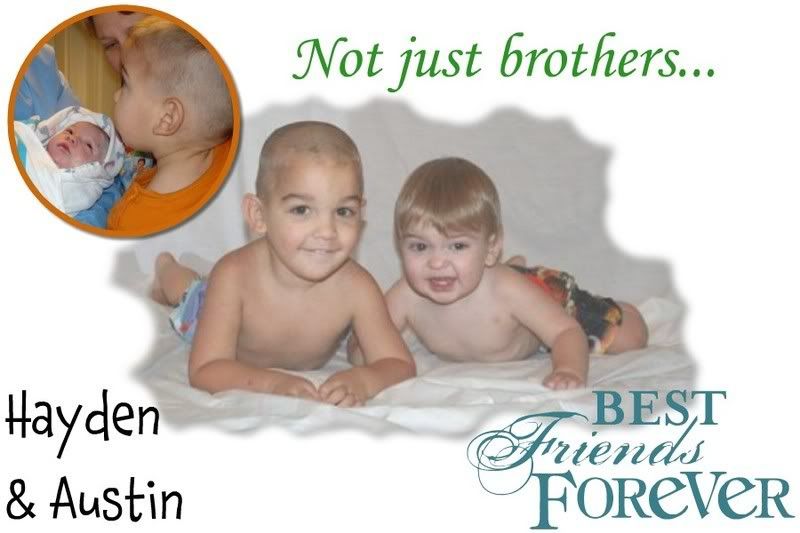 PREGNANCY # 3
2/13/09
- GOT OUR BFP AFTER 9 MONTHS
2/15/09
- FOUND OUT FRUIT FLAVORED TUMS MAKES ME SICK! LOL
2/16/09-
OFFICIALLY DECIDED ON NAMES FOR THE BABY. RYAN LUCAS FOR A BOY AND RYANN PAIGE FOR A GIRL!
2/27/09
- FIRST PRENATAL DOCTOR'S APPT.
3/10/09-
SECOND PRENATAL VISIT. BLOOD WORK ALL CAME BACK FINE.
3/27/09-
THIRD PRENATAL VISIT-WILL SCHEDULE FIRST ULTRASOUND AT VISIT
4/7/09-
FIRST ULTRASOUND!! WILL BE 11 WEEKS 3 DAYS
4/17/09-
FOURTH PRENATAL VISIT
5/28/09-
IT'S A GIRL!!!!! CAN'T WAIT TO MEET MISSRYANN PAIGE
9/29/09-
WE GOT A HUGE SURPRISE WHEN RYAN LUCAS WAS BORN!!! SHE WAS ACTUALLY A HE