About Me
I AM THE 24 YEAR OLD MOMMY OF 2 WONDERFUL BOYS AGES4 YRS OLD(HAYDEN) AND2 YRS OLD(AUSTIN). WE WERE EXPECTING OUR THIRD IN OCT 2009,A LITTLE GIRL!!OUR NEWEST ADDITION,RYAN LUCAS,WAS BORN ON SEPT 29,2009 AND WE GOT A HUGE SHOCK "SHE" WAS ACTUALLY A HE!!! ALTHOUGH WE WERE SURPRISED WE WOULDN'T CHANGE IT FOR THE WORLD! HE FITS OUR FAMILY PERFECTLY AND NOW I COULDN''T IMAGINE HAVING A LITTLE GIRL IN OUR FAMILY...OUR FAMILY IS NOW COMPLETE!! WE HAVE BEEN THROUGH ALOT THIS PREGNANCY...WE FEEL THAT HE IS MEANT TO BE....OUR OWN PERSONAL ANGEL!I HAVE BEEN MARRIED FOR A LITTLE OVER 4 YEARS TO A WONDERFUL MAN!!!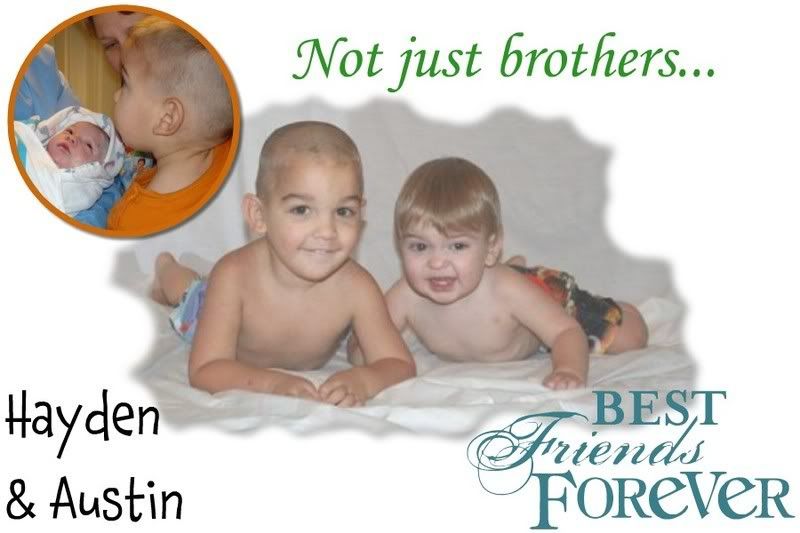 PREGNANCY # 3
2/13/09
- GOT OUR BFP AFTER 9 MONTHS
2/15/09
- FOUND OUT FRUIT FLAVORED TUMS MAKES ME SICK! LOL
2/16/09-
OFFICIALLY DECIDED ON NAMES FOR THE BABY. RYAN LUCAS FOR A BOY AND RYANN PAIGE FOR A GIRL!
2/27/09
- FIRST PRENATAL DOCTOR'S APPT.
3/10/09-
SECOND PRENATAL VISIT. BLOOD WORK ALL CAME BACK FINE.
3/27/09-
THIRD PRENATAL VISIT-WILL SCHEDULE FIRST ULTRASOUND AT VISIT
4/7/09-
FIRST ULTRASOUND!! WILL BE 11 WEEKS 3 DAYS
4/17/09-
FOURTH PRENATAL VISIT
5/28/09-
IT'S A GIRL!!!!! CAN'T WAIT TO MEET MISSRYANN PAIGE
9/29/09-
WE GOT A HUGE SURPRISE WHEN RYAN LUCAS WAS BORN!!! SHE WAS ACTUALLY A HE
March 17

Hey there! I'm looking at your time frames and omg.. we're identical! I also found out Feb 13th that we were pregnant and I'm due Oct.23rd! Even our doctor's appointments are close (within a few days!) and I have my first ultrasound the 25th! This is our first baby sowe're very excited! They think that I might be a little further along then 8 weeks 4 days,my midwife is guessing more like 10-11 weeks which would obviously change my due date. However,we'll know for sure soon!!
Yea well hey i would have moved there to if my man had a house!! All towns have some story behind them. Yea Sanger is small, but it should just be a part of denton! Oh i saw that american idol guy thought wow he is from that bodunk town lol!!
Jasper where they drag men like mine lol jk!! I do know where it is!! Im in Sanger right by Denton!!! Ur lil boys are going to be heartbreakers. Hayden looks like a model and Austin looks like a gerber baby!!
Aww ur due on my bday and i also live in Texas!! what part u in! and cognrats on the pregnancy!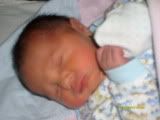 February 1

I am a Momma of 2 girls wanting a boy, lol! Our last af was the same date so hopfeully we will both get our bfp!!!!
December 23

Where are you in TX? I'm in Round Rock.
December 22

Hi, I have 3 girls and am 5 weeks pregnant. Hopefully a boy:) Genetics play a large role but they say if you have sex a few days before you ovulate and stop the day before and that day you are more likely to have a girl since girl s***m live longer. Google it and there's lots of info out there to better your chances. Good Luck!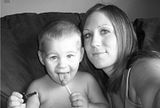 December 8

Well good luck! My boys are Levi who is5 and Logan who is now 5 months. I want my kids closer in age but that didnt happen with Levi and Logan due to 3 miscarriages:( So I want to wait until Logan is about a year old to start TTC again. I hope we have a girl!! If not we will try one more time! maybe 2 lol. We both LOVE kids!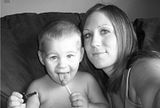 December 8

Hey I noticed that you have 2 boys and wanting a girl!! Me too! Well Maybe not right now but I really want a girl:) I think Ill wait a little long before TTC! How old are your boys?