January 19

Hey! It's good to hear from you! I understand why you wouldn't want to be on here. I'm here if you want to talk, and there are a lot of other women on here who have been through what you are going through. I hope you are okay. Lexi
September 26

So you guys are going to hold out on baby making? I'm sorry that happened to you sweetie. Did they know what caused it or anything?
September 23

Oh no, I'm sorry to hear that hun. I hope you are doing okay. If you need someone to talk to, I'm here.
September 18

Ahh well I wouldn't worry too much hun, If you got two positive ones chances are you are really pregnant. I had my first appoinment yesterday and they couldn't find the baby's heart beat so we are going to have an ultrasound tomorrow to make sure everything is okay. I'm a little scared, but I think it may be that the baby was just playing hard to find LoL. I hope so anyways. :?
September 10

Hey we're due about the same time! I think Im due late April-Early May, but i have to get an ultrasound done. How's the pregnancy going so far?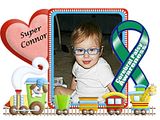 September 9

thank you for the comment.