May 26

Thank you so much. I feel so blessed to have him and still be able to be here to enjoy him. I can't wait til he comes home. =)
March 15

Good luck on the diaper cake, it goes pretty quickly once you get the hang of it! & I had a lot of fun making it & Shopping for the stuff I wanted on it.
March 13

So ready to have this baby lol I am getting so big and uncomfortable... How about you?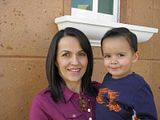 March 13

Thanks for the pt. I am Jessica. How are you feeling?