About Me

"I love my son more than anything in this entire world"
--Lauren M. Wilson

My name is Lauren and I have the most
wonderful
baby under the stars. I would do anything for this boy.
I live my life to the
fullest
and wouldn't change
a thing
about it. Im under construction right now, trying to fix a few things
and
people in my life. Im a pretty simple girl and I'm on a
mission
to better myself in many ways.
RIP.you.will.be.missed
"
Myspace- add me::
http://www.myspace.com/xxyourztrulyxx
last name is Wilson
Me....
Kaydell...
Kaydell's Daddy....

Life is too short to live it any other way but
than
the
way
that
you
want
it<<Dont
ever
settle
February 17

Hey pretty girl, where have you been? I hope everything's okay, and that you've just been busy.....How's Kaydell doing? Does he have a big vocab.? TTYL and take care! :D
*BREE*
I have 1 child and live in Maryland
September 13

hey girl!! where have u been?! i tried to add u on myspace but i dont know ur email. so add me! myspace.com/chanel_dress
August 8

Hey girlie! How ya doing? Is Kaydell sleeping in his crib yet?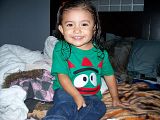 July 15

Awww Im sorry girl :( Me and Manuel stopped talking for a LONG time but I recently had to call him (even though I def didnt want to) and ask him if he could start babysitting Mariah because I cant afford daycare anymore and I need to buy a car. So, surprisingly he said yes and he supposed to start watching her on Monday. I'm extremely nervous and I know Mariah is def gonna cry for the first few days cuz she doesnt really know him that well. But right now noone else is available to watch her. It was a miracle that my sis said she would watch her for me when I go to school in August.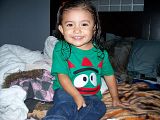 July 9

Hey girl!! How are you and Kaydell?? LOng time no talk!!! lol
haha I always shopped at Kroger until we moved here. no idea why we go to Meijer now. and yeah haha gotta love being a mom, the grocery store is our excitement on a Friday night Koen<b> just </b>went to bed like 30 minutes ago , so now I can get my drank on. lol:D
we ended up not going either. haha I just went and got a bunch of shit at Meijer. lolll but yeah dude, for sure! I never do anything
July 3

aww, thanks so much! :wink:
I think so, I might as well...I mean, we have nothing better to do lol.
July 1

Hey girl! I'm sorry to here about you and your SO..... me and my SO have been having a lot of problems the past several months, also. It's just so hard to maintain a relationship these days, with all the pressures of everyday life, etc. !!! :( Anyway, Shad still sleeps in between us. I don't even think he realizes the crib is his, lol !! :roll: And, I've been too tired to try anything different, too.....:? Keep in touch and have a Happy 4th !!! :D Kristin
June 30

hey, how are you? Are things any better with your SO? We're doing okay, but Shad still won't sleep in his crib........:roll::? Is Kaydell?
June 23

keep your head up, everything happens for a reason!! =] thank you, i was hoping for a girl, but i am happy as long as he is healthy!! there was no denying he is a boy, lol..he was spread eagle!