Bree (Mommy of two)
2633 Posts | Joined BG: Sep 10, 2008
Last Visit: 2 years ago
Age

25



Gender

Female



Status

Married



Work

Stay at home mom.



Location

Decatur, Alabama



The name is Breanna but you can call me Bree. I fell in love with the man of my dreams on July 1st 2007. He asked me to marry him February 14th 2009. We found out that we were pregnant August 20th 2008. We got married October 19th 2009. Our son was born May 9th 2009. He weighed 7lbs 4oz, 20 1/2 inches long. I just had a little girl on September 1st, 2011. She weighed 6lbs 12 oz, 20 inches long. My kids are the most gorgeous babies ever! lol
Breastfeeding Badges:
6 weeks:
My gorgeous girl.
My babies!
Mommy and baby after she was born.
Daddy and baby.
Mommy, Daddy and Willow.
My gorgeous little man, Kristian!
Kristian Alexander. Mommy's little man.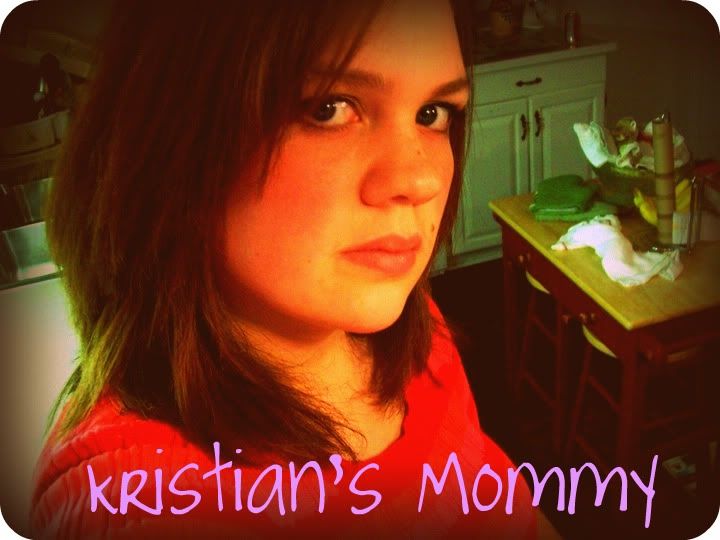 This would be me. :)
DH and I. We make pretty babies! lol
About You
Name?: Bree
Age?: 20
Height?: 5'6'
Pre-pregnancy weight?: 169
About The Father
Name?: Dusty
Age?: 23
Height?: 5'10"
Are you still together?: Yes.
About Your Pregnancy
Is this your first pregnancy?: NO
When did you find out you were pregnant?: 12/27/2010
Was it planned?: No.
What was your first reaction?: I was excited then nervous.
Who was with you when you found out?: My mom.
Who was the first person you told?: My husband. My first test was super faint and my mom wanted me to test with my FMU so I got up at 7:30 in the morning and took the test and they both came out positive so I waited for DH to wake up so I could show him. lol
How did your parents react?: They are happy.
How far along are you?: Almost 11 weeks.
What was your first symptom?: No period.
What is your due date?: 08/30/11
Do you know the sex of the baby?: Not yet but I'm hoping for a girl.
If so, what is it?:
Have you picked out names?: Yes.
If so, what are they?: For boy, Kaleb Thomas. Kaleb because I love the name and Thomas after DH's dad since he passed away 4 days after we found out we were expecting.
For a girl, Willow Rose. :)
How much weight have you gained?: Haven't gained any yet but lost three pounds.
Do you have stretch marks?: Yes but they are left over from my pregnancy with my son.
Have you felt the baby move?: Not sure.
Have you heard the heartbeat?: Not yet but I can't wait.
About the birth
Will you keep the baby?: Yes.
Home or hospital birth?: Hospital.
Natural or medicated birth?: I'm going to try natural this time.
Who will be in the delivery room with you?: DH, My mom and my MIL.
Will you breastfeed?: I will try.
Do you think you'll need a c-section?: Hopefully not.
Will you cry when you hold the baby for the first time?: Most likely.
What's the first thing you might say to him/her?: I have no clue. lol
Would you let someone videotape the birth?: Yes. I wanted my birth taped with my son but my mom was too freaked out by how much pain I was in. lol
Are you excited about the birth, or scared?: I'm scared and excited. lol
My birth story...
I was exactly 40 weeks and 6 days when I called the labor and delivery due to the fact that I hadn't felt my son move in a few days.
They told me to come in so they could monitor the baby and make sure that everything was going alright.
They got me hooked up to the monitors and everything looked perfectly fine with the baby but my blood pressure was sky rocketing.
They took some blood and took some urine with a catheter. The results came back and they told me that I was borderline pre-eclampsic.
The nurses told me that it would be a danger to my child to keep him in for any longer.
I was totally upset because being induced was not the way that I wanted to go but I still went a head with it due to the fact that these women told me that my son was in immediate danger.
They put cervidil in over night. By early morning I was 1 cm dilated. I asked my doctor if he could go ahead and break my water. He agreed.
As soon as he broke my water I was getting contractions that were constant.
I walked up and down the halls and used a laboring ball.
I got to 4cm on my own until they told me to get back into bed which just made everything worse. I got an epidural by 12 in the afternoon and by then labor was speeding up pretty nicely.
In a few hours I was already 6cm. By the time I got to 7cm they turned on pitocin because I my progression was starting to slow down.
About 15 minutes after that I was starting to feel my legs.
It turns out that my epidural was starting to wear off and I was feeling every bit of pain.
By the time that they decided to refill my epidural I was ready to push so the only thing it numbed was my butt which made it awfully hard to push... with the doctor's help and screaming while pushing my son was born at 7:01 PM on May 9th, 2009. Weighing 7lbs 4oz, 20 1/2 inches long.
It was the hardest thing I think I've ever had to do and the MOST painful but all in all it was very REWARDING!