February 10

Thanks! Congratulations to you too. This pregnancy has been different then my first two. Everyone says it's a girl. LOL How has yours been going so far?

October 26

Hey! yes I am on facebook. Mine is Abby Lawrence in case I don't find you first.:)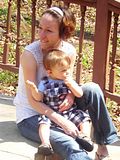 August 26

Thanks (O;

July 8

i tried the same thing with Lola and it didn't help either. She eventually started doing it on her own. Lucy will too.:) Hang in there!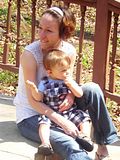 July 7

I'm supplementing mixed formula and I hate doing it. It gives him gas and makes his poops hard to pass and super smelly. I am taking fenugreek (herbal supplement) and drinking Mother's Milk tea right now to try to increase my milk supply. I'll let you know if it works! I have read online for people with this trouble to pump after you nurse to stimulate more. You should pump frequently so that your b**bs get used to the pump - it's different than a baby s**king (you can't pump as much as a baby can s**k out). Also, you should pump at night... blah. I'm going to try this, but I'm not sure I can handle it. I like my sleep. Right now I'm pumping 4 times while at work and then nursing when I'm at home and I just don't make enough, so I'm doing everything on the planet possible to correct the problem - i'm determined! But, if it doesn't work out, oh well. I did my best! Good luck (o;

July 7

Thanks girl!:) Aw I'm sorry she's waking up so often still.:( Are you still bf? The only thing that gave me more energy was more sleep.:( Lola's been sleeping during the night now. She even slept 8 hours the other night. (How I got her to do that I will never know!) I do have a nightly routine though. Every single night I draw a warm bath, bathe Lola with that nighttime lavender bath stuff, rub her down with the nighttime lotion, and give her a warm bottle. Puts her right out! But I'm also not putting her down until about 10 or 11 at night and she sleeps till about 6 or 7 in the morning. How long are you going to stay home before you go back to work? I'm job hunting right now and it is not going so well.:(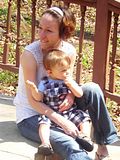 July 7

Going good. We drove NINE HOURS - Just me and Jonas - to my mom's in south GA on Friday, came back yesterday. Normally it takes about 6-6.5 hours. Had to stop for feedings and such. Going to the bathroom was a challenge. But overall it was a good trip and he is a great traveler. He's eat, then I'd put him back in his seat, he's stare out the window for a bit, then fall asleep every time after we stopped - it was great. He was great everywhere. Took him to the beach, the lake, he was outside most of the trip - we kept him sprayed down and fanned the whole time to keep him cool. He likes to be outside.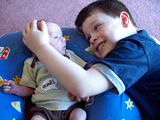 May 31

I love your profile pic too! Such a cute mommy-daughter shot! Yeah, we've been doing the onesie thing too. Yesterday I managed to get him into a pair of shorts and a little shirt, even though they're still to big. I just wanted to see the little bugger in an outfit! lol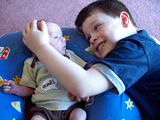 May 30

I'm in Strabane, which is about 15 minutes south of Pittsburgh. Don't feel bad about Lucy taking an hour to nurse sometimes; Josh is bottle fed and it takes him an hour sometimes too! I don't know what it is, sometimes he's totally fine and just s***s it right down, other times he has to stop for breaks after every ounce, lol. My first son was 6 lb 9 oz! And that's actually what Josh is up to now. That's great that she's gained a pound. I'm hoping that Josh picks up some weight quickly. You're probably going through the same thing that I am with the baby clothes, huh? Everything is too big!
Oh duh....I just saw on your profile that she was born on the 12th. Sorry!!! I have that newborn sleep deprevision thing going on, lol.
Wow, 11 days early! Good for you! Neither of us had to suffer through the last 2 weeks of pregnancy, lol. So what was her actual birthday? Did you go before me? I'm trying to remember what your due date was, sorry. I'm glad you're doing well! I'm feeling great, thanks for asking. This time has been much easier than the first time! I'm happy to be back in pants with buttons and zippers instead of panels, lol. How big was Lucy? I love her hair, btw! Josh was 6 lb 2 oz and 19 1/2 inches long. Tiny little bugger, but hopefully he'll put on weight quickly so he can fit into all of his cute clothes, lol!
Hey, congratulations on your beautiful little girl!! She's gorgeous! And how is mommy feeling? When did you have her? We had Josh on May 14th and this is the first time I've been on BG since then! I missed a lot of births!! lol! Hope you and your family are doing well! :)