~Proud Mommy to 2 boys~
5861 Posts | Joined BG: Sep 27, 2008
Last Visit: 4 years ago
Age

26



Gender

Female



Status

Married



Work

SAHM and Daycare



Location

Palm Coast, Florida



Interest

taking care of sons, singing, riding horses, playing with my doggy, watching movies, ANYTHING outside




Kids

66



TTC Since

Jun 30, 2011



My two year old son singing "Who Am I" by Casting Crowns-
http://youtu.be/1OcFlVuQjpI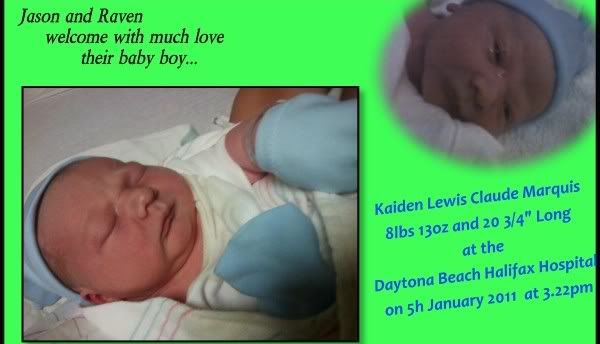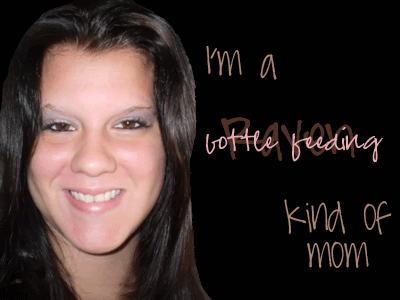 MY REASON FOR LIVING-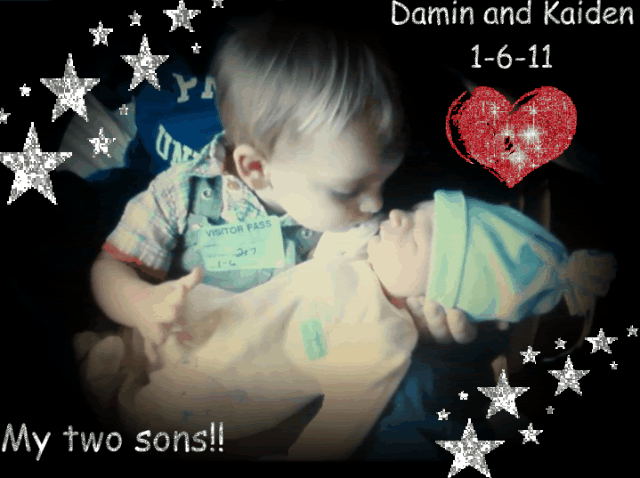 I am 21 years old and I am married to a wonderful man. He has really shown me what real love really is. He is a great father and husband... I found out that I were pregnant with my first on Aug 4th... I just found out Dec 13, 2008 that I am having a baby boy. I am so excited!
Damin was born April 19th at 11:20pm. He was 8 pounds and 1oz. He was 21 and 3/4 inches long.. He was the most beautiful baby I have ever seen!! My labor was hard and long... Have any questions about my labor story, just ask... I would do it over and over again though... I will never forget the pain, but holding him in my arms makes it all worth it... I found out that I am pregnant with baby number two on May 4, 2010. My due date is Jan 5th. I am so excited to be making our family even bigger!! We found out on 07-19-10 that we are adding one more baby boy to the family. I was lucky because I got to find out at 15 weeks and 4days.. Now I am really going to be out numbered in my household.. I was induced on my exact due date because my water was low. My labor was so much easier then it was with Damin's. At 3:22pm, my second son was born healthy and crying..
Here is my labor story with Kaiden (very short)-

9:00- Ultrasound-seen my water was low
10:00- Got into the delivery room and checked in. (5cm dilated 70 percent effaced)
12:00- started the pitocin
12:30- Broke my water (7cm and 90 percent effaced)
1:15- Got the Epidural
2:25- Got checked and I was 9cm and totally effaced
2:50- Felt a lot of pressure, was checked 10cm and totally effaced and started pushing....
3:22- Kaiden was born vaginally and was perfect!! He was 8 pounds 14oz and 20 and 3/4 inches long.
About me
: My name is Raven. I am a spiritual person, and I dont categorize myself into any religion. I believe in God and Jesus... .
I HAVE A PERSONAL REALTIONSHIP WITH JESUS CHRIST,
but I do not consider myself in any religion. I am open minded and very opinionated. I tell things how it is, and if you dont like it then, tough. I am also a good listener and I like to get to know people. If you want to talk, PM me.. Please do not pt me if
I do not know you.
I am for homosexual marriages, and homosexual adoption! I belive if you love the person it doesnt matter..
LOVE IN LOVE END OF STORY!!
And I believe that gays/lesbians make one of the best parents!! I am pro-choice. Because we have no right to control others bodies, just our own. I also bottle feed, and its the best thing I could have done for my sons. I like to debate and discuss a lot and set very strong on what I believe, but that doesnt mean I dont want to hear what you have to say. I am going to be going to school to be an OB nurse. I am working on getting my GED, and I babysit on the side of being a SAHM... I like to laugh and have a weird sense of humor! I love my sons more than anything in the world. I would do anything for them. They are my reason for waking up in the morning. They is my heart and soul.. I will protect them and stand by them. They will always know how much his mommy loves them. My husband and I are having a lot of marital issues and I have been contemplating divorce (well more of I am going to do it, I just dont know when yet) I am already raising my kids myself without his help. He buys things that they need, but thats ALL he does. I dont mind me single, and being a single parent because I already feel like I am. We are pretty much room mates that share a bed. At least if I get a divorce, I only have two children to take care of instead of three!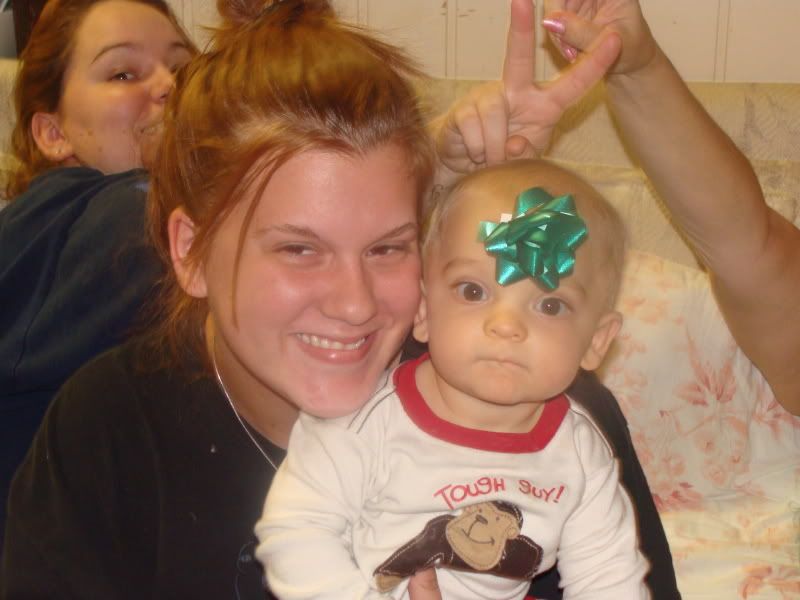 He is the reason I live everyday!!!
http://members.baby-gaga.com/member658595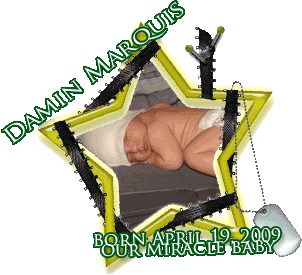 Mommy Survey

About You
Was your bundle of joy a surprise?: Yes a very big surprise..
How long did it take for you to realize you were pregnant?: 4 weeks
Where were you when you found out?: the E.R
Who were you with?: My husband
Was adoption or abortion an option?: nope not at all..
How did you tell the Dad?: he was there with me. he heard it for himself..
Were you married at the time?: Nope, engaged..
If not did you get married because you were pregnant?: nope, we were already planning on getting married..
Where was the baby conceived?: at our old apartment
Reactions
Yours?: I thought I was, but I still was shocked and cried!!
Dads?: He was shocked
His Parents?: They didnt seem happy at first!
Your parents?: They knew it was bound to happen..
Siblings?: They were happy I guess
Friends?: They were excited!!
Pregnancy
Did you like being pregnant?: Most of the time..
Did you want to wait to find out the sex?: Nope.. I found out at 19 weeks
Did you have any complications?: Kidney stones and a heart murmer
Did you crave anything?: a lot of things.. spicy food!!
Did you sleep alot?: Nope..I took tylenol PM to help
Towards the end how were you?: I hurt so bad!!
Did the dad support you?: Yes ALL THE TIME!!
Did you have any mid night cravings?: Yes, nachos... hahaa
Would you do it again?: yes.. I have to if I want another kid..
Labor and Delivery
What were you doing when you went into labor?: watching a UFC fight
Did you get drugs?: I tried but they didnt work
Who drove you to the hospital?: My husband
Vaginal or C-section?: vaginal
How long?: 24 hours and 20 minutes!
If yo got drugs, how long were you in labor until you got them?: I was in labor for 5 hours before they tried to give me my epi.. again it didnt work..
Was it as bad as everyone said?: hell yea.. it hurt like hell!!
What did you think the first time you realized it was "almost time" for him/her: holy shit I am going to be a mom!!!
What did you think the first time you heard him/her cry?: thats my son!!
Your first reaction whe you seen him/her?: I just started to cry!!
Dads first reaction?: He cried too!!
Who was the first person to come and visit you?: I dont know... EVERYONE!!
How long did you stay?: 3 days
Postpardum: huh?
What was the first day home like?: Stressful because I was alone cuz Jay had school!!
Did you have any trouble?: Not really!!
How long did it take you to reacover?: a few weeks
Did anyone come to visit?: my mom did a couple weeks later to help out..
Did you let just anyone hold the baby?: nope.. just family!
How did Dad do?: pretty good!
About the Baby
What is it like being a mommy?: its life changing!!
Is your baby difficult or easy?: he used to be easy till he started teething!!!
How old is your baby now?: 2 months
Colicy?: yes
Boy or Girl: BOY!!
Memories
Favorite pregnancy memory?: When we found out that we were having a son!
Worst pregnancy memory?: my kidney stones and morning sickness!!
Funniest pregnancy memory?: when i peed myself at walmart!
Scariest pregnancy memory?: When I thought I miscarried!!
Favorite Labor memory?: when Jason got to cut the cord and they put him on my chest!
Worst Labor memory?: the back labor!!
funniest pregnancy memory?: when my water broke!
Scariest labor memory?: when he was born he didnt start breathing right away!!
Favorite postpardum memory?: bringing the baby home..
worst postpardum memory?: PP bleeding.. and peeing whenever I did anything
Funniest postpardum memory?: laughing so hard i peed!
Scariest postpardum memory?: when Damin was in the hospital!!
Favorite baby memory?: When he first smiled at me!!
Funniest baby memory?: his first bath!
Worst baby memory?: when he threw up ALL OVER ME!!
Scariest Baby memory?: When he was in the hospital for 5 days with Jaundice
Parenting
Do you parent by the book?: nope.. never....
Are you a worrier?: yes I am.. I worry about EVERYTHING!!
Do you have the pediatrician on speed dial?: yes i do!
Have you ever called the doctor late at night?: No I havent..
Hows dad?: good... sleepy a lot..
Do you constantly read articles about how your baby SHOULD be developing and the: sometimes but i know he is developing fine!
Has your baby left your side yet?: yes a couple times..
Do you have your baby on a strict schedule?: we have a schedule but its not a strict one at 2 months..
Do you think your a good mom?: yes... THE BEST I KNOW HOW TO BE!!! DAMIN IS MY LIFE!!
Is the dad a good dad?: sometimes...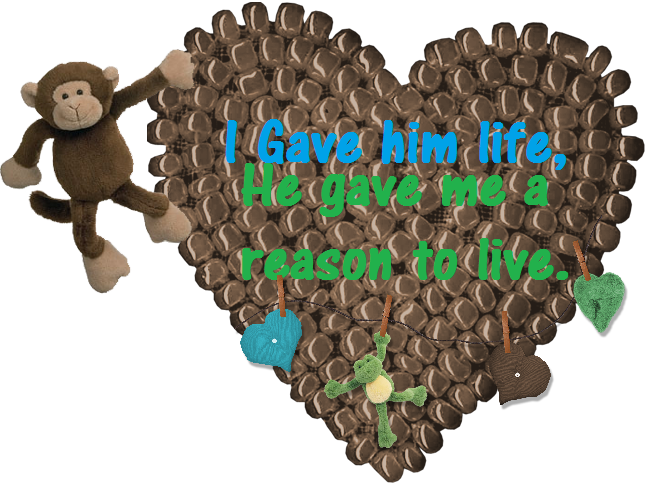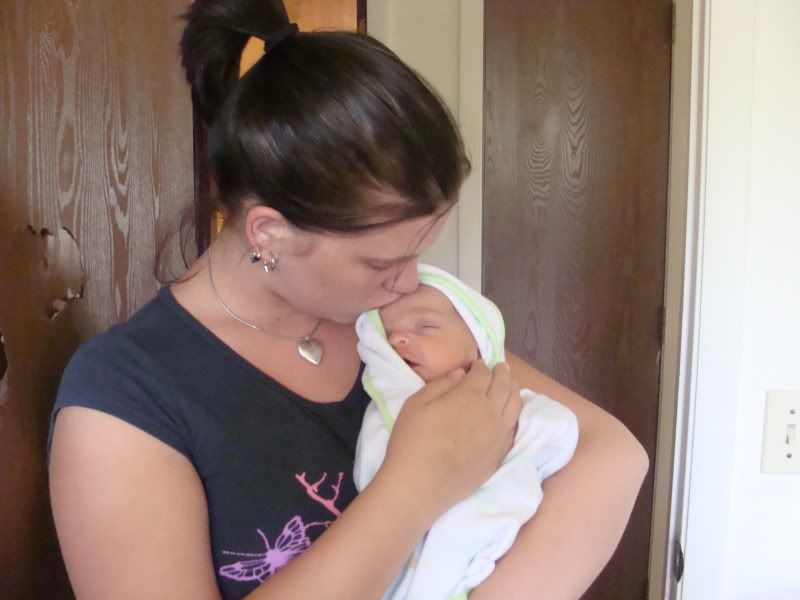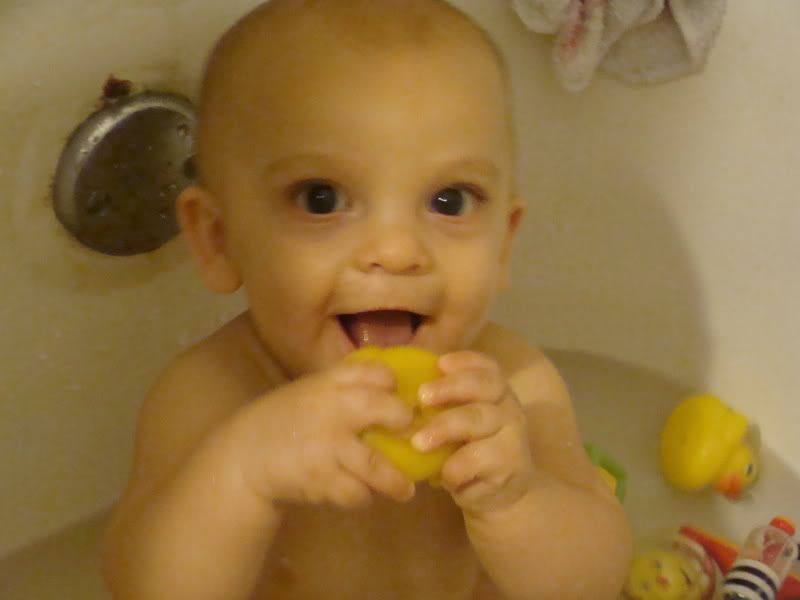 Before I was a Mom,
I never tripped over toys
or forgot words to a lullaby.
I didn't worry whether or not
my plants were poisonous.
I never thought about immunizations.


Before I was a Mom,
I had never been puked on.
Pooped on.
Chewed on.
Peed on.
I had complete control of my mind
and my thoughts.
I slept all night.


Before I was a Mom,
I never held down a screaming child
so doctors could do tests.
Or give shots.
I never looked into teary eyes and cried.
I never got gloriously happy over a simple grin.
I never sat up late hours at night
watching a baby sleep.


Before I was a Mom,
I never held a sleeping baby just because
I didn't want to put her down.
I never felt my heart break into a million pieces
when I couldn't stop the hurt.
I never knew that something so small
could affect my life so much.
I never knew that I could love someone so much..
I never knew I would love being a Mom.


Before I was a Mom,
I didn't know the feeling of
having my heart outside my body..
I didn't know how special it could feel
to feed a hungry baby.
I didn't know that bond
between a mother and her child.
I didn't know that something so small
could make me feel so important and happy.


Before I was a Mom,
I had never gotten up in the middle of the night
every 10 minutes to make sure all was okay.
I had never known the warmth,
the joy,
the love,
the heartache,
the wonderment
or the satisfaction of being a Mom.
I didn't know I was capable of feeling so much,
before I was a Mom .

My grandpa is the only man that ever understood me. He was like my father, best friend. The only one that I could rely on for anything. He passed away May 23, 2000, but it still feels like yesterday. He will always be close in my heart,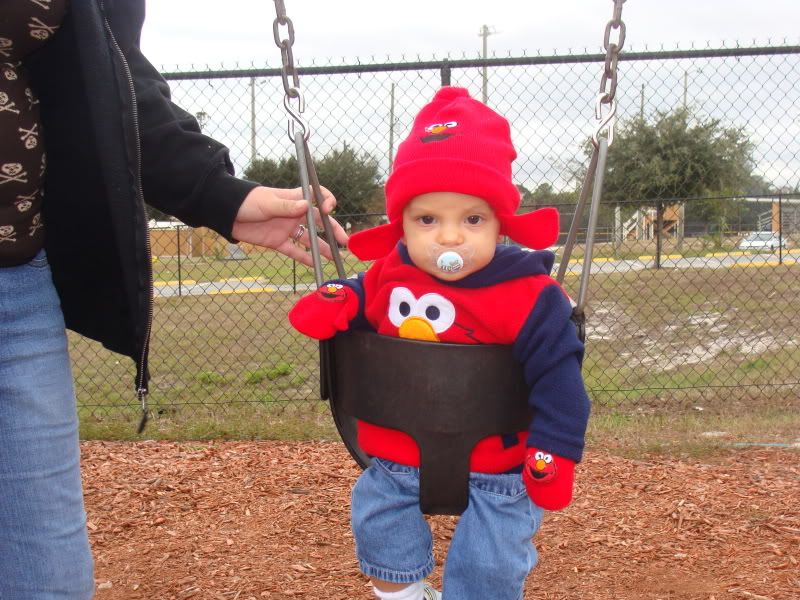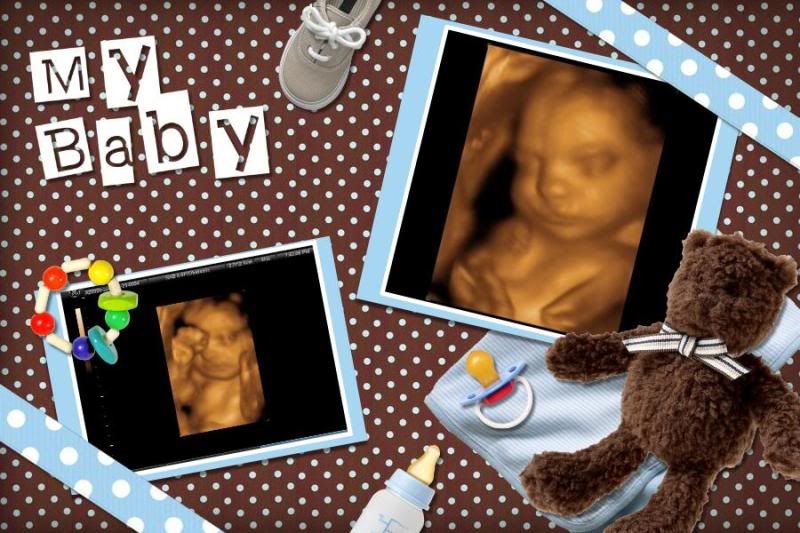 My third trimester!
A BABY QUIZ!!
1) How old are you?
-19 years old
2) How did you come to find out you were pregnant(what prompted test)?
- 1. I just felt pregnant and 2. my period was late
3) Is your babies daddy in the picture, and what status is your relationship?
- He is in the picture and we are going to be getting married soon.
4) How many weeks pregnant are you?
-11 weeks and 4 days
5) Do you know if you are having a boy or a girl?
- No... but my fiance wants a boy and I am hoping for a girl
6) How long did you have morning sickness?
- did? No i still do. I have had it since week 2!!!
7) What is your least favorite pregnancy symptom?
- Without a doubt.. morning sickness
8.) What is your favorite part about being pregnant?
- knowing that their is a little baby inside me thats a part of me and my fiance...
9) Do you plan to breastfeed?
- that is my plan.. my b**bs hurt enough!! HOLY CRAP!!
10)What is your opinion on elective c-sections and/or inducing early?
- that is not what I want. I would like to avoid the c-section.
11)How many children do you have/is this your first?
- 2 angel babies and this one... this is going to be my first..
12)How many children do you want?
- We agreed on two... but after this pregnacy he is lucky if he is going to get one...lol... this has not been the greatest pregnacy in the world...
13)What is your favorite guilty food right now?
-ANYTHING SWEET!!!
14)What is the wierdest craving that you have had?
-when i can eat...probably garlic pickles...ohh yeah!!
15)What foods make you cringe right now?
-anything that has a scent...
16)What smells bother you that never did before?
- raw food... like when my fiance cooks meat... i have to leave the room...
17)Have you dyed your hair since being pregnant?
- i did when i was a like 1 week pregnant because i didnt know... i found out like 3 days later... whoops...
18.)How has your sex drive been since becoming pregnant?
- i have always had a healthy sex drive, but i would say that I am climbing the wall more frequenlty..
20)What is your waist measurement now(inches*)?
- i have gained some weight in my waist. Mostly bloating, but at almost 12 weeks it is a baby bump...
21)Have you had swollen feet/hands?
- nope not yet
22) Do you have pets, and if so are you keeping them?
- hell yea.. i have a dog and she has been my baby... since about 3 weeks pregnant, she has followed me around like 24/7!!
23) Do you still go to concerts etc.?
- I havent since i got pregnant... my responsibilities come first... But when Disturbed comes to Florida (if they ever come) I AM GOING... even if i cant go in the pitt..
24)How is your relationship with the father's parents/family?
- Its could... they are good people, and they are happy to have a new baby coming in the family...
25)Will your baby have the daddy's last name?
- Of course...
26)Will you paint babies toenails(if a girl)?
- i wont do it, but my fiance's mother is girly enough to paint her nails..27) If a boy, will you allow him to play with dolls if he wants to?
- If he wants to... They say boys who plays with dolls makes better fathers...
28.)What is your position on spanking when they are older?
- neither one of us believe in spanking..
29)What is your stance on immunuzations...yes or no?
- yes
30) WIll you be a stay at home mom?
- no i want to finish school and become a paramedic
1.age?
2 months
2. name?
Damin Wayne Daniel Maquis
3. Birthday?
April 19, 2009
4. time of birth?
11:20pm
5. how long did labor last?
24 hours and 20 minutes
6. who was in the room when baby was born?
My husband, mother, my mother in law, my doc, and three nurses!!
7. how long did u push?
3 and half LONG hours!!
8. weight?
8 pounds 1oz
9. length?
21 and 3/4 inches long
10. any hair?
yes a lot..
11. who does baby look like?
His daddy..
12. be honest