About Me
"For you formed my innermost parts;
You wove me in my mother's womb.
I will give thanks to you,
for I am fearfully and wonderfully made.
Wonderful are your works, and my soul knows it very well."
- Psalm 139: 13&14
About me:
My name is Christina; But most call me Stina, for short. I am 20yrs. old and a Mama. I have thee most beautiful baby named Jennifer Martha. Her Father isn't in the picture. It's a long story and only a waste of breath if I tell. Anyway, So right now, I live with my family until I can be able to afford to live on my own again; Which hopefully will be very soon. I work at Burger King right now. (I know, it's lame.) But hey, it's money. I am also going to attend a Community College in the Fall of 2010 for Interior Design, I'm so excited for that! I must admit, it's hard doing this whole Mommy thing solo. I can barely make it right now with paying Bills and such; But I will say I do have an amazing support system. My friends and family and Jesus are the most important things to me.
Other than that, I'm just your not-so-averaged girl. I LOVE singing and Hip-Hop dancing. I used to model and am thinking about doing it again after I lose the weight. Other than that, if you have any questions, well then; you know what to do!<3
About Jennifer:

Her name is Jennifer Martha. "Jen for short."
Jennifer
is the name I always wish I had, So I gave it to her instead. And then
Martha
is my Grandma's name. She passed away in December when I was 5months along with Jen. I was VERY close with her. So, I gave her that name because it reminds me that when you lose something you always gain. And with my Grandma dying, I was so hurt; but when Jen was born I felt like my Grandma was there watching over us. Jen was born on Friday, April 24th, 2009 at 10:47am. She was 8lbs and 12oz. 21.5 inches long. BIG baby! Jen is such a happy baby. Every day when I come home from work I pick her up and she gives me kisses, it's the sweetest thing ever. I love her to pieces. She's thee best thing that has ever happened to me.
╔═[.♥.]════════════════════════════════════════╗
Before I was a mom, I never tripped over toys or needed to remember a daily feeding schedule. Before I was a mom, I had never been puked on, pooped on, peed on, or chewed on. Before I was a mom, I slept all night, and I never cried during doctor visits. Before I was a mom, I never got ridiculously happy over a simple grin. I never sat up all night watching a baby sleep. Before I was a mom, I never held a sleeping baby just because I didn't wanna put her down. I never knew how many kisses I could give in one day. Before I was a mom, I never knew someone so small could affect my life so much. Before I was a mom, I never got up every ten minutes at night to make sure everything was okay. I never knew the bond between mother and child. Before I was a mom, I never knew how much love I could have for someone. <3.
╚════════════════════════════════════════[.♥.]═╝
May 8

I miss you! Where have you been?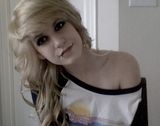 March 31

hey i havent talked to you in forever. can you refer me in the giveaway. <a href="http://forum.baby-gaga.com/about1075521.html">http://forum.baby-gaga.com/about1075521.html</a>
February 7

hey...you haven't been on in FOREVER....well, i haven't heard from you in forever.... how are you and the little miss? crawling?walking? how are YOU?
omg so I know you haven't logged on recently but I just came across your profile & realized first of all, we are both 20 & single, and second of all both live w/ our parents because we are broke, thirdly it says you work at Burger King which LOL I just quit that sack of shit job like a wk & a half ago. Small world eh? :wink:
November 22

I saw you got a new job...Where are you working now?
October 21

Ur baby is soooooooooooooooo preety!!!
October 16

i love your hair by the way!!!!!! your so gorgeous!!!
October 15

Yep. Until June at least. Then we're all going to try to get out. No clue where too though. And weird. Lol. I heard he got some chick pregnant after he joined the army and now he's fat. Hahahaha. I haven't talked to him since I was like...16? Does he still live in the area?
Good for you! He's not good enough to have a daughter like Jen anyways.
Good for you! He's not good enough to have a daughter like Jen anyways.
They're probably too dumb to even realize that if she had child neglect charges against her, she will be evaluated before she automatically gets custody of this new baby. And the only way Andrew would get custody is she wasn't awarded custody is if he promises the courts he won't see her. So that would put a little damper in their "little family". What idiots... I don't even know why a woman would WANT to be with a man who abandoned one of his kids, let alone have another kid with him. She's obviously in absolute denial.
October 13

How do you even get 7 counts of child neglect??? That's awful. Why is she continuing to get pregnant? *Sigh* I hate stupid people... Yay! She's getting so big! They grow so fast. It's freaking insane.