Jake's Mommy.
724 Posts | Joined BG: Oct 06, 2008
Last Visit: 4 years ago
Gender

Female



Status

Single



Work

CHHA & full time mommy



Location

Ohio



Interest

jacob kevin!




My name's Kaycee. I'm a mother to a little boy named Jacob. I'm no longer with my son's father, if you want to know the story pm me. I've been taking care of Jake on my own for almost 2 years now...
I was expecting a son on February 8th. He came 2 days early. It was the most perfect day I've ever endured. Thinking of meeting my son Jacob Kevin got me through the hard parts of labor. Ever since I've had a smile on my face everyday, I live to make my son the happiest I can.
Jacob Kevin was born at 12:45pm, weighing 7lbs and 3oz and 20.1 inches long. The most perfect thing I've ever laid eyes on. A month after Jacob was born he had to go into surgery. As any mother (despite the type of surgery) I was nervous. He was born with two skin tags, one was on his face and the other on his ear. Jacob was very brave which helped me to cope. I knew then he'd be okay. Once he got out of surgery there were bandages on the spots they removed the skin tags from and he was responding well. He was given Morphine and put under for the surgery. I'm so happy everything went well. I couldn't of asked for a better son.
He has overcome a lot since then, I love being Jacob's mother.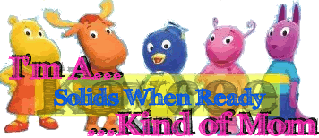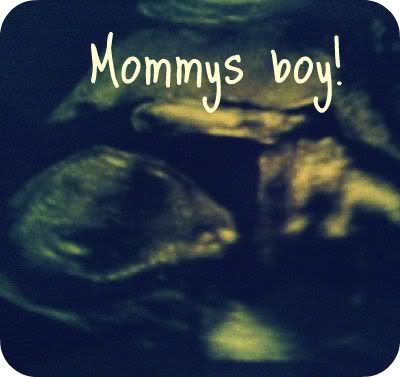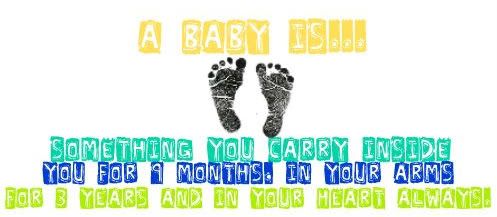 About Your Pregnancy:
Is this your first pregnancy?:
Yes!
When did you find out you were pregnant?:
July!
Was it planned?:
No, but I'm very excited!
What was your first reaction?:
I was worried about my parent's reaction but they fully support it!
Who was with you when you found out?:
My Mother.
Who was the first person you told?:
My boyfriend, Andrew
How did your parents react?:
Shocked at first
How far along are you?
28 weeks now
What was your first symptom?:
No period, morning sickness
What is your due date?:
February 8th 2009 (:
Do you know the sex of the baby?:
Yes!
If so, what is it?:
A boy, I couldn't be any happier!
Have you picked out names?:
We did for a girl, but it's a boy...so we really need to find some names! They're so hard for a boy!
If so, what are they?:
How much weight have you gained?:
13-14 Ibs
Do you have stretch marks?:
No not yet haha.
Have you felt the baby move?
Yes, I Love it!!
Have you heard the heartbeat?:
Yes every time i almost cry...
About the birth:
Home or hospital birth?:
Hospital
Natural or medicated birth?:
Medicated!
Who will be in the delivery room with you?:
My mom for sure, hopefully my boyfriend if he can make it (since he's in school)
Will you breastfeed?:
No.. i wish i could
Do you think you'll need a c-section?
Probably because i'm smaller than most, but i don't know
Will you cry when you hold the baby for the first time?:
Yes!
What's the first thing you might say to him/her?
I''ll probably be speechless for awhile.
Would you let someone videotape the birth?:
Not videotape..no.. haha
Are you excited about the birth, or scared?:
Excited to see him and hold him, nervous for the actual birth part :roll:
Aug. 8th-- first OB-GYN appt, heard the heartbeat (159/160)
Aug. 14th-- first ultrasound!
Sept. 8th-- 18 wks, heard the heartbeat again, still at a constant 159/160
Sept. 26-- 3D ultrasound, sex determination: its a boy and so far he's healthy!
Oct. 6th-- routine checkup, 21 wks
Nov 3rd-- Glucose Test, results: Normal...they lost other testings along with it so i have to re-test next appointment
:shock:.
Heartbeat @ 150.
December 1st-- Re-tested blood work. Heartbeat @ 142. Measuring just right! (Gained 17 pounds so far!!) & I got put on Iron pills since my iron tested a little low. Starting my two week check ups now!

December 8th--
first birthing class, went really well. It helped more than I thought it would.
December 11th-- first prenatal massage (finally! :wink:)
December 15-- Routine Checkup, I was told I was measuring a little low. I had to go to an appointment for a ultrasound the next day, everything was good though!
December 17th-- second massage =)
& the second birthing class.
December 29th-- Routine checkup, my blood pressure was low for me I was really nauseous. Heartbeat was at 161. Had to get blood drawn to find out why I'm bruising on my neck & check platelet count. The girl that drew my blood used the wrong needle and tests again so I have to go back tomorrow (Dec. 30th).
*Update* Test came back and my platelet count is a little low but apparently nothing to really worry about. They're planning on testing again in 3 or 4 weeks.
January 5th-- third birthing class.
January 12th-- appointment every week from now on.
Heartbeat: 160. 2 cm dilated, 60% effaced, -3 station.
Doctor said I'm not gonna make it to 40 weeks!
:shock:
it looks like my boy is gonna come early like i thought!
January 12th-- last birthing class.
January 19th-- strep b test= negative :), heartbeat: 142
Still 2 cm dilated, 60% effaced & in -3 station.
Still saying I won't make it to 40 weeks, maybe 39 but she said it'll probably happen before then!
January 26th-- heartbeat: 139
2 cm, 60% (still) and in 0 station! *Expecting labor any day now!*
February 2nd-- 3cm, 70% effaced and 0 station. Started having contractions @ 6, just waiting for them to regulate a little more.
February 6th-- Jacob Kevin was born! :D 7lbs, 3oz & 20 inches long!
Total weight gain: 22 pounds :)

Keep an eye out for our updates =):
three months old
-
his eye color is still dark blue. He is the most gorgeous little baby =). He's learning to use his hands to find things and becoming even more alert. He's growing so fast. <3

four and a half months old-
Jacob has learned to roll from his stomach to his back. He laughs and plays most of the day. He sleeps a good eight to ten hours a night on a regular basis. He weighs about 13 lbs and he's 26 inches long =)
five months old-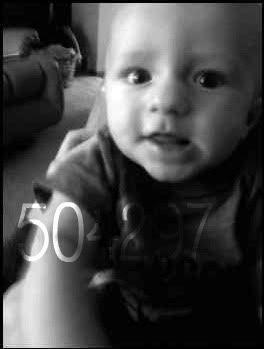 Jake laughs everyday and smiles. He plays most of the day and sleeps very little. He makes the cutest mean face when he tries to get me haha. And he loves baths even more now. On July 13th he started helping with holding his bottle.. He learned how to repeat "Hi", his first word on July 14th!! He is a supported sitter now (barely needs my help sitting). He also does very well with his solids, which we started around 5 months. His pediatrician & I agreed he was ready.
Jake is now almost 6 months, he learned how to hold the bottle himself on June 22nd and went swimming for the first time on June 30th =D.
6months- Jake has TWO bottom teeth fully in, he has very silly personality. Mommy's little boy:wink:. He learned how to blow raspberries, blow kisses and so much stuff lately. He is really an amazing little boy.
7months- Jake can sit by himself now & play with toys :D He says BOO daily and he just started trying to say "Okay". He also likes to scream to get attention now especially at odd hours in the night.
9 months- Jake is weighing 18lbs, 29 1/4 inches tall. He says "Ma ma ma" now but usually only when he's upset or wants me to pick him up. We're attempting to change his schedule right now so things are kind of crazy haha. He just got his first cold when he turned 9 months, he has an ear infection, sore throat and he's teething on top of it. He went to the doctors today (Nov. 11th) for his antibiotics and a check up. He's in the 75th percentile for height and the 10th for weight.
10 months- Jake is now crawling, he started on December 12th. He babbles a lot, says mama & dada (started saying mama at 9 months). He can drink out of his sippy cup now. And he is a VERY big eater haha.
11 months- he stands very well, starts to walk around holding onto things or holding my hands. he has two bottom teeth now (4 teeth total).
12 months- Jacob weighs 20 lbs and 5oz. He is in the 90th percentile for weight. Very tall and a little bit of chub ;). He now has four top teeth that all came in at once and four bottom teeth!
13 months- Jacob learned how to clap!! He is always making me laugh and is definitely the best person to wake up to in the morning. He's constantly dancing now, i love it! He loves the weather right now and being outside. He's always either eating, walking outside with us or playing with his toys. He hasn't found much interest in the TV which is still alright haha.
14 months- Things are mostly the same, he's been picking up on repeating words a lot more. Teething again, having a pretty rough time with that. Other than that things have been well, we've been enjoying each others company.
15 months- Jacob has one more tooth that cut threw his gums and another on it's way. He's starting to take anywhere from 8 steps to about 13 or so. Walking pretty well when he puts his mind to it! =)
16 months- Jacob has learned so many new words! He is talking like crazy, I am absolutely amazed. He's practically running now! He's too stinkin' cute.
17 & 18 months- Jacob is trying to put words together like sentences, he says things like "don't do it" :P and "I seepy" which means "i'm sleepy". He knows when he wakes up to say "mornin'" to everyone, he does this after naps too lol! His vocabulary is definitely growing still! :) He has about 12 teeth now!
19- 20 months- I've been super busy lately with Jacob. We've been trying to get out more, have a little fun while the weather has been decent. We went to a pumpkin patch, he picked his pumpkin and he had a blast there! :) It was my first time at a pumpkin patch as well as his haha. I just got his costume too, he's going to be Wolverine for Halloween it's adorable. I'm excited to take him trick or treating! Jacob is talking up a storm still, he amazes me with the things he knows.
* More updates later!!*