About Me
My name is Kelsie and i have have been married to my husband since may of 2007. we have three boys, Jaxon who was born in november of 2007, Kacyn who was born in March 2011, and koen who was born in april 2012. we are expecting our forth child in December 2013 and are really excited!
January 7

HI! i thought it was crazy that you had a son named Jaxon, just as i do! plus you're due on april 8th!! I'm going to be having another boy. So life is going to be crazy hectic! congrats :lol:
pinkie12
I have 1 child and live in Ireland
August 1

Hi there hun thanks for you mail ye wud love to chat had a baby 6 months ago and pregnant but very nervous because of previous experiences I have a girl, have you any symptoms yet sickness started two days ago and have it all day wish you are very sticky 9 months and hope all goes well and you have a little girl like you want lol I dont mind at all as I have my little girl now chat very soon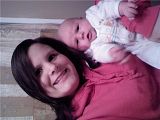 October 30

your little boy is sooo cute :]
October 29

thank you! yeah I think its my favorite pic ive ever taken with him lol.
┌∩┐
I have 17 kids and live in Pennsylvania
October 26

thanks for the reply babee . & yeah im slowing working torwards it . tommrow's my first docters apt . <3