About Me
Hello ladies ;) My name is Erica, I'm 24 years old. Life didn't work out the way I expected it to, but I thank God I have a beautiful 4 year old daughter and wonderful husband. Currently, I am working as an auditor to go back to school for Mass Communications. I got pregnant at the age of 19 years old and met my husband at 22. We have been married almost two years. We just found we're expecting May 6, 2013.
We're very excited :)
December 10

I hope she comes. ALthough I can see why she wants to stay inside. its much warmer and safer in there. Thats one of my biggest fears too. being overdue. i think im ight schedule a c-section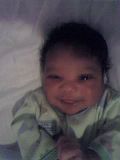 December 2

lol!!! aaaawww...so ur bday is the 17th? That's the day he came home from the hospital! U are coming down to the end urself girl! I cant wait to see her little face...I know she's gonna be so adorable! Thanx for all the best wishes and congrats...I really appreciate it so much...Desmond is gonna be chocolate, just like his daddy! Lol...talk to u soon...HANG IN THERE..UR ALOMST DONE BAKING THAT CAKE!! LOL
November 25

good luck with ur baby and delievery
November 24

2 WEEKS!!! HOLY COW!!!!!!! He doesn't like Ariyah..I love it. WHy are they giving us such a hard time about the names like they the ones carrying them and nurturing them? What are the otehr choices?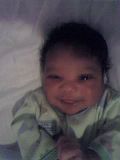 November 22

desmond is here!! He arrived on November 15, 2008 at 10:04 am....he's adorable!
November 17

Picking the name i think was the hardest part we couldn't agree on anything. He picked Jayda and i picked NOe'Lani. At this point, thats just gonna be her name.
November 15

hey, thanx for tha parentank..hows tha pregnancy goin?
November 14

Hey jus coming to say hello and wish nothin but the best for you!!!!!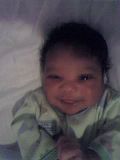 November 14

Thanks sooooooo much 4 all of ur well wishes and blessings! Gurl I know that feeling of feeling bloated or like a watermelon cuz that's exactly how I feel!! Lol...:lol:But I know it's just a matter of days until he's here. Also I wish u and your sweetie the best too! Good luck and dont worry...pics will be up ASAP after he arrives! God Bless!
BabyDoll♥♥
I have 1 child and live in Columbia, Maryland
November 14

hi! wow ur due just a few days after me!...thanx for the luv and good luck to u 2!
November 14

I love the name its very pretty..does it mean anyting?
November 14

thank you..aaww you are due soon..