About Me
Hi my name is Mercedes and I am pregnant with number three. We are team pink just like I wanted!!!!!! I am with my very sexy best friend who is also the love of my life. Gee how did I get so lucky? This is going to be his first so this shall be interesting. I love my family and can't wait to meet Madyson Grace!





<a href="http://www.dolliecrave.com/pregnancyquotegraphics.shtml">Pregnancy Quotes</a><a href="http://aerocharm.com">
<img src="http://i84.photobucket.com/albums/k14/xox0xo/aerocharm/signs/pregnant/01/31.png" /></a>

<a href="http://pregnancy.baby-gaga.com/"><img src="http://tickers.baby-gaga.com/p/dev255pr___.png" /></a>
May 13

So i'm dying to know pink or blue ? :)
April 12

lol i send you some pink dust <3
April 7

kinda blue ;) lol... but i'd be happy either way.. just as long as baby's healthy <3
March 25

Hey we have the dd! hope everything is going well!
March 22

awww.. that's awesome :-) Wishing some pink dust on you ! congrats <3
May 23

Wow we have the same birthday too!!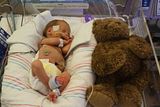 May 18

damn i just re read your comment i didnt even see that your daughters name was autumn dont you just love that name lol i get alot of umm why then they ask my name and im summer so they are like ohhhh lol. what is your sons name going to be were naming ours Christopher Mitchell and calling him Mitchell cuz his daddies name is Chris. It must be nice to live in Washington especialy during the summer time i went up in april and here in houston it was 85 degrees and when i got to seattle it was 35 it was sooooooo nice and actualy we went east of seattle into the mountains and the ski resorts were still open and there was 15 foot snow banks on the side of the road oh i loved it up there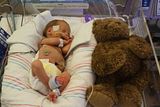 May 17

well damn i dont think i ever commented back my bad.... wow i cant believe we do seem to have alot in common awesome... i see your 36 weeks wow. where in washington are ya i just visited seattle its soo beautiful up there. well hope to hear from ya soon
May 9

Well, basically, I have two b**bs and two kids and they both nurse. Though my oldest is near weaning. She's 3 1/2
Ja[na
I have 2 kids and live in Arizona
April 12

<--- <3's your zebra shirt!
❀Mandy❀
I have 1 child and live in Virginia
April 8

So everything was okay, your water's not leaking?!? We were worried about you in the thread, you never came back! :D Hope all is well!