About Me
The name is amanda... my wonderful son was born February 15th, 2011.... He is my late birthday present :).... im not with his birth father, and he is not in my sons life... but that was his choice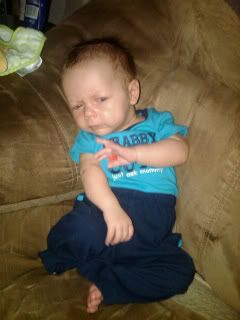 ABOUT THE BABY:
Name:
Landon James
Due:
March 13th,2011.
born:
Feb, 15th.2011.
Info:
October 18th,2010:
Found out the gender on . WOOOHOOO and he is super healthy
Dec. 22nd/10. :
ob appointment went good.... he is moving around like crazy... go back in two weeks
Jan. 5th/2011. :
ob appointment went awesome, His butt is up in my ribs on my right side i go back in two weeks on Jan19th. then i go for my last ultrasound on my birthday... February 2nd.. woohooo super excited
Jan 22nd./2011. :
found out i have high blood pressure at my last ob appointment so she sent me to the hospital to get hooked up on a baby heart monitor. It also monitored his movement and my blood pressure. The took me off work now and moved my ultrasound up so its before my next ob appointment. I was ordered to relax and was pretty much put on bed rest. Landon is fine from what they can see as of right now their only concern is me. They said my body is working to hard to be prego...
Jan. 25th/2011. :
Went for an ultrasound today, he is super healthy, in the right position and actually measuring 2weeks ahead of what i am supposed to be.. So my due date is either moved up or i just got a fatty. I was also told by the tech today that i am definitely all baby. Super excited to think i might have him in February instead of March.
Feb. 15th/2011. :
water broke at 830am. went to the hospital and he was born at 6:12pm
weighed 6lbs 13oz. and was 4weeks early. He is healthy as can be
Feb. 17th, 2011. :
we got to come home today and he is very healthy but cant fit into his 0-3month clothes... even the newborn clothes are alittle big. We are both doing awesome.
April 26th,2011.:
first shots today
June 1st, 2011.:
professional pictures today with Canadian Babies... did awesome
"Some women choose to follow men, and some women choose to follow their dreams. If you're wondering which way to go, remember that your career will never up and tell you that it doesn't love you anymore."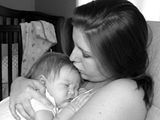 December 7

Hey how are you?? I feel like I havent talked to anyone since I was pregnant LOL How is your little man..If you have facebook you should add me on their I am never on here anymore LOL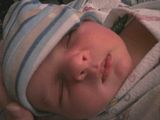 July 12

lol!! ;P Well we went camping at a cabin when he was 2 months old, it was a bit chilly yet, so I ended up hanging with him in side the whole time, and then again we went camping with friends in a really nice camper on sites with them, and he was 3 months then and well for some odd reason it was a cold rainy day that night, so again I stayed in, and he was for some reason not wanting to sleep there which I never really have a problem with him not wanting to, so both experiences weren't the best, but it was still nice to get him out & away! But if it was super hot, that again wouldn't be really fun either. I think it's just because he is only 3 and half months yet, so I gotta hold him and what not...Landon is older, so he may be able to sit on his own with out help? and you probably be around a beach or pool? which would be awesome! It gets easier, I know...it's just gotta work about naps, and feedings. ha ha.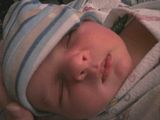 July 9

OK so it was Maryland...ohhhh. lol...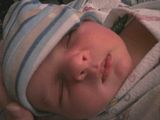 July 9

Oh wow, yeah I hear ya...the heat, sometimes is a bit much, but I hate winter!! Yeah I guess it could be worse, like if you didn't have a car for transportion, right. lol. :) but anyhow, my summer is going pretty good! Oh yeah, we've went camping too, but for two weeks...that is going to be a long trip then, good luck with all that...and the michagin trip ( I think you said?) So last night I had a dream that I was pregnant AGAIN!! yeah, it was scary because I'm like Ethan is only 3 and half months old and I'm going to have another baby!?!?! It was not cool! haha because yes I wanted a baby sooooo bad but I have one now, and it would be waaayyy too soon for another, for soooo many reasons! lol. So I kept waking up to make sure it wasn't real! haha. I've been having some insane migraines that have been making me so dizzy and nauseous, I'm like damn this, it's bringing me back to the 9 months of feeling so ill, and that's not a goood thing at all! Blah! Well habe a good rest of the weekend! :)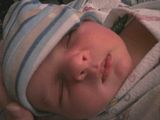 July 6

Yeah, but you should be definitely proud of yourself, you know...to be taking on full responsiblity unlike the father...and Landon will grow up the way you want him to grow up, and he will love you for being there for him to take care of him, and love him. :) How's your summer going? It's been hottt!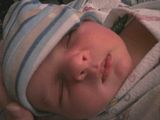 June 29

OH well I'm sure the little guy Landon keeps you occupied anyway, and happy. :)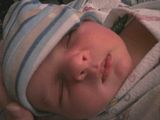 June 28

Yeah that really s***s when you gotta go back, I bet you do love not working and hanging with the little man and your boy toy...hahahahaha. :P
June 17

awwwww
June 17

awwww how yu fixing it?
June 16

hey no problem and me and my son are doing fine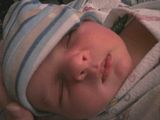 June 13

I'm glad you guys are doing great! AND that you found a great man, and also that he has a son too, that is cool! :) I'm happy for you. How's it going not working?! You liking that?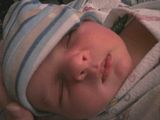 June 5

haha, I havn't been on either, I think I havn't been on since sometime in April, sorry. I guess we both just LOVE spending time with our boys that we forget about getting on here! lol... :) but we're doing great! How are you guys?!