Wyatt & Haylee
262 Posts | Joined BG: Nov 27, 2008
Last Visit: 5 years ago
Age

36



Gender

Female



Status

Married



Work

CPhT



Location

Oregon



Interest

snowboarding pilates, family, dirtbike riding, camping , my niece



I am married to my best friend, we have been married for over 5 years and together for almost 8! We have an awesome baby boy and are expecting a little girl in March 2011! I am really nervous about having 2 kids under the age of 2! This is gonna be an adventure!
We live in our dream house in Sandy, Or. Which is at the foothills of Mt. Hood, beautiful!! A great place to live for people like us that like to camp! I love to snowboard and ride dirtbikes, and do pilates, just being outside. Of course I have an obsession with shoes, especially heels!!!! and shopping.
ABOUT WYATT"S PREGNANCY:
Nov. 09-started feeling sick at the begining of the month, thought nothing of it
Nov 5- by this time my b**bs were soo sore if my puppy jumped on my lap he found himself on the other side of the room....still I had not clued in
Nov. 27- Thanksgiving Day getting ready to go to over to visit with family I nearly barf to the smell of reheated refried beans, my hubby says you look like crap and I say I think Im pregnant (finally I get it!!) so he goes to the store and buys a test whada know it POSITIVE. After I drop the test from shock I calmly walk it down stairs, hand it to him turn around walk back up stairs, then avoid him for the next 2 hours and call my sister in a panic.
Dec 3- First OB visit umm so why was I never informed these things are sooo detailed they really want to know the info!! I should have studied up first! LOL.
Dec 3- First ultrasound it's official I am pregnant with a bumble bee! or a lima bean which ever you prefer
Dec. 22 started spoting called Dr. due to the tremdous amounts of snow that we were getting at the time my Dr's office was closed and phone calls were not being returned for 48 hours. My work would not let me leave because no one else had shown up besides 1 other person who lives about 30 miles away (I live about 25 miles away one way) & the pharmacy was the only busy department in the whole warehouse....grrr luckly everything turned out ok.....my cousin is a mid-wife in New-York & I think I called her every 15 minutes just to see what I should or should not be doing
1/6- First appt appt at my Dr's new office baby HR in the 180's can you say crack baby?
1/9-back to visit the dr plagued with horrible dizziness nearly passing out even while driving.. got a RX for meclizine cheaper copay than to buy it
1/30-routine visit HR around 160 and no significant weight gain for me
2/4-back yet again plagued migraine given rx for percocet and told if this does not work I will end up in the hospital HR around 160
2/5-guess what Providence Medical Center here I am got a shot of Demerol and Phenergan in my butt and still got a headache walked away with another rx this time for phenergan oy! Open my own Pharmacy at home who needs to go to work!!??
2/10-THE BIG DAY the gender ultrasound ITS A BOY!! HR around 150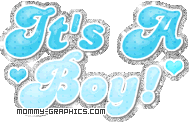 Cute Mommy Graphics and Layouts
2/27-first post-ultrasound appt everything normal total weight gain to date 10lbs told by the doc to step up my weight gaining efforts (ok I will become a cow and graze all day should that help??) baby's HR
3/23-Hospital visit numero dos wow those nurses in L&D sure are nice. Admitted for possible preterm labor & had a FFN, fetal stess test, hooked up to the moniter my contractions and found out I was dilated already,and alsowas severly dehydrated ....wtf do you know how much water I drink on any given day?? Oh and I have a shortened uterus....which I found out was not a good thing. Hmmm who knew???!! So was discharged went home with instructions to TAKE IT EASY. So my hubby says as we are leaving your going to work tomorrow right??
3/25-follow up visit from hospital and regular ob. Doc says to take it easy and now I am on the 2 week schedule for visits he wants to monitor me closely. My weight is doing better 4lb weight gain up to 127 now... eek!! Scary but good for baby! Next visit 4/8/09 My sisters 26 bday and my niece's 1st bday!! Also my glucose screen oh so fun.
<