About Me
Hey. My name is Keshia. I am 20 years old. And happily taken and in love w. a wonderful man, his name is Brandon, he is 24 years old. And Im the proud mommy of beautiful baby girl, Braelynn-Alexis Rayne Meszaros, born October 7 @ 7:26 am!!
*********************************************************************

--That would be my daughter, Braelynn-Alexis Rayne Meszaros, she was born October 7, 2009 @7:26am. I went into early labor Monday afternoon from the gel that morning they put on my cervix. My mom&I went to the hospital but they sent me home, the contractions kept going thru the night. Tuesday night, my mom&i were watching the Twins game[[too see if they were going to the playoffs]]&while we were watching that my mom was timing my contractions,&then we went to hospital at 12am. Well they watched my contractions, and they were OFF the charts,&told me to get up&walk around, well in the process of walking around, my water broke in front of the nurses deskk :D theyy thenn put me on the monitors againn, and gave me some medication to sleep, that worked until about 5:30am when the contractions were coming none stopp :/ &&i couldnt sleep anymore. Theyy checked me&I was 5cm dilatedd&&readyy for the epidural;but 20 minutes laterr they checkedd me&I was at 9cm dilatedd, ughhh no epidural for this mommyy. After an hour&half of pushingg, Braelynn-Alexis was born at 7:26am, weighing 7 pounds, 15 oz&21 inches longg..and after she was bornn, I got 20 fricknn stitchs bc she tore me so badd. But Im happy shes here&&wouldnt change it for the world. She my pride, joy,my lifee&&my greatest accomplishment<3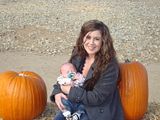 September 11

awww thankyou
May 4

thatd be awesome!!!!
May 3

awee i freakin love yew!!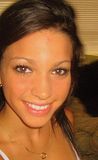 April 23

have you found out what ur having yet? my next apt is may 1st and ill be 16 weeks and like 4 days im hoping ill be able to find out then!!
March 22

U found out u were pregnant on teh same day i had my baby!! lol congrats.
February 14

aww. do you know how far you are? i'm excited too, but i have been soo sick. its miserible =[
February 13

Thanks for the add! Hope you are having a great pregnancy..