About Me
I am 27, married and have a son who is 22 months old! I currently live in Fort Worth Texas although I was born and raised in Maui, Hawaii!! I miss home quite a bit, especially when the weather turns cold!! Wewelcomed our baby g**l o* February 28th, 2008! My family is mostly males....3 older brothers (no sisters) and two nephews. In fact, our daughter is the first girl born since me!!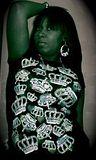 February 23

thanks you actually gave me the best feedback,i appreciate it!!! who cares about the price,the precious moments are so worth it!!!thanks agian....congrats!!!
January 26

its not really a big gap.. a week apart... if my last ultra sound was on november 9th... and it said i was 18 weeks and 4 days, dont i just count back and thats the day i got pregnant???