September 17

Outre!!! Love it. Good quality and inexpensive. The next one up from that is Milky Way. Its a little bit more expensive, but also cheap, and better quality. And she might need something a little heavier, try CANTU products. They have leave-in conditioner which is the consistency of pudding.
September 16

Fer sure!! Ask away.
ℐαzmчn
I have 1 child and live in Somerset, Kentucky
December 10

Lol ty! :)
July 27

Thanx momma sorry it took so long to respond haven't been on here in a while
April 5

heyyyy thats my sons name! lol
March 24

<i>It's the best feeling ever...I love it :)</i>
March 21

<i><b>Thank You :)</b></i>
catttttt
I have 2 kids and live in Texas
January 13

Thank you! Her hair in the pic w/her in the purple outfit was an old twist-out. Her hair is curly, so I just put moisturizer in it and it'll curl up and hold better.
December 19

I know, in a few months we might just be able to do that, she is almost 7 months...CRAZY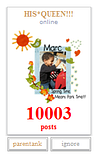 December 10

HEY! Not at all! i added you as well! we def need to try and get together i have 2 other mommas umm baby rocs mama and monsterss... something in my PT from the area. a momma baby get awat lol. how old is you LO?
November 13

ya..i keep my regular position after season...but if i do good on my seasonal position there are chances of staying with that team...we will see how it goes!
November 1

life is alright,just got a little promotion at work...for season and my little mama has recieved 2 teeth..not much sleeping goin on in this house..but im happy fo her! how is everything going for you?