About Me
My beautiful baby girl was born September 1st 12:30 am
7 lbs and 20 1/2 inches long
she is the epitome of perfection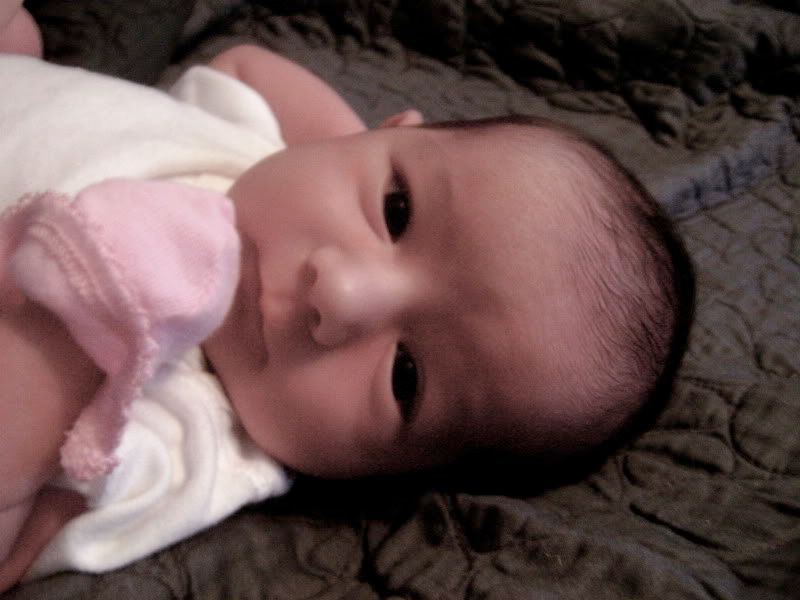 Labor/ Birth Story
October 31st i woke up at 5:13 am to once again go pee
waddling to the bathroom i go
so i make it to the toilet and discover that im a little bloody
woohoo bloody show
slap a pad on and tackle my poor sleeping husband
declaring " i think today is the day!"
*funny to me because everyday, almost every hour since i was 37 weeks he has said that*
anywho i tell him to go work a little bit while i shower, shave and clean a little because it could be a while
looking back i realize how ridiculous i am worrying about being hairless
around 9:30 am i call my mom * i don't tell her the events that transpired earlier that morning, i just ask her to come over and help me clean
she gets to my house around 10 and the cleaning begins
as we finish up an hour later in the kitchen we were standing there talking and pop goes my water
i stop talking mid sentence and look down and start laughing "well either i just peed myself or my water broke"
scurrying off to the bathroom again and what do you know it did but it wasn't alot
by this point my mom is about to pee herself with excitement
haha we could have matching wet spots
well i go change clothes and decide i want to go for a walk
target sounds like a good place for a walk ( its too hot to walk outside)
plus i can shop and distract myself
contractions begin in the middle of target while im looking at bedspreads
and sheets
they aren't really different from the BH ones to me siming them they are 6 minutes apart
we continue shopping for about an hour
then we go to chick fil a get some nuggets and go home
i eat my lunch and then bam
contractions get harder woohoo
now they are 5 minutes apart 45 seconds long
i handle them ok
i spend the next couple hours my glider watching tv
daniel gets home and promptly begins peeing himself as well
contractions are pretty consistent
around 5 they are 4 minutes apart 1 minute long each
6:30 they are 3 minutes apart
now i am breathing heavily no hee hee hooing just in through the nose and out through the mouth kind of breathing
6:45 im ready to go to the hospital
i get there they check me and im only 4cm
no way and i have another bag of waters
neato
they send me to my nice birthing suite and the doc come in
i asked if she could break my water and she said well let me check you first
and *gush* *gush* *gush
wow that was alot of water...i soaked 8 towels...big towels
she kinda laughed "i bet you feel lighter"
she leaves telling me to call the nurses when i feel it in my bottom
about 2 hours later
i feel it oh hell do i feel it
they check me and im a solid 8
holy crap that was fast say the nurse and i
ok then well it shouldn't be too long then
30 minutes later im angry and cranky because i cant breathe through my nose
and everyone is telling me to breathe and i keep yelling at them i cant
and my nurse told me i couldn't use my nose spray even though i used it through my entire pregnancy and my doctor said it was fine
finally i tell her that my doctor said it was fine and that i used it through my whole pregnancy
she just says "oh well in that case i guess its ok"
i want to smack her
anywho now that i could breathe things were going much better
an hour later i beg someone to check me
and i am 10
i assumed they call the doctor when you get to 10
well i begin pushing which feels amazing to me right now
so much relief
and hour later im crowning
and thats when they decided to call my doctor(who is at home because its mindight)
im livid
what kind of bonehead nurse waits till your crowning to call the doctor
30 minutes of dont push just breathe later she is here
12:30 on the dot
a perfect 7 pounds
20 1/12 inches long
My beautiful daughter Lauren Danielle Rivas is here!
when she came out my doctor joked she must have been jumping rope (double dutch) in there with the umbilical cord
it was wrapped around her neck three times
they plopped her on my chest and i never cried so hard
i love her so much
Queen Rosa
I have 3 kids and live in Sarasota, Florida
August 6

great choice in choosing natural and congrats on expecting a beautiful baby girl!
April 24

Lol, no problem. And then her thing with, "don't spoil a child or they will grow up to be selfish brats" :roll: Don't get Liam anything! You have your own spawn to buy stuff for! Silly!
Um saturday I am tutoring my sil. Sunday is Rick day. But all next week I will be home with Liamonster, bored out of my mind. :D
So glad you brought entertainment to my night :D And hey, when are we going to hang out woman!
Hehe. Well I love you! :)
Oh and some nights, like tonight when rick works late, I just browse looking to stir up shit. :) But for the most part, I'm pretty nice :D
Lol, that's awesome. I wan't to meet the hubs....but I might steal one of his cars.... shh :oops:
Yes, this is a very very entertaining site. And Rick can't seem to figure out why i'm on here so much. lol
Found it. ha that's funny. I remember the first time someone on here called me a stupid b***h.... And lately i've been told that I overreacted because my cousin fed my infant ice cream :roll:
OH no! Send me the link!!
April 23

WOW im pretty sure you're the only one who understands, sorry i thought a lot of moms would have photos of their childs gifts and them. They totally took it the wrong way but you know im a bragging snob! then they make me out to be a bad guy saying that it's not christmas or his dam birthday sheesh awww thank you very much hun!!! :) are you excited to have a child? what do you prefer to have boy or girl? i wanted a girl so bad but im soo happy with my son! :)