* ReNeE *
716 Posts | Joined BG: Jan 08, 2009
Last Visit: 4 years ago
Age

30



Gender

Female



Status

Married



Location

Nazareth, Pennsylvania



My name is Renee and I am 24 years old. I am married to a wonderful man named Michael. We got married August 2, 2008 and have been together for 6 years. I have a baby boy named Damien. He was born December 21, 2009. He is mommies little boy!
April 6th... BFP!!!
April 7th... Blood Test... HCG level- 669- 4w4d
April 14th...Blood Test... HCG level- 18,244 - 5w4d
April 21st...1st u/s...*Amazing* Heart Rate 116 - 6w4d
April 24th...Obgyn Apt....meet with doctor...new prenatal vitamins to test - 7w
May 8th... 1st prenatal visit and another u/s..yay! Little jellybean grew :) and we got to hear the heart beat for the first time 173..I fell in love. - 9w
May 12th... Blood Test- 9w4d
May 14th... Obgyn Apt...Exam... Pap smear- 9w6d
June 12th... Obgyn Apt...heard heart beat. Scheduled a level 2 u/s - 14w
July 10th... Obgyn Apt...heard heart beat :) - 18w
July 18th... Felt what might have been a flutter, while watching a movie. - 19w1d
July 24th... Level 2 u/s. It was unbelievable seeing the baby so big.We found out that we are expecting a baby BOY! He was showing off his good, so we got great pictures. He was so wiggly that the u/s tech had a hard time. He was even s*****g his thumb and he waved at us. He also had his legs crossed and he was covering his face....so adorable. His heart rate was 147 and he is 12 ounces..PERFECT little boy. He measured 20w2d. Everything looked good. - 20w
July 25th... This week I am finally feeling my baby boy...I love the feeling :)
August 6th... Daddy felt baby kick for the first time at 1:00a.m. - 21w6d
August 17th... Obgyn Apt..Heard heartbeat...hb around 140. - 23w3d
August 25th... Daddy saw baby kick and heard heartbeat on the prenatal heart listener. -24w4d
September 13th... Hospital Tour - 27w2d
September 15th... Blood Test....Glucose Test - 27w4d
September 17th... Obgyn Apt - 27w6d
October 1st... Obgyn Apt. - 29w6d
October 3rd.. Shower Party. - 30w1d
October 7th... Started having contractions. - 30w5d
October 8th... Went to the hospital.. Contractions stopped. - 30w6d
October 15th... Obgyn Apt. - 31w6d
October 29th... Obgyn Apt. I got a u/s yay! and 2 pictures :)- 33w6d
November 5th... Tue Nov 3rd I tried going to sleep, but started to have horrible back pain. Called doctor at 2:30am and she told me to take Tylenol... so it's 3:00am hubby had to go out and get some. Next morning Wed I went to NJ to help my parents move along with my Tylenol. That night again no sleep horrible pain that at 5:00am I said I can't take the pain and my mother takes me to the hospital.
So Admitted to the hospital Thur Nov 5th. I was in sooooo much pain I just kept saying i'm dying my back is braking. I could not lay down. Needed help getting to the bathroom. It was pain I never experienced before. Went through a painful U/S. Turns out that I have a very bad UTI and baby seems to be positioned on my right kidney and fluid is remaining in my right kidney because of that. They gave me 2 types of medication via IV, which I hated. Then Tylenol every 6 hours which was not holding off the pain. I was basically screaming in the hospital out of pain. So in between the Tylenol they were giving me 1 Percocet every 4 hours..and had to move that up to 2 Percocets. Along with antibiotics. HORRIBLE!
Then, out of no where in between my back pain they tell me your in labor! I was getting contraction after contraction but at the time did not even feel one bc of how severe my back pain was... I was in shock. 35w pregnant. I'm calling hubby to come now to NJ. I was fingernail open. I asked for anepidural to be ready for me when it is time. They started the blood work.Thankfully they stopped labor! And the next day Fri I left the hospital still in pain. Since then I only took 2 Percocets bc I am afraid for the baby. I am still in a lot of pain the second Tylenol wears off. Now I have alsohorrible heart burn made me throw up yesterday. I just want this pain to go away it's like anightmare. I don't know if to cry or scream anymore :( Doctor says hopefully he will stay in there for another 2 weeks. - 34w6d
November 10th... Obgyn Apt. - 35w4d
November 17th... Obgyn Apt - 36w4d
November 24th.. Obgyn Apt. - 37w4d
December 1st.. Obgyn Apt. Check for dilation - nothing - 38w4d
December 10th.. Obgyn Apt. - 39w6d
December 17th... Obgyn Apt for testing...Stress Test and to check my water levels -40w6d
December 21st... Damien was born!
Getting married to Michael was the best day of my Life.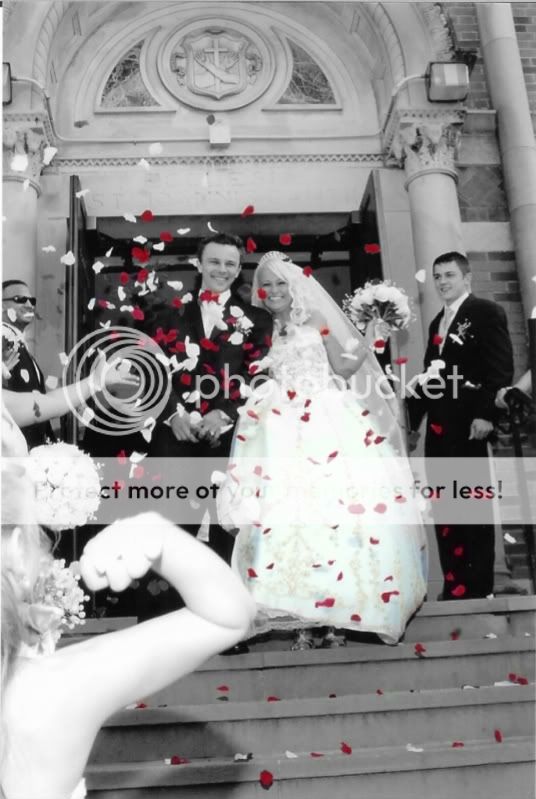 The Love of my Life