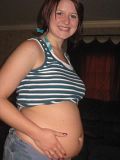 June 10

Hey,,,I'm gonna have a baby too! I'm due in February. Kinda crazy that Scott and James are both going to be a daddy! Congrats!
February 9

aww man uti's are the worst,wow ur already on your 3rd ultrasound? ive only had one but i go for bloodwork tomorrow i need to hear my babies hearts again because i know im prego but i just dont look like it!
February 6

Hello, I am due on the same day as you. Just wanted to drop by and say hi! How do you feel so far?
January 30

scared happy worried all in one! hows urs going?
January 29

hey im doing good actually ..i went for my sonogram 2 days ago and found out im having twins! lol..double trouble
January 26

HEY HOWS IT GOING?