About Me
i LOVE MY HUBBY! i'M FiANALLY PREG. again!!! (ii have an angel baby) & A BABY GiRL NAMED yVETTE WHICH IS ALMOST 2 IN FEB 2013.
ii LoVE Mi LiFE.. Mi HUBBYz NAME iS JUAN MANUEL SANDOVAL..!!!!
I LoVE HiM A LoT... AND HE iS STiLL BY MY SiDE HE SAID HE WiLL ALWAYS BE HERE FOR ME...... ESPECIALLY AT TIMES LiKE THiS..... LOL...


Isabel Calderon


Create Your Badge

My Info.!
Mother Name: Isabel Calderon
Age: 19
Birthday: April 6, 1993
Birth Place: Nampa, ID
Height; 5'3
Pre-pregnancy weight: 123
Father Name: Juan Manuel Sandoval
Age: 21
Birthday: March 15, 1991
Birth Place: Zacatecas, MX
Height: 5'5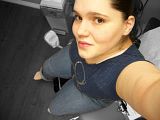 August 22

Hey girl im due april 8. And i was trying. I dont care what ppl got to say my bf takes care of me. But u keep ur head up and be careful. Im only 17 too i had a miscarage in febuary. Just take it easy ok. If u ever wana talk get at me
August 14

hey there :) Im 17 and 4 weeks pregnant, 2 positive urine tests and a positive blood test and i still cnt beleive it!!! I'm kinda nervous and excited too:) I'm due somewhere between the 19th and 21st also!