About Me
i have 7, almost 5, and 2 yr old daughters. i lost a son on september 18th, 2008 at 17 wks 5days gestation. we unexpectedly found out that i am expecting again, due july 4th. we are having another boy but have been told that he will not live. hoping for a miracle!
April 13

The drs have switched it hack and fourth from July 4th to July 6th. I'm going by what they originally said. Haha. Actually, things have not gone so well. I just can't wait to have him so I can see how he is.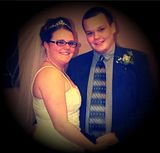 April 13

My original due date was july 4th! Now its july 5th haha. How cool. :) hope everything is going good for you hun!