About Me
I am Whitney. Here is MY story...
I was in an abusive relationship when I was 18 and a half, which soon (within 3 months) turned into me drinking heavily. That continued for almost a year...what a horrible year... By some miracle I found out in Feburary of 2008 (and immediately quit drinking and smoking) that I was pregnant and in May I left the a*****e and moved back in with my parents... There was a lot of back and forth and staying the night with him, I wanted my family to work so damn bad, I didn't care how much he screamed, pushed me around, and told me he wished I'd have had an abortion. October 7th 2008 I had an amazing son and named him Thomas Christopher. 2 weeks later I left him after threats and more abuse, and filed for custody and CS. 2 months later I met this guy on MySpace and talked for a couple days then I saw him at the mall and we talked all night. He finally met my son and loved him like his own.. 2 months later, on Feburary 5th 2009 we were married and I found out I was pregnant. October 1st 2009 BD gave up trying to make me miserable and signed over his rights to my husband, then October 6th 2009 I had a gorgeous baby girl who we named Avery Joanna. My kids are one day shy of a year apart, and they have the same daddy. DNA doesn't make a father, and you can't force someone to be a parent. Recently I found out that I am bi-polar, and I am surviving. I love tattoos and I have 14, sorry if you don't like it. I say what's on my mind and that is just something you will learn to deal with. I drive a HHR, and I love it. I am pro-LEGALiZE!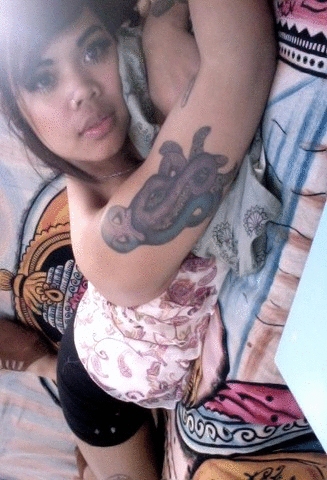 KNZ.
I have 3 kids and live in Washington
July 28

thanks :)
June 23

Thanks for the PT!
October 12

i just saw that post you said about my daughters name... thanks :)
[aZ]
I have 8 kids and live in California
September 12

<a href="http://forum.baby-gaga.com/about1185487-230.html#lastpost">http://forum.baby-gaga.com/about1185487-230.html#lastpost</a>
September 8

lol no practice helps you should have seen me when i first started
September 8

so id like to comment that i think your bows are getting way better and your shaping is great to
kick rocks
I have 3 kids and live in Cleveland, Ohio
September 8

Thank You, Hun! :D
August 21

LMAO!! I've always had that pudge lol. Thanks!! I always joke with hubby that we're having twins, then he tells me not to even joke about that lol!! LMAO! You two are funny! If the 3 of us happen to be right... we gots some serious talking to do! :shock:
January 27

awww thank you. yeah i moved here last year in October. yeah i love my lil boy sooo much. i had him January 12. that was the best day of my life...
January 23

she cant move or hold her head up at all so shes getting a flat head in the back so she needs the helmet to help her shape her head.
January 23

ohhh my daughter sees a nuerologist, geneticist, speech and swallow therapist,nutrionist. but they still have no idea whats wrong with her. and shes going to go get fitted for a helmet this week too. it all s***s:cry:
January 22

what kind of specialist is she seeing? do they have an idea about what is going on with her?