About Me
Daynah. 23. Mommy. Wife.
My name's Daynah. I'm married to an amazing guy. We've been together for 8 years, married 4. We have 2 beautiful sons and are currently expecting our 3rd. I pray this is our last one but if God thinks we can handle more than we leave that up to him. I started going back to school this past summer. I'm majoring in American Sign Language Interpretation, and I might minor in Special Education so I can teach Deaf toddlers. I'm teaching my kids ASL (not baby sign language) and hope they can love in the Deaf community. I work part-time at a popular retail store. I was part of management but once I had my 2nd son I had to step down, which was one of the hardest things ever. I love spending my free time at Disney. Our family has annual passes to Disney, Sea World, and Legoland so on the weekends you can usually find us at one of those

Lucas Mitchell:
September 4, 2009 - He is my wild child. At 4 years old, he has so much energy I can barely keep up with him. Although he can be shy, he is usually talking to everyone he sees and waving at them.
Christopher Nolan:
July 31, 2012 - He is the opposite of Lucas. Although he's a happy baby, if you met him, you'd never know it. He doesn't smile for strangers, only family. He's a very laid back child and has to take everything in before he'll smile or talk.
MyHusband -Adam Mitchell:
Wow, this has got to be the most wonderful guy whose ever walked into my life. We met back in high school, during orchestra class and have been together pretty much ever since. He is definitly not like any other guy i've ever met or dated for that matter. We got engaged only after being together for a year and a half, and had been planning on a March 2010 wedding and THEN children. Well looks like we messed up the order a bit. We got married on January 3, 2010 outside on a 37 degree weather with girls in short dresses lol. It was such an amazing wedding (all for under $1000).
Contests
------>
BG Binky Boy - 3rd Place
Page: 155, 172, 173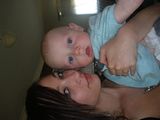 March 2

hey sweetie how are you?? how is lucas? xx
January 19

yea being in the hospital s***s.. ahh but hey whateva is best for the baby... i wish i could go to winnie palmer that hospital is great. my dr only delivers in sanford which is kinda iffy and more with all the problems being there. but my dr is a great dr and i wouldnt change him at all he also dealt with the hospital with all my concerns and infront of me so it made me feel more confident. i acctually no longer live in orlando i live in deltona. i just havent changed my page. but im always in orlando so hey
Bunny's Mommy
I have 1 child and live in Philadelphia, Pennsylvania
December 26

Aww ur baby boy is beautiful!!!!
L♥vinIsaiah
I have 1 child and live in Orlando, Florida
August 31

Hey! It's not a problem I don't mind answering questions. I love Winnie Palmer it's the best hospital to have a baby at. The nurses are sweethearts and the food is awesome I was ordering room service like crazy and so were my guests since it was $5 for a plate of food and a drink. And most of the time they let you be the judge of what medicine you want. I had my son naturally and they nurse asked me afterwards did I was tylenol or perkisets? I was like really lol.... I was feelin ok so I took the tylenol but once my breasts started gettin engorged those perkisets started lookin real good.... If your son is using medicaid choose Staywell plan and it covers the circumcision they don't do it at the hospital you have to do it with your son's pedi it's about a 15-20 min procedure... Most doctors prefer to do it before 3 months so if you're using medicaid you need to apply asap because Staywell takes a couple of months to kick in. If you have any questions about anything feel free to ask. I'm a bored SAHM for now anyways lol...
August 20

pick up.---&gt; <a href="http://forum.baby-gaga.com/about739872.html">http://forum.baby-gaga.com/about739872.html</a> :)
iBAK3
I have 2 kids and live in Maiden,
August 19

WOW! we sound alot alike! MY dream career is baking as well. Its always been my passion. I bake and bake and bake...thats all i do xD I am so blessed to be a SAHM. I dont know if I could handle NOT being one :P Ive never wanted to do anything besides be a sahm and wife and bake! You should totaly pursue working with cakes and such if thats what you really want!
August 18

I got bored and went to self serve right now and shipped your stuff. lol I shipped it 3 day mail so let me know when you get it!
iBAK3
I have 2 kids and live in Maiden,
August 18

I noticed you do ASL! I did too in highschool and was really advanced in it :]
Momma Kat ♥
I have 17 kids and live in Orlando, Florida
April 20

Heeey there! I know this may sound weird, but we actually have a friend IRL in common. I went to high school w/ Allison & I saw your myspace on her friends list. Just thought it was cool, since I've never had that happen to me on Gaga before. LOL. Excuse my dorkiness! :oops:
DUCES
I have 1 child and live in Douglas, Georgia
March 31

I'm not sure which part he works! I think its the magic kingdom too...I may be wrong!! I will have to ask him! I love Disney!! My SO and I went on vacation there about 2 years ago and had a BLAST! Especially all the discounts you get... my brother buys me all kinds of Ariel stuff (I know I'm 21 and still love the Little Mermaid....:?) Haha... But I hope you're pregnancy is going great! Do you know what you are having yet??
March 30

We are due the same day! && I also have one angel baby,I miscarried back in September of 08. && my morning sickness is horrible still to! Do you have a baby bump yet or no?
DUCES
I have 1 child and live in Douglas, Georgia
March 23

Hey! I justsaw you were from Orlando and a Disney Cast Member!! My brother and his fiance are too!! I wonder if you know them! My brother's name is Corey and his fiance's name is Jessie!! I love your avi pic by the way...you are so gorgeous!!! :)