About Me
My name is Jamie, but the most beautiful little boy in my world calls me Mama. I had my first son, Giovanni Silacci-Braziel on November 10th, 2009 and am currently pregnant with my second son, who we plan to name Angelo. Neither pregnancies were planned (nor prevented, obviously) but I am happy they happened when they did. I couldn't imagine my life any other way. The father of my children and I live together and have been together for almost 6 years and have known eachother for about 10. He is a great Daddy, he does the best he can and that's all I can ask for. I work full-time as a Staff Assistant at an advertising company and plan to get back into school to persue a degree in business management as soon as possible, until then I am happy just being
Mommy.
Giovanni was born on November 10th, 2009 and weighed 8lbs 8oz. This little/big man is my world!! He is the air that I breathe, the blood running through my veins... I love him more than I ever knew I could love someone! I love watching him grow and learn new things... I love being his "Mama." He's got such a BIG personality... (and attitude, but that's another story!) He's a little ladies man, I'm scared for his teenage years!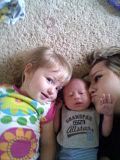 April 8

:Dim SOOO ready!!!! sick of being in the bathroom every 5 mins!
March 2

That's great! Yes, this is my first :) It was going really great.. I didn't have a single complaint until I went into preterm labor on Valentine's Day & now I am stuck on bedrest taking lotsa medicine & getting weekly injections to keep her in my belly :?
March 2

I am feeling okay. Ready to see my doctor tomorrow :) How are you feeling?
February 18

Ya I fell on the stairs last week and now I feel it much more too.us Im gonna keep trying the stretching thing hopefully it helps it to not be to bad.. Im 30 weeks today and I remember in my last pregnancy it was about 34 weeks it started getting real worse.. Crossing my fingers it doesnt though.. Hope yours doesnt either :(
February 17

Hey hows the pelvic pain going? lol mine gets worse every week.. :( Just thought I would say hi. Your the only other person I have met that really got how awful that pain truly is.. Hopefully you are doing better then me.us :) ttl
February 15

Girl I've been through that. But I'm doing good my nausea and fatigue has come back. Nausea isn't that bad but it's a struggle with trying to stay out of bed. My body temp is wacky though. Most of the time I can't figure out if I'm hot or cold LOL
February 15

I just want to say high and see how your doing.
January 31

Yeah my family says that the name is to plan but I'm in love with it so I told them I don't really give a Fudge :D
January 31

Me too!! I wanted to name my first Angelo but his father was completely against it. He was against it with this one too but about a month ago, he just gave in :) I seriously cried when he told me we could name him Angelo, I have always LOVED that name!
January 31

Awww Angelo is what I'm naming my son. I love that name.
December 20

I really want a Girl but I would be just as happy with a little boy. So this will make 2 boys for you huh Congrats.