About Me
A newborn's conversation with God (Beautiful!)
A baby asked God, 'They tell me you are sending me to earth tomorrow, but how am I going to live there being so small and helpless?' God said, 'Your angel will be waiting for you and will take care of you.' The child further inquired, 'But tell me, here in heaven I don't have to do anything but sing and smile to be happy.' God said, 'Your angel will sing for you and will also smile for you . And you will feel your angel's love and be very happy.' Again the child asked, 'And how am I going to be able to understand when people talk to me if I don't know the language?' God said, 'Your angel will tell you the most beautiful and sweet words you will ever hear, and with much patience and care, your angel will teach you how to speak.' 'And what am I going to do when I want to talk to you?' God said, 'Your angel will place your hands together and will teach you how to pray.' 'Who will protect me?' God said, 'Your angel will defend you even if it means risking its life.' 'But I will always be sad because I will not see you anymore.' God said, 'Your angel will always talk to you about Me and will teach you the way to come back to Me, even though I will always be next to you.' At that moment there was much peace in Heaven, but voices from Earth could be heard and the child hurriedly asked, 'God, if I am to leave now, please tell me my angel's name.' God said, 'You will simply call her, 'Mom.'
I LOVE YOU JAYDEN EMIL RICE AND NEVAEH ELIZABETH RICE.
February 4

hey!! me & khylie are doing wonderful. there has been alot of drama between me and her dad (my hubby) but we're trying to work thru it but oh well. How are you and your lil one doing?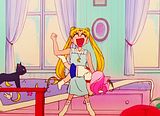 kittywhite
I have 1 child and live in Tokyo, Japan
October 23

aw thanks mama your son is adorable! :)
July 10

Thank you ! I find out August 14th.. I'm counting down the days I can't wait! I'm trying to remember the color of the dye. I know it's Loreal and it's either just plain Burgundy or its Deep Auburn. Something like that.
thank you!! :) I can't believe it's right around the corner! yay! :) thanks again
Kat FoSho
I have 1 child and live in Mud Butte,
June 27

That's funny... my due date was actually the 15th but my water broke on the 13th and I had him on the 14th ! I can't believe he's going to be a year already... and he finally JUST got his first tooth... LOL =) You're little one is a cutie too!
Angie's Mami
I have 1 child and live in Poughkeepsie, New York
June 15

noooo Im not I just dont know how to remove it....
June 13

I really was no trying i was on birth control nuvaring and it just didnt work for me ... but good luck anf follow the number 1 rule after sex and u should be prego in no time
June 6

aww thanks mama! lol I know, I knew they'd be light, like his daddy's, but I didn't think they'd be this blue. they're so bright, and they catch EVERYONES attention. that's the first thing they notice when they look at him, his eyes!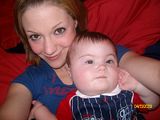 June 5

thank you. he is the love of my life. he is the best gift i could recieve. hes a good baby. your boy is cute too=) they are pretty close in age!
June 5

Probably the end of August. I'm guessing
June 4

I'm not even for sure yet. My period is supposed to come the 6th too. But today and yesterday, I've been showing signs of it. And from how those have been, it should of came yesterday. But it's just light cramping in my lower tummy. Nothing like menstural or digestive. I don't know.
Kristeebella
I have 1 child and live in New Orleans, Louisiana
June 4

Thank you :D