About Me
10-22-13
28
weeks
1
day pregnant... still having morning sickness every DAY... blah... starting to get really tired again and Eli doesnt like it if I have any pressure on my stomach or side he likes to kick a LOT! lol According to the Dr. I only have about 10 more weeks and he will be coming out to see mommy! yay
10-8-13
26
weeks
1
day pregnant... so ready to meet my lil man...
8-28-13
20
weeks
2
days pregnant... 3rd ultrasound baby boy doing great and moving a lot.. and he is perfect! so in love already!
8-5-13
17
weeks pregnant... Yesterday we paid to see the baby early and we are having another BOY...! I am so happy and excited! :D:D:D:D:D:D:D:D:D
7-31-13
16
weeks
2
days pregnant... Today was my birthday and got to listen to lil one rolling around like crazy and the wonderful heartbeat when we could find it...lol Headaches are doing better and just so excited to see what our angel is on Sunday...!
6-19-13
10
weeks
2
days pregnant.... had dr apt today and heard the heartbeat and its well over 160...so exciting and just what I needed...bad new is I might have high blood pressure and I have to pee in a container for the next 24 hrs and then blood work on Friday.
6-3-13
8 weeks pregnant and NOW the morning sickness decided to come in full force as of yesterday... along with dizziness and headaches...YAY!
5-30-13
7
weeks
3
days pregnant...This week symptoms: itchy b**bs, increased cm, heartburn, exhaustion, MOODINESS (lol), morning sickness is now as night when I am tired and sometimes in the morning but just gagging. Other than that still feel better that I did with DS.
5-22-13
6 weeks 2 days pregnant... Had First ultrasound today and saw my lil baby... He even had a heartbeat today. SO very exciting! Pregnancy symptoms: sore b**bs, headache, heartburn, indigestion, frequent urination and maybe a lil bit of nausea but only when I first wake up nothing really to worry about. Exhaustion! lol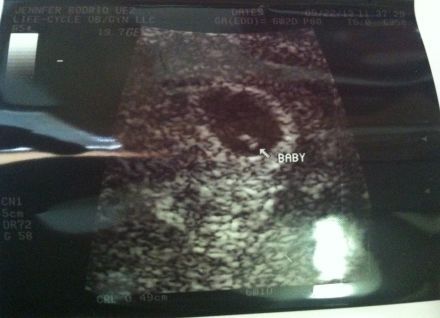 5-6-13
4 weeks pregnant today...
3-10-13
I lost baby #4... sad......
3-6-13
At it again!... 5 weeks pregnant today and I am so excited and so nervous... Of course every lil ache and pain I am worried that I will lose my lil "NUT" but so excited to do it all over again... I figured that at Ethan's 3rd Birthday I will be 12 weeks and I will let everyone in on the good new if everything goes well.
the following symptoms (so I dont forget for the next one):
insomnia/exhaustion
gas/burping
acid indigestion
heartburn
lower back pain comes and goes
pain in hips to my legs
headahes
nausea only when I am sleepy first thing in the morning and last thing at night in bed
increased urination only when my cervix is lower
CP is high, medium, hard
CM is creamy, tacky
3-9-10
32weeks3day and my little Ethan is rolling around like crazy. I can not wait to finally meet him, this has been my desire for a long time.
2-1-10
27 weeks and everything is going great. Except for excessive hormones and wanting to kill my husband, which I find that I love him more than anything then at other times I dont like him that much. Anyways...! Its a BOY just what I wanted. He has been kicking up a storm. I think I am starting to get the 3 trimester blues again. I am getting nauseous and feeling really sleepy all over again. BLAH! I am happy about the little one. Sometimes I still cant believe that its true, I guess thats normal huh...?!
9-27-09
Well, I am BACK! After my second miscarriage this year I thought it wouldnt happen again. ButI am pregnant again and I am 9 weeks as of yeaterday, so I am much farthur than the last 2 times and everything is beautiful. THANK YOU JESUS!
4-2-09
I just had a miscarraige on 3-31-09 in the middle of the night I had bad cramps and went to th potty and there was my beautiful baby in my hand... I still cant believe it... So right now I am going to wait till I have at least one period before I try again. I am severly depressed and the doctor gave me percocet and I am kind of not really there right now... Luvs to all my girls and I will talk at you later......
This is my 2nd pregnancy, I did have a miscarriage right before, so I got pregnant right after. So high hopes.
* Just went in for ultrasound today (3-25-09), baby is doing fine but because I had a miscarriage right before this my dates are off, so my baby right now is 5w4d... and is absolutely perfect* Thank you Jesus!