About Me
my name is autumn i will be turning 21 this year, im enagaged to a wonderful guy named John who will be 25 this year, we will be getting married this summer, just going to the courthouse and having a reception aftwerwards. i say screw a big wedding right now we have been together 5 years. we have 2 beautiful boys. Ryan who was born 11.23.04 and Braiden who was born 3.16.08, and our other son is our cat Frank!
March 28

Braiden is so cute momma autumn!! and so is his big brother!!!
March 4

No I didn't make the sign, a friend of mine got it for me. I made her bedding though!
February 27

hey how are you doing??? not much longer for you..yay!! when mine is born we should have a play date.. since we live not far from each other
February 24

thanks! we actually had it made by a local woman who makes blankets, bedding, boardshorts, t-shirts, christmas stockings, etc. mostly in the "california coast" or general beach theme - all of the material and stuff is great quality & we were really happy with the way it turned out =] =]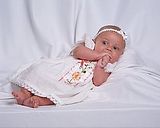 February 14

We got our pig at Michaels --- I couldnt say no ---- her daddy has been collecting piggy banks for her since we found out we were finally pregnant - so when Ry came up with this one and said HE wanted to paint it for her so she had one that was special from him.....HOW do you say no? You just cant! :wink:
February 12

i got them when i went to the doctor..b/c they were looking to see if something was wrong with my baby and then they just switched it over to 4d..
February 11

It looked like crap before. we sanded it down and totally redid it. I bought the paint. the green matches the bedding.
i'm up late every night. lol. maybe a seat that goes on the "big boy" potty will help him. seth has a spongebob one. at walmart they have a bob the builder one and diego. then when he knows the difference have him aim for the hole in the toliet. seth loves watching his stuff going 'round & 'round when he gets done going potty, whatever works for him. maybe it'll work the same for ryan? you'll get it keep on him he'll pick it up eventually. night girly!
it is time for him. i dunno what you could do. besides reminding him and letting him be naked. is he scared of the potty or something
is it just pee or #2 too? seth had the issues with #2 until i bought him a spongebob seat and now he'll go on it. i dunno does he watch daddy go potty?
lucky he's all ready to come out. do you think you'll have him early? for the most part seth is potty trained, when we go to new places he forgets and goes in his pull up but around the house and places he knows he'll go. ryan?