Kris+2
239 Posts | Joined BG: Sep 28, 2007
Last Visit: 6 months ago
Gender

Female



Status

Married



Work

North GA Mountain Crisis Network



Interest

my family and college football




Kids

2



Due

Apr 15, 2014



Angel Babies

1

My name is Kristen. I have two amazing kids, and a wonderful husband to share my life with!
July 9, 2013- Last period. It began while we were on a mini vacation to Cherokee, NC.
July 19-26, 2013 - Beach Trip! This is when we conceived!
August 17, 2013 - First POSITIVE pregnancy test.
August 20, 2013 - ER visit. Unable to hold fluids or food down. DR said to get fluids. Spotting. FIRST ultrasound was done. Baby's heart beat was 145!
August 29, 2013 - First DR appointment. My OB set me up with the high risk OB.
September 1, 2013- Started telling family and close friends
September 4, 2013 - First visit with high risk OB. Due date April 15, 2014. Baby's heartbeat 171. Dr talked to me about cerclage option. The surgery was set for October 8. I was told to take leave from work.
September 9, 2013 - took leave from work
September 27, 2013- Second appointment with primary OB. Concerned about my low blood pressure.. 70/50
October 8, 2013 - Cervical cerclage surgery at Erlanger Hospital
October 30,2013 - IT'S A BOY!!!!
November 26, 2013- Half way there! 20 weeks! I'm feeling him kick!
November 28, 2013 - Hospitalized for 2 days due to the stomach flu, severe dehydrations, & contractions
December 9, 2013- Started back to work part time
December 28, 2013- Hospitalized for 2 days due to bleeding - baby is okay, not sure where the blood is coming from- put on strict bed rest
January 12, 2014- We FINALLY decided on a name- Elijah Steed Patterson. Steed was my husband's grandmothers maiden name and his dads middle name (who passed away when he was 7).
January 15, 2014- My amniotic fluids are low. My doctor told me to drink 12-15 bottles of water a day to see if that will help. If not, we will try something different.
March 18, 2014- Cerclage removal
March 19, 2014- I'm beginning to lose my mucus plug!
March 21, 2014- My water broke at 11PM!!!!
March 22, 2014- WE WELCOMED ELIJAH AT 7:27AM!

ALAYNA JACQUELYNE LINDLEY <3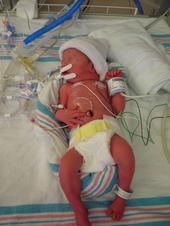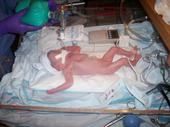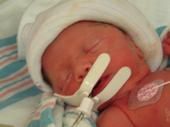 RIP to my Angel Baby - Lucas Harmon Lindley. Born 2/12/07 and weighed 1lb 9oz. He was born at 22 weeks gestation.