Zodidahl
16 Posts | Joined BG: Mar 15, 2009
Last Visit: 2 years ago
Age

37



Gender

Female



Status

Married



Work

office manager



Location

Fullerton, California



Interest

astrology, painting, poetry




Kids

1



Due

Jun 15, 2013 (girl)



Hi my name is Dahlia and I'm 30yrs old. I'm originally from Texas and have been living in southern California for 5 years. I never thought I would meet my future husband out here in sunny California, but I did. We got married on April 7th 2009 by a civil ceremony and will be marrying by a church wedding August 8th 2009. We had planned to get pregnant but closer to our August wedding. As luck would have it, I got knocked up in February and my due date is November 21st. :D Theres lots to plan until the wedding and much more to plan for the arrival of our fisrt baby. My husband has wanted to be a father for many years and I want nothing more than to give him his heart's desire. I'm excited with all the changes that have taken place with my body but not so thrilled with the emotional rollercoaster it has taken me. :P Nonetheless, its been an overall adventure so far.

1st Trimester
1-4 weeks = 1 month -Completed.
5-8 weeks = 2 months -Completed.
9-13 weeks = 3 months -Completed.
2nd Trimester
14-17 weeks = 4 months - Completed
18-21 weeks = 5 months - Completed.
22-26 weeks = 6 months - Completed
3rd Trimester
27-30 weeks = 7 months -Completed
31-35 weeks = 8 months - Completed
36-40 weeks = 9 months - Completed
41 weeks = Currently Overdue
February 13, 2009 - LMP Weight 220 lbs.
March 15, 2009 - Two Positive Urine Tests.
***update*** May 14, 2009* First Ob appointment. I was slightly nervous until I started chatting it up with a mommy who had brought in her son for a check up. I had some blood tests, urine test to confirm a pregnancy and the pelvic exam (eeek had been a long time since I had one of these and boy had I forgot how i hated them). I also got weighed and came to find out I had lost 15 lbs. The doctor, who is the sweetest lady doctor I have ever known, told me it could be all the morning sickness I've been having. I am currently 210lbs. Dr. Luong set me up with an ultrasound the very next day since I was already 12 weeks into my pregnancy.
***update***May 15, 2009* Went to a Genetic Testing facilty where they asked me family history of diseases & any history of down syndrome so that we may test the baby for any type of birth defect. Yeah scary. So far baby is looking great. I didn't realize the ultrasound was actually going to be able to tell me the sex of the baby so soon, and I was thrilled to find out that we are having a boy. I cried all the way home looking at my little one in his first photo. My hubby was amazed when I got home to show him. He has two jobs and was not able to join me for the drs. appoitments. He instantly started picture texting his family with the new photo.
***update***July 7, 2009* Went to OB appointment. This time with the hubby. I had my blood pressure tested (ok) and my weight was 206 lbs. So looks like I'm still dropping in weight. The Doctor said its perfectly normal and that I should be gaining all my weight the last trimester. We had another ultrasound but this time it was much more special cuz I had daddy with me. We oohed and awwwed at the site of our little one. He was doing sommersaults in my belly and so it was difficult to get a really good pic of him. Did get a funny one of him looking straight at the camera that I'll post here. Next appoitment I will be tested for Diabetes and will be getting another ultrasound, but this time at at the hospitol.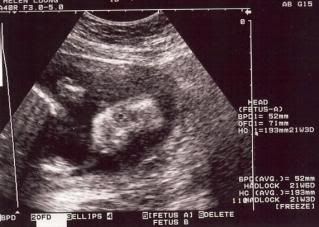 ***BABY SCARE***July 13, 2009* The most scariest experience is having to be rushed to the hospital because your having early contractions. I've been under alot of stress lately with the coming wedding and job security but this was not what caused the scare. Turns out my hubby and I got food poisoning and it was severely dangerous for me because I was so dehydrated. The both of us had been throwing up and had diarrhea for more than 14 hours. My Doctor advised me to go to the ER right away. I was surprised how soon I was admitted and even heard a man waiting in the ER lobby scoff as I passed by, probably angry that I got rushed in. I still don't look very pregnant so I got an abnormal amount of stares and questioning looks as to why I was admitted before others. In my room the nurse started me on an I.V. drip of various nutrients to bring me back to par. My hubby called all the family and of course they worried and rushed to my side. Apparently this sort of thing can cause an early delivery. I was horrified at the thought of having a premature baby. I cried most of the time and prayed that this would not be happening to our baby. My fever rose to 103 and the nurse gave me some tylenol and also some kind of medication to keep the contractions at baby. After about 3 hours of monitoring my urine ph levels and 3 I.V. drips I started feeling better enough to keep some food in me. I was released late in the evening and my hubby and I fully recovered the next day. We never quite determined what made us sick but we speculate that maybe we ate some bad sour cream and onino chips. So we won't be buying any of those chips for a long long time.
***update***August 5, 2009* Went to my appointment alone and had a busy day ahead of me with the wedding rehearsal and loads of family arriving. I believe my blood pressure was up a little high because of all the excitement. We tested it more than 3 times until it came back down. Before heading out to the appointment I had to drink a glucose drink in 5 mins flat and boy did it taste disgusting. Upon arriving at the doctor's office I had to immediately take a urine test and got weighed. Again not much increase in my weight. I was still at 206 lbs. This appointment went fairly week as the doctor was running late on her other appointments of the morning. She checked the baby's heart and everything sounded fine. We set up my next visit for another 4 weeks.
***update***September 2, 2009* This was an awkward visit to the doctor's as I had my x-rays to show the doctor because I was concerned about my back pain. Alex came with me on this visit. He seems to always have alot of fun reading all the anatomy posters and playing with the models of vaginas on the counter. lol. He is easily entertained. When the doctor came in she discussed with me that I should take time off of work at least 6 weeks prior and that if I had any really major pain that we could discuss leave sooner. We heard baby's heartbeat and all sounded well. This time I weighed 208 lbs, so there was a slight increase. Dr. told me to increase my iron intake besides my pre-natal pills. She also told me she would be seeing me now every 3 weeks until the birth of the baby, so we set up my next appoitment. She also wanted me to get my first ultrasound at the hospital and to get pre-registered so that all is ready for when I go into labor. We set that up for the Tuesday following.
***update***September 8, 2009* After drinking a gallon of water I headed over to the hospital where I pre-registered with hospital. I had to show my insurance and answer a few questions about my due date and what not. Then I made my way to the radiology department for my ultrasound. Talk about the longest ultrasound of my life. I was in a dark room with the Ultrasound technician that seemed to take hours. I was started to get worried because I didn't know if anything was wrong with the baby. She seemed to be taking loads of photos and rarely said a word to me. After a long time she invited Alex in and we looked at the baby. All seemed well, she gave us two photos and we went on our way.
***update***September 24, 2009* The doctor seemed to be more involved in my case this day. I guess she had gotten my results from my ultrasound and they found a tiny 10 cm fibroid growing my uterus. She told me its nothing to get worked up about now but that we would have a better look at after teh baby is born. She advised me that in most cases a firbroid of that size is benign (non-cancerous). But with a long running history of cancer in my family the idea of getting sick jolted me. I remained calm with the news and looked up everything I could regarding fibroids on the interent. Not too much to worry about now since I need to focus on Diego being born and not myself. I'm very grateful that nothing is wrong with our baby. The doctor also seemed a little bit more concerned with my chiropractic visits and reassured me that she'd help with any disabilty paperwork I needed her to fill out when that time comes. Put me at ease because I worry alot about the financial security of my family after I have lost my job to go on maternity leave. My current weight is now up to 210 lbs, which is a mere 10 lbs away from when I first got pregnant.
side note *** as for Diego he is moving so much these days, and gets a little bit of hiccups almost every day. I need to discuss this with my doctor. He also seems to be jabbing me alot more from the lack of room in my belly. Alex and I have prepared our overnight bags for the hospital just in case Diego decides to come early. I believe the baby shower is also in the works but I'm not too know too much about it. =) Hope its great and that we get lots of helpful gifts for Diego.
***update***November 23, 2009* went to see Dr. Luong, my weight was 212 lbs and I am officially 3 days over my due date. She did a cervix check and estimated that I was 1.5 cm dilated and 50% effaced. She had my lie on my back and did some manual probing, saying that she was just stirring things up. I guess to get me more dilated. She set me up for two NST appointments at the hospital to monitor the baby's progress. My induction is scheleduled for Nov. 30th if baby doesn't come on his own. I'm hoping he does come sonner though, even though Thanksgiving is tomorrow. I'd like for him to have his own set astrology and not some date the hospital has supplied us with.
***update***November 24, 2009, 12:40 a.m.* Contractions finally started. Which I owed to the Drs. stirring things around. Every 10 mins I would get 30 second - 40 second contractions. And boy are they painful. All the morning I was unable to sleep or lay comfortably. I tried a soothing bath with Aveeno, which calmed me down enough to get 2 hours of shut up. Then all the day I continued to have light contractions about 20 mins apart. The nights are alot harder since I think I'm laying so still. Hubby and I do a daily walk to see if it will help with progress, it seems to only be making the contractions harder. No water has broken yet.
***update***November 25, 2009* Woke up at 6 a.m and went to pee. Realized I had lost part of my mucus plug. I was overjoyed because I know this another sign of delivery coming soon. I woke hubby up and had him confirm that I wasn't seeing things. It was floating in my urine. :-p Then we got up at 9 to go our NST appt. at the hospital. When I got there the nurse put us in a room and hooked my tummy up to the fetal monitor. Baby sounds healthy in there. I had 5 contractions aat 5 mins apart while I was there but the nurses didn't seem to care. They told me to come back on Sunday for another NST and that my induction was set for Monday. Oh and also to drink plenty of water because If i were to come back in with dehyrdration that once they re-hydrated me the contractions would most surely go away. I was also told to take it easy and not walk to much so that the contractions wouldn't come too often. Sheesh they really are hard up on having me induced, aren't they? But I'm not going for that, I'm gonna walk and do my regular day to day things. If my contractions get to 3 mins apart or if my water breaks soon I'll be heading to the hospital. :) Hope its soon.