About Me
Davion's first day of school!.
My Smiley, Happy boy. This is the face that brightens my darkest days <3
Daddy &nd Davion 1 day old!..
It's hard to believe that my 'baby' is now a 3 year old, headstart going, crazy little boy. He is respectful, loving of everybody, full of life and laughter and has an insane personality that is all his own. He is the light of my life and my ENTIRE reason for being!
I feel so blessed to have my family and although we've gone through our trials and tribulations, we continue to grow together and are now expecting another little miracle!.
September 3

Yes, my little angel arrived on the 28th! I had to have a c-section cause labor wasn't progressing enough! I'm so glad to have her hear already. Congrats mommy!! He is too adorable!!!
August 26

Is baby here yet? I'm still waiting unfortunately. No signs of her coming what so ever! Very very frustrating!!!!
August 19

Hey hun, I'm not even close I don't think. Had my appointment this morning and the Dr said I'm still at 2cm. Her head is down and my cervix is thinning but doesn't look promising for tomorrow..lol. Unfortunately for my b/f thats his birthday and won't get his gift tomorrow.lol. He's really excited and veryscared at the same time. We keep arguing about who she's gonna look like..lol Everyone keeps telling I should try to self induce myself if she doe'snt come. I really do not want to get induced! I hope your little man comes soon, he's really been stubborn for real. How's daddy feeling? Excited, scared at all?
August 16

awww, i know you must be anxious but we are getting there. no baby here yet on my end, she's very stubborn like her daddy. I've been at 2cm for the past 2 weeks. No signs she's even close to coming. Just a few contractions here and there. I'm still managing to go to work but my last day is this Wednesday. Hopefully she doesn't decide to come while I'm working and have to drive an hour to the hospital. lol
August 15

Hey hun.. how have u been? Is the little one here yet?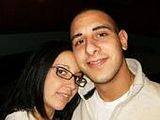 jodi krystal
I have 1 child and live in Fall River, Massachusetts
July 13

im due the same day.. i was thinking that the baby looked too unformed lol.. i dont get another usound.. i went to the docs today and im 2cent. dilated and he is head down hopefully i dont have to wait until aug 14th either lol good luck with urs... let me know how u make out at the ultrasound
July 10

Well my pregnancy has been pretty pretty good ! no morning sickness, no complications, Thank God ! Hopefully, I will find out next month what Im having... I just cant wait no more.
July 8

Hey Gurl !
June 18

Thanks for the parent tank ! can you believe it's almost time for us to have are babies? OMG!!!! lol I haven't been able to get any sleep lately what about you?
June 17

Lol thats funny we will have to wait and see whn our babies come lol!!!
lol! i think i should tell my BD that. after 2 days of him not calling me he called me today. i let him know basically the same thing. the only thing i'm worried about is my baby. i told him i wouldnt associate myself with him (unless it was necessary) until he fixes himself and straightened out his priorities. so that's that. my next appt is june 18. omg you must be sooo nervous you're so close! nope no belly yet. i posted pics if you wanna see!
really good! i had the worst morning sickness that started week 4, but now im at week 10 and i barely have it at all. maybe once every couple days. other than that i been smooth sailing lol..(posting pics now!) hopefully i stay like this throughout because i honestly don't even feel pregnant right now. when's your next appt? and yea you're right. it's basically about me and my baby right now. when he wants to man up then i'll deal with him i guess. and don't feel bad about making long posts/comments, i'm the same way! (as you can see lol)