* ash + chad
69 Posts | Joined BG: Mar 30, 2009
Last Visit: 2 years ago
Age

23



Gender

Female



Status

Married



Work

SAHM



Location

Ohio




Kids

33



Due

Oct 01, 2013 (boy)



Im Ashley! I am 20 years old from the good old Toledo, OH! I have been with my husband Chad for 6 years now! We have had two miscarriages & our miracle has came through unexpected! Im finally getting what ive always wanted; A family! Our baby boy finally arrived on March 19, 2012 weighing 6lbs 8oz.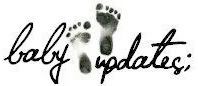 ♥♥
8/18/2011:
BFP at home test; Blood taken at the hospital same day
♥♥
8/19/2011:
Ultrasound at the pregnancy center, 8 weeks 4 days, 166 BPM!
♥♥
8/29/2011:
First OB appointment. went great uterus is growing right. 10 w 1 d
♥♥
9/07/2011:
Ultrasound at doctors office, heard heartbeat @ 189BPM!! 11w, 3d
♥♥
9/22/2011:
Ultrasound; first trimester screening. heartbeat @ 162BPM!! 13w, 4d
♥♥
9/30/2011:
OB appointment, went great! heard the heartbeat. 14w, 5d
♥♥
10/27/2011:
OB check up. Everything is going good. heart beat 152 BPM. 18w, 4d
♥♥
11/18/2011:
ITS A BOY!! 150 BPM
♥♥
12/01/2011:
Diagnosed with SUA. need to be watched closer to make sure hes getting enough blood and gaining weight.
♥♥
12/29/2011:
OB Check up
♥♥
12/30/2011:
Ultrasound to check his growth
♥♥
03/19/2012:
Chad Aaron JR Born @ 7:53pm weighing 6lbs 8oz 20 1/2 inches long
MY PREGNANCY:

Mommy:Ashley
Age: 18
Birthday: September 27, 1992
Birth Place: Toledo, OH
Height; 5'1
Wheihing in at : 194 :(

Daddy: Chad
Age; 18
Birthday; March 10th, 1993
Birth Place; OH
Height; 5'7
Wheihing in at: ?
FIRSTS:
Is this your first pregnancy?
~no

How did you find out you were pregnant?:
~ i was nausea all the time, our moms told me to take a test
What kind of pregnancy test did you take?:
~dollar store brand
How many?
~ 1
What were your first symptoms?:
~morning sickness, sleeping, achy
Who did you tell first?:
~ our moms
Who was with you when you found out?:
~his mom
Was baby planned?:
~ no way!
When was baby conceived?:
~june
How far were you when you found out?:
~8 weeks 3 days


My BABY:
Due date; March 26th
Do you want to know the sex?:I Can't Wait To Find Out!!
Do you know the sex?: Not yet
If so, boy or girl?: hoping for a girl, will be happy either way
Any names?: Brilee Jane for girl, Chad JR for boy
Any ultrasounds?: 1 at a pregnancy center but i will have another when i goto the dr
Have you heard the heartbeat?: ive seen it, will hear it monday 166BPM
Will baby have any siblings?: a dog brother
Have you and dad felt baby move?: Not yet, hoping soon. I have seen it jumping around during the ultrasound hah.
MISCELLANEOUS:
Did you have morning sickness?: YES!
Did you have any cravings?: I want alot of things but cant have them because I'm sick all the time.
Did you have any mood swings?: Oh my goodess I am starting this week, I never get moody im ussually happy no matter what.
Are you a high risk pregnancy?: yes because i miscarried twice
Any complications?: not yet
Formula or breastfeeding?: Breast feeding!
Have you bought anything for baby yet?:Not yet, Just tons of reading material.
When did you start to show?: not showing yet
How long could you wear your regular clothes?:
i still am
Are you excited?: SOO EXCITED!!
Who will help with baby after their born?: My family & friends, hopefully the daddy.
What is your favorite thing about being pregnant?: No Period!! i Had the worst cramps.
What is the worst thing about being pregnant?: b**bs are sore, Throwing up all the time!, feeling sleepy/dizzy. Not having energy most days.
Whats one thing do you miss doing since being pregnant?: nothing
Any days you wish you weren't pregnant?: not so much wish I wasnt pregnant as wish I wasnt sick.
Are you ready for baby?: Ready or not here he/she comes. Ill be a good mom no doubt.
Do you have insurance?: Yes
How many kids do you want?: One or Two
Do you talk to your baby?: when I am upset yes
Do you still feel attractive?: no but I never did before
Have you had your baby shower yet?: nope
Do you like kids?: yes!
How far along are you now?: 9 weeks
Estimated Due Date: March 26th, 2012