October 28

Your baby is just adorable. I love that smile!

April 28

i know i'm pretty late but congrats on your baby!!! i just got done reading your posts about the accident and cerclage and they touched my heart. i'm so glad it all worked out and you carried her as long as you did!!! she is beautiful hun good job!!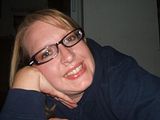 December 30

Let me know how your fetal Echo goes....I will be praying for you and your baby girl!
wow it looks like ya'll really have your sh!t together. yeah at our base the auxiliary are not exactly embraced with open arms. oh well. now that i'm pregnant i rarely work weekends so i don't have to deal with them. i would hate when they would show up unannounced for lunch and crap.
i think the only time i have seen someone younger than 60 come to one of their meetings was about a year and a half ago. he looked to be in his late 20's. i remember him complaining about the attitude of the other guys. never saw him again after that. also, i haven't seen any women come in with them ever. i know there is one, cuz she painted a hurricane katrina memorial wall in front of the elevator, but i'm pretty sure she probably doesn't like to associate with the guys here. they are just plain rude and not nice. one guy threatened me cuz i told him i was telling my supervisor about the coffee (i'm a cook. this happens every weekend they come. i'm sick of it) he told me he was gonna get me written up for being disrespectful and blah blah blah. now that i think about it i've never seen him again either hahahahahahaha
November 16

Oh no! we have our old farts also. They complain, but also work very hard. Our Division (Division 1 Puerto Rico) is a pretty young group of Auxiliarist. We pay at the galley as everyone else does. We also work very hard with the Gold side. We have our issues with the older generation, but we are managing. When they complain, we jsut pretend to listen, unless it's something we should really listen to. older generation does not like change and there is so much constant change in the CG that they can't keep up with the younger generation. They just have to accept or retire from the AUX.
CG auxiliary huh? we have auxiliarists here in new orleans, but i hate them. they a bunch of old farts who do nothing but complain that they can't have our gate code hahaha. last time i checked they weren't actually IN. and they steal our coffee all the time, knowing we're a cash galley. but i'm sure you're nothing like them!!!!!