About Me
Single mother of a crazy toddler. The highlight of my life. .
I am on this sight to make friends and get advice. I don't know where else to turn so I came on here.
I am big into astrology. My sun sign is Virgo and my moon sign is Aries. I like art, literature, and music. I am a very spiritual person. I respect others views as long as they respect mine. I am also a mega fan of Supernatural
Yummy!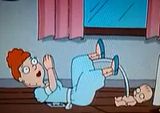 October 11

Sorry to hear about your LO's dad. I came across your post and wanted to offer my condolences.
October 16

Love it!
well im not in pain so i guess my body just s***s. lol thanks
see i was on birth control then went to pick up more and they said they cant give me any until i saw my gyno, so i had my period went got a new one then had to wait foranother period and i havent had one. granted im recently off BC so that could be it but i was supposed to have my period april 28 may 26 and june 23... i have had none. although i dont "feel" pregnant...i have never been this late
hi sorry this is random but i saw your reply to the girl in teen pregnancy and you said you had an ectopic pregnancy. Do those show on pregnancy tests?
June 9

of course! :)
Nope, it's not :( <a href="http://www.freeonlineepisodes.net/category/bones-tv/">This </a>has all of them.
You can watch it on Netflix!
I've never seen Supernatural! Do you watch Bones?
I love Spike in the show, out of the show, no thank you. I love Angel in and out of the show so I guess I love him a lot more! Hah
Thanks for the PT :) Are you a buffy fan? If you are you must love David Boranez (sp)
Bekah's Back
I have 2 kids and live in Bosnia and Herzegovina
May 11

Hey there! thanks for the PT! ;)