About Me
My name is Brenda. I'm 22 years old, originally from Las Vegas currently living in Southwest Florida. I'm almost halfway through RN school!! I've decided I will either be in OB or L&D, but my main goal is to become a Certified Nurse Midwife. Lara is really my stepdaughter, but I love her like my own and I'm so happy she's finally here with us.Our daughter Leah was born on December 16, 2009. She and her big sister share a birthday. We found out on my husband's birthday that we are now expecting another little one. :)
Trimester 1 ♥:
People think a soulmate is a perfect fit, and that's what everyone wants. But a true soul mate is a mirror, the person who shows you everything that is holding you back, the person who brings you to your own attention so that you can change your life. A soul mate's purpose is to shake you up, tear apart your ego a little bit, show you your obstacles and addictions, break your heart open so new light can get in, and make you so desperate and out of control that you have to transform your life..."
1 month [weeks 1-4] Done! ♥
2 months [weeks 5-8] Done! ♥
3 months [weeks 9-13] Done! ♥
Trimester 2 ♥:
4 months [weeks 14-17] Done! ♥
5 months [weeks 18-21] Done! ♥
6 months [weeks 22-26] Done! ♥
Trimester 3 ♥:
7 months [weeks 27-30] Done! ♥
8 months [weeks 31-35] Baking!
9 months [weeks 36-40] Preheating!
February 5

Hey, I ran across an accupressure article today and was curious if you'd tried that yet? There are three pressure points you can stimulate with massage to bring on contractions.
June 30

Lol, Well hopefully I dont gotta wait all the way til your birthday! lol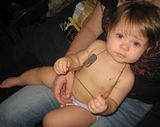 August 1

She is doing great! Getting sooo big!!!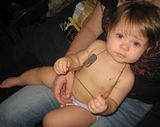 July 28

How is Miss Leah doing?!? I love that we have Leahs 3 days apart from each other!!!
how is BFing going? ppl have almost talked me out of it saying how bad its gonna hurt...lol
where did u get the birth prediction...thats pretty cool
MommyRoxy
I have 33 kids and live in Clearwater, Florida
December 2

LOL I thought your avi was two chicks...I was intrigued HAHA But now that I did see your profile. I gotta say. Your daughter is ososo pretty. :) I'm a sucker for mixed babies/kids. Being one myself :)
November 11

i think you're the first one i've seen
November 11

Random: butttt. you don't live far from me =]
November 9

omg I love it !!! That mural is gorgeous !! Good job mama !!!