.xox. Lippy Girl .xox.
350 Posts | Joined BG: Apr 12, 2009
Last Visit: 3 years ago
Age

37



Gender

Female



Status

In a Relationship



Location

Lincoln, Nebraska



Interest

.x. tattoos .x. music .x. mma fighting .x. motorcycles .x. photography .x.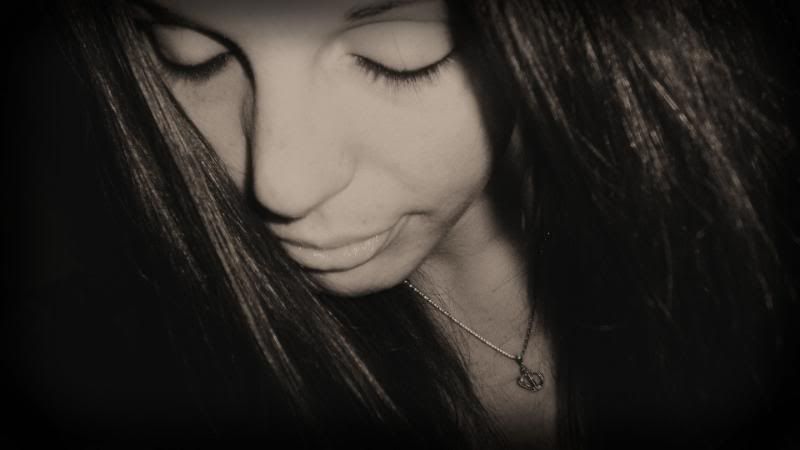 After 12 years of trying and thinking I couldn't get pregnant, here I am!!!
I finally have my miracle baby **GIRL**!!!
My history:
I got married to my (now ex husband) on June 19, 1999. He had three children from a previous marriage. We had tried getting pregnant right as soon as we started dating (stupid, I know...) in May of '98 because I had always dreamt of having a baby by the year 2000. I was bbt'ing & charting. I was a community leader on a ttc board on ivillage. I was doing everything right & not getting anywhere. I couldn't even detect my own ovulation!
By 2002 I still wasn't pregnant so I started seeing a fertility specialist. We tried Clomid for 6 different cycles & my doctor suggested getting one of those $200 digital fertility monitors so I could try to detect ovulation that way while on the Clomid. Nothing ever happened. Shortly after that I was diagnosed with PCOS. I was told I'd be on medication for the rest of my life & that women with PCOS have a harder time getting pregnant because they don't ovulate regularly. My cycles weren't exactly normal either. I was told the medication might help but that I might also have to lose some weight to have any luck. My ex and I kept trying until 2005 when I found out he was having an affair for the last 2 years of our marriage & had successfully gotten her pregnant for the 2nd time. (I guess she had an abortion the first time since he was still married to me.) So, in 2005 my ex husband left me for "her" & as far as I know, they have a healthy little girl together. When he left me he told me to give up on trying to get pregnant because it would *never* happen. He crushed me completely.

I met my current boyfriend August 1st, 2005. We stayed friends for the longest time because he didn't want a serious relationship. After what I had just been through, I didn't really care to have anything serious either. My boyfriend has 4 children with 4 different women. They are all 5 years apart. Amanda Nicole is his oldest & she is 22. Charissa Jac is his second & she is 17. Nathan Charles is his only son. He's 12. Heaven Leigh is his baby, she is 7 now. He made it clear very early on that he didn't want anymore children. We were very careful for the first year we were together to make sure I didn't get pregnant. We didn't always prevent during that first year, but we weren't trying to get pregnant either. Three more years went by & we gave up on birth control because it was pretty obvious I wasn't getting pregnant. I was losing weight over the years. 95 pounds total since my divorce. I was still on the metformin for the pcos & my cycles had regulated after just a couple years.

On April 13, 2009 I was 6 days late for my period. I bought a test & took it over to my boyfriend's house. We had been joking that I was probably pregnant. (not ever really thinking that I actually could be!) I took the test & I made him go into the bathroom to get the results because I couldn't handle seeing another BFN. It'd been years since I had even tried taking a test & it wasn't exactly that I needed it to be positive, I just didn't ever want to see another negative. I've seen enough of those in my life. He put the test in front of me. It said "pregnant." We were both in shock. I cried, a lot! I had never seen a BFP, ever!!! My boyfriend just sat there quiet. This isn't exactly the news he wanted at all.



This baby was conceived on March 22, 2009.. The day after my boyfriend's first grand baby was born.
(..this is a picture of me & Eisley Leigh born March 21, 2009.. this is my boyfriend's first granddaughter!! the second picture is me helping her mama give Eisley her first bath. at the time these pictures were taken (3.26.09), I had no idea I was already pregnant..)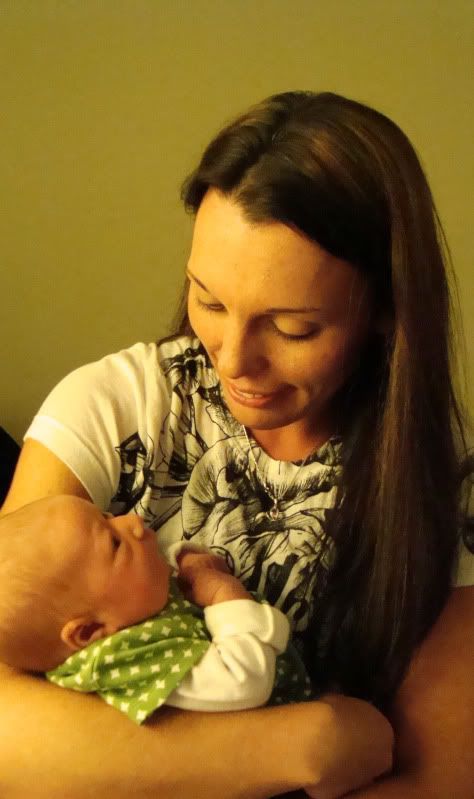 I called my doctor, the same one that diagnosed me with PCOS all those years ago. Of course I wanted to see him since he knew my history. He hardly recognized me when he saw me for the first time in over 5 years. I had lost so much weight. The first thing he did when he walked into the room was throw up his hands & yell "it's a miracle!!!" *lol* You don't have to tell me twice.. I already know.

So, here's our miracle..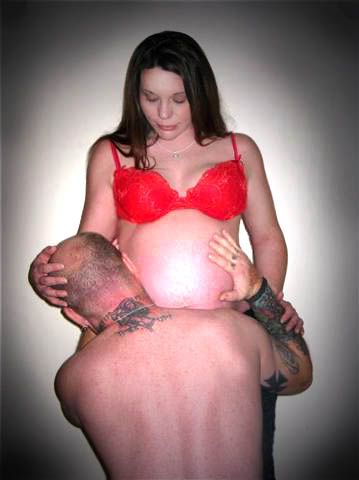 ** Cynder Lilly DeGrave**
This is probably the most unorganized post ever. I have times for everything but it all kinda runs together. Bear with me.. & just to warn you, I've taken tons of pictures..
Cynder's birth story...
On Wednesday December 16th I went into the hospital to be induced. Daddy & I arrived at 5:20am. (20 minutes late, oops!) At 6am I had blood work done & by 6:20 I had my iv. They attempted the arm iv but the nurse didn't get it in the right place, ouch! so it was placed in my hand instead.
My doctor came in at 6:45 & broke my water. I was 2cm dilated at that time. At 7:30am I felt my first contraction. Wasn't bad at all!!! 8:00am it was time for antibiotics because I was gbs positive. I decided to go for a little walk before the pitocin which was started at 9:10am. My mom showed up at 9:30 & my dad came into town & showed up at 10:00. They had originally planned on coming into the hospital with me at 5am. I told them to enjoy their sleep. Good thing I did!!!
By 10:30am I was having contractions every 3-4 minutes. They were very noticable now. The pitocin was starting to affect baby & she wasn't liking it. Her heart rate was starting to go down with contractions. It was affecting me too. My blood pressure was going way down & I was starting to feel nauseous. The anesthesiologist came in & had to give me a shot of ephedrine. Not long after that I puked for the first time. Blah.
At noon the nurses placed an internal monitor in me to better keep track of baby because she wouldn't stop moving around & they'd lose her vitals completely They decided to stop the pitocin. By 1:00pm my doctor came back to check me again. I was 3 & a half to 4cm dilated at that time. He came back at 3:00pm & checked me again. I was almost 5cm dilated & I finally got some iv pain meds & asked for my epidural. Looking back on it now, I wish I wouldn't have. :(
At 3:30 I was given my epidural. That was the last time I felt my legs or anything below my b**bs for the next 36 hours. 7:15pm I was checked & still at 5cm. I wasn't progressing since I got the epidural so the pitocin was started back up. 8:30pm still at 5cm. Doctor said he'd give me one more hour to make any kind of progress or I needed to have a c-section. Really he wanted to do it right then but I begged him for one more hour. I was heart broken. 10:00pm came & you guessed it. No change. Time for my c-section. :?
I cried so hard as I was being wheeled into the operating room. All of the stress made me puke again. I was having a panic attack. It started when they told me I'd have to take off my necklace, the one my bd gave me 4 years ago when we met. I never take it off. I kept hearing Cynder's daddy telling me to breathe & felt my anesthesiologist wiping my tears from my face. He also helped wash my hair a little since I threw up in it before they could get me a puke bag.. I didn't want my baby to think I smelled like puke!! I couldn't believe this was how my induction was going to end. I felt so guilty.
At 10:37pm my Cynder Lilly was born weighing 6lbs 12oz. Is that all??! She has dark hair, but I'm pretty sure it's not going to stay that way. All her daddy's kids have white blonde hair. For now she has her daddy's blue eyes. I think it's funny because all his kids look exactly like him. Cynder looks just like me.
I was in labor for 16 hours!!! Her little head was bruised & raised from where she had been trying to come out of my unchanging cervix. My poor baby!!! Cynder was jaundice so we had lots of extra pokes before they weren't worried about her anymore. No lights!! She lost almost 10% of her body weight by the 19th. 9.8% to be exact. She was down to 6lbs & the nurses almost made me supplement but my milk came in just in time. When it did we ran into another problem.
Cynder doesn't like me. *lol* I mean, she doesn't like my b**bs. She got so frustrated in the hospital when it came to eating. She was so hungry but just couldn't figure out how to latch onto me. I had two lactation consultants ask for back up. My baby was hungry & I was full!!! I was given a n****e shield & nursing has been going well ever since. Now our only issue is that she wants to nurse *constantly* & I'm not sure I can keep up with her. She's never known a bottle. Even in the hospital before the shield I was pumping & giving her milk from a syringe & onto my finger for her to suck off. I wouldn't mind so much if I was giving her my pumped milk from a bottle, but there's no milk to give!! She drinks it all. I'm going to go as long as I can before offering formula. It's my last resort.
***UPDATE*** At Cynder's 2 week appointment she was up to 7lbs 2oz!!! I had been trying to get Cynder off of the n****e shield but she wouldn't have it. At her appointment the LC came in & wanted to see what Cynder was doing when I tried to latch her without the shield. My little stinker latched right away, both sides, no shield!!! She just wanted to make a liar out of me. We haven't used the shield since.. But at 6 weeks we did start supplementing with formula. I had to let her dad do it cuz I just couldn't bring myself to feed it to her. I felt like such a failure, but I was struggling to keep up with her.. Plus I needed to get her used to a bottle for when I go back to work. She takes 4-6oz of formula once a day, every other day. I pump that feeding for her so that she has only breast milk for when she starts at the daycare. Thankfully I work at that same daycare & also in her room with the other babies, so hopefully we can keep up with the breastfeeding as long as possible.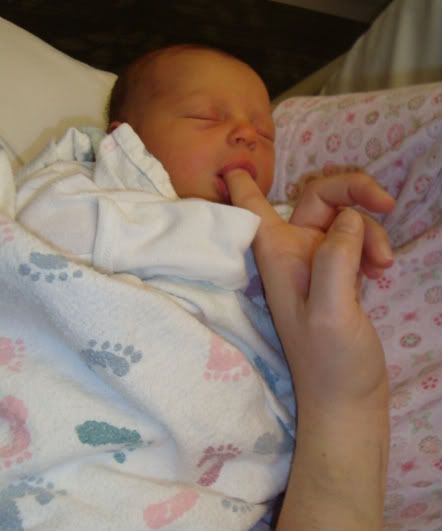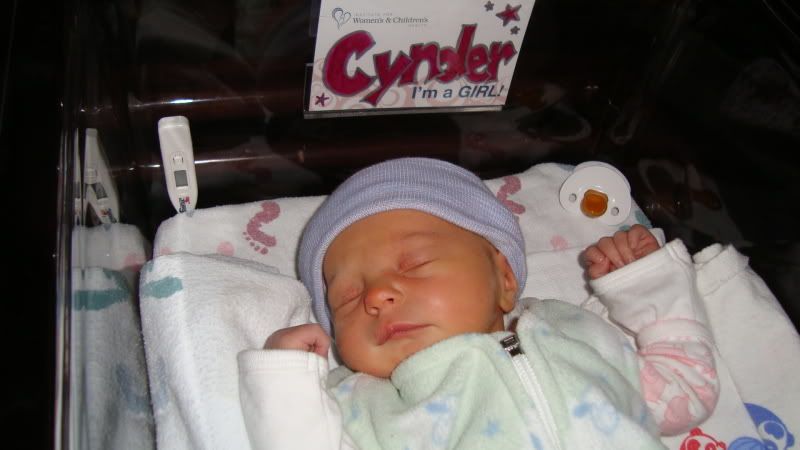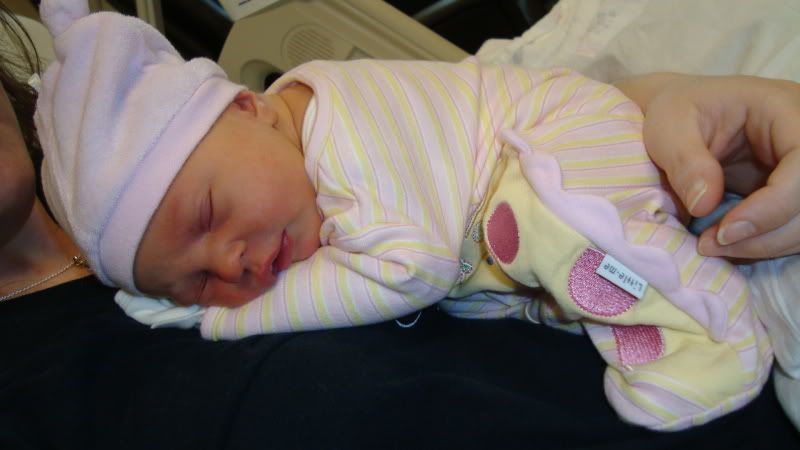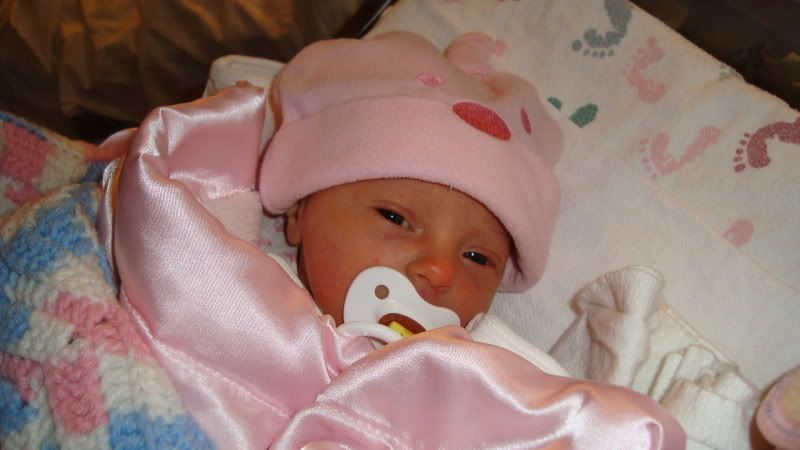 We got to go home on Sunday December 20th. Cynder was back up a little in weight. 6lbs 2oz.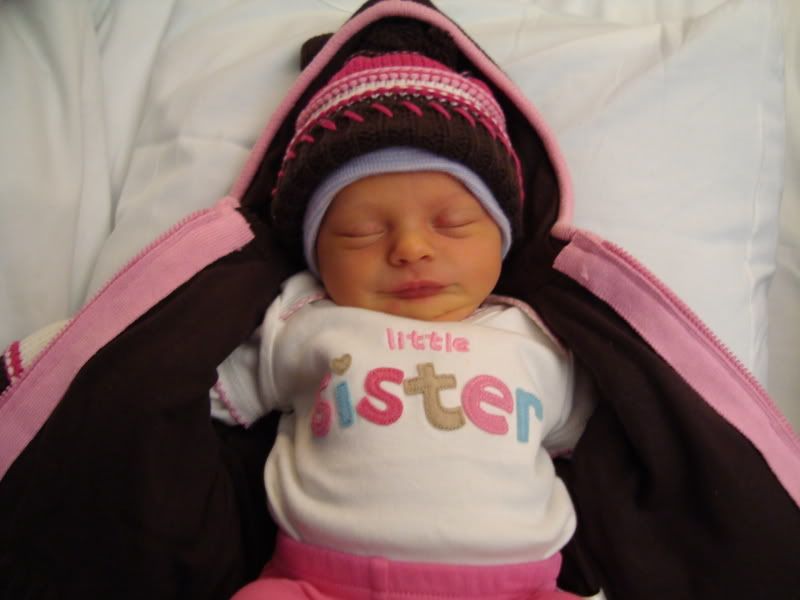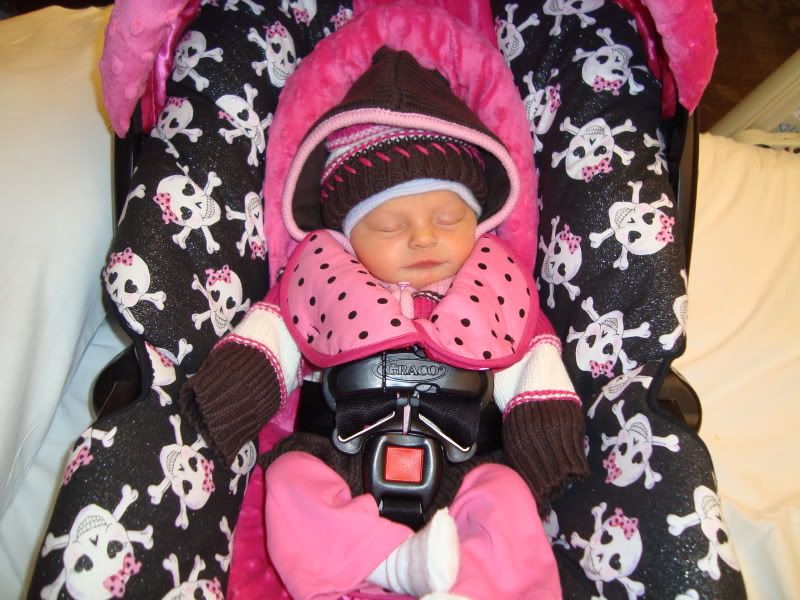 So, now I have my beautiful daughter. The miracle baby I never thought I'd have. I couldn't ask for a more perfect little girl. I can't stop looking at her. (Or taking pictures of her!!!)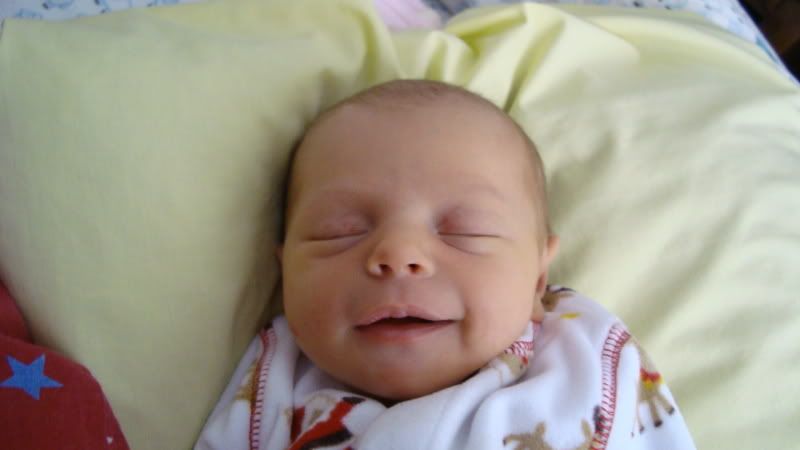 Hope you got this far!!!! :)
.xoxoxox.
~Lindsay & Cynder~
Cynder's Bragging Rights & Some Pretties That Were Made For Her!!!