About Me
Leah Jayde; born May 6th, 2009.
Time; 11:45 am
Weight; 6lbs 5oz
My beautiful daughter Leah was born on May 6th, 2009 to me and the love of my life Jeffrey. She has made our lives simply complete and is all we'll ever need besides each other.
Mommys Girl
<3
My beauty queen
<3
And these are the two loves of my live.
<3
& I can't picture that
ever
changing.
Weight Gain So Far:
Birth; 6lbs 5oz
2 week check up; 6lbs 15oz
Went to the ER for a temp at 1.5 months; 10lbs 4oz
2.5 month well check up; 11lbs 7oz
4 month shots/check up; 14lbs 15oz
6.5 month shots/check up; 16lbs 7oz
http://members.baby-gaga.com/member428040
I hardly enter contests, this was my 2nd one. yay.
**In the GS Thread Page846. :D
Rayanna
I have 1 child and live in Georgetown, Texas
April 19

Hello mama, i see your little girl was born in may of 09, ive been lookin for more mama's that had there kids in may, im friends with a lot of june mama's since i was due june 4 but had him may 27th.. maybe we can chat some day..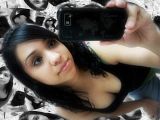 January 4

Hey mama... Well wenever i do my little girls hair is right after her bath cuz i need to be wet so i won pull her hair... i first use those little sfot pony o's so it wont cut her hair... But yes i do get my bows from mamas on here sometimes they are. Little expensive so i wait for the sale :) but once i can get on my comptuer send you the link to the ones that i have bought from recently... And the bows are partiLly lined on doubled lined aligator clips.. I dnt get them fully lined cuz they pull her hair :)
January 2

Hey momma! I'm so glad everyone enjoyed the goodies and it all worked out for the best! :) Happy New Year!
November 28

love your profile pic.. my daughter is named Leah too .. i would love to make one for her
November 10

Aw thank you! :D
November 5

Thank you honey and I am SOOOO glad they are helping u out... thats what they are meant for and I do it everyday... It seriously puts things in perspective.... I wonder if it bothers or annoys people... but whatever... if it helps one person... screw em!!!!!!!!!!!!!!!!! Im going through ALOT right now... not with PPD... other things I dont really wanna get in detail for... but I could use some prayers.... SO GLAD TO HEAR FROM YOU!!!!!!!!!!!!!!!!!!!!!!!!!! XOXO B
October 14

aww i miss you too!! my new number is 808-542-6888. txt me whenever.
September 17

hey stranger... how are you... she is so cute I just wanna eat her up!
August 10

Hey! Post a vertical picture of Leah in here so you can be in this siggy!!!!! Put her name &amp; birthday. <a href="http://forum.baby-gaga.com/about722283-17.html">http://forum.baby-gaga.com/about722283-17.html</a>
July 23

Thank you.. I tend to think so but I'm a little biased :) Your daughter is adorable!!
July 17

holy moly woman that is complicated! I'd be at my wits end. her dad's work doesn't offer insurace? no way she can be picked up on ur parents? does nevada have a low cost childrens insurance at all?
July 17

aww :cry: hopefully the pedi is ok with that, IDK how medicaid works but I do read that caseworkers s**k at their jobs lol