Romin & Amelia's Mommy
220 Posts | Joined BG: Oct 15, 2007
Last Visit: 3 years ago
Age

23



Gender

Female



Status

In a Relationship



Work

CNA



Location

Wisconsin



My name is
Ashley
&& I live in Wisconsin.
I am 20 years old; I will blow out 21 candles onJune 6th
I am currently a CNA at a nursing home && I am 3/4 student in college majoring in Registered Nursing.
When I got pregnant I vowed to myself that I would make a life for my family && I am sticking true to that no matter how hard.
I got pregnant soon after my 17th birthday. The only choice I had was to keep the pregnancy && it happened to be the best choice of my life.
On February 6th 2008 --
Romin Saumel Seth Conniff
was brought into this world via c-section. I cried when I seen him && when I first held him. He was && still is the most beautiful thing I have ever laid eyes on.
I am still with Romins father;; that I love very much. we have been together for 5.5 years. Our anniversary is on May 23. I would love to get married ;; i guess I will in time.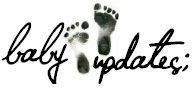 May 15 -
Found out I was pregnant with number 2...

May 19-
Told Dallas. Left him a note while I was at work
May 20-
Went to the stateline pregnancy clinc and got verification EDD: Jan 17 2010
May 29-
First Doctor Appt... Got pap test and blood taken Scheduled ultrasound
June 8-
Ultrasound ;; heartbeat 171bpm Baby measured 8w 5d;; due date still 1.17.10
June 26-
2nd dr appt. lost 3 pounds. everything looked good.
July 22-
3rd dr appt. gained 1 pound. Heard the heartbeat. Was 140's. Scheduled the big ultrasound for September 1st. He told me due to my high blood pressure he may take me off work at 28 weeks.
August 19-
4th dr appt. Only gained 1 pound so far this pregnancy. Babys heartbeat was good... 140's. Measured perfect. Blood pressure was down :] Got my quad screening.
September 1-
Almost didnt get to find out what it was! She was sitting with her legs crossed! But its a girl!!! :] So very excited!
September 16- Gained 6 lbs in 1 month!! But everything looked great
October 6-
Didnt get to see dr bhaskar. seen his nurse. Everything was great;; took my glucose test everything came back fine.
October 28- had another ultrasound done;; she is great and weighed in at 2lbs 14 oz.
November 3- blood pressure was great.. going every 2 weeks now. Off work at 34 weeks.
November 17- Everything was great;; blood pressure is behaving.
November 23- She was up to 4lbs ;; and edd of 1.16.2010. She is perfect.
December 2-
seen another doctor in the practice;; didnt really mind him like mine better though.
December 9-
Started having NST's weekly now;; Ameliah looks great in no apparent stress. Having a lot of contractions. Lost 4 lbs.
December 17-
NST- perfect; looks great. Gained 2 lbs.Still having a lot of contractions and in a lot of pain.
December 21-
Everything is great...
December 24- Took 3 hours;; all in all everything was great;; Ameliah isnt even 6lbs yet!
December 28-
1cm & 25% effaced
January 4th- 2cm & 80% effaced! I hope it goes sooon! I lost 1 lb!
January 8th-Nothing...
January 11th- Amelia is here!!!!
I'm a VBAC Momma <3
I am VBAC hopful with this baby; I do not want another c-section ever again. Every mother deserves to bond with their child right away after birth.
Contests i've won