About Me
My name is Amber and I'm 25. I am expecting my first child in January. This is my 2nd pregnancy but i had an ectopic pregnancy in December of 08. I'm really nervous this time and really hoping everything goes well this time...good luck everyone!!
5/7/09
- took a test just because i thought i might be pregnant and it came back positive but very very very light.
5/9/09
- woke up at 2 in the morning feeling like i need to take another test. That one came back positive but very light also.
5/11/09
- couldn't stop thinking about it so i called my doctor and talked to the nurse and told her i thought i was pregnant and that i had an ectopic pregnancy before and wanted to get some labs done. I did labs that afternoon and didn't get any results that day. I then went home and took another home test and it was positive but still kinda light.
5/12/09
- as soon as i got to work i logged on the computer and looked up my labs and the lab work came back positive and my HCG level was
32.2
. I called my doctor and told her what was going on and they had not gotten my labs yet so I told her what it was and they said they wanted to see me on 5/19/09 for more labs and an ultrasound.
5/14/09
- couldn't take it anymore so i work for a doctor and i ordered my own labs. my HCG level came back
100.3
. I faxed them to my doctor and they called me back saying that they re-caculated everything and i wasn't as far as they thought so i didn't have to get an ultrasound on 5/19/09 just do the labs.
5/19/09
- today i went for my repeat labs. my HCG level is now
1153.0
which is very good! everything is looking up for me i think. I have a doctor's appointment on 5/29/09 @ 1:50 for my first visit..Very nervous but really excited...
5/29/09
- went for my first doctor's appointment and i saw my little bean!! doctor said everything looked fine but baby's heartbeat was only 113. i think that worried her a little so i have to go back on 6/8/09 for another ultrasound to make sute the baby's heartbeat is coming up. i was really excited to see my little bean!!
6/8/09
- 2nd u/s was really good...heartbeat was 154 this time!!!
6/18/09
- doctor's appt for a check up...couldn't hear the heartbeat because my little bean is too small =(
7/2/09
- doctor's appt for a chech up and still couldn't hear the heartbeat...
7/16/09
- doctor's appt again and finally heard the heartbeat, it was 156bpm!!!! the only thing now was that i was dehydrated because i can't keep anything down =(
7/18/09
- CHAD ASKED ME TO MARRY HIM!!!! =)
7/30/09
- dr. appt for check up...heartbeat 154!!!! gaining to much weight i think =(...we find out the sex on 8/27/09!!!:D
8/27/09
- went for an ultrasound and a check up....IT'S A BOY!!! his HB was 158 today...go back on sept 24 for another check up and u/s because there were things that she couldn't see today because he wouldn't keep still and he is head down and very low...
" />
Cute Mommy Graphics and Layouts
My mom my best friend....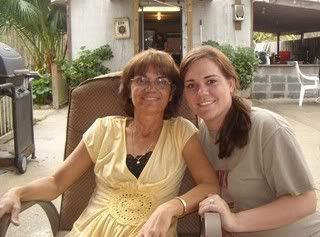 Wouldn't know what to do with them...My sister's!!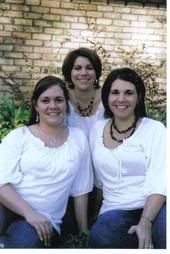 December 10

lol..yea i no its crazyy..it happend so fast lol..when are you going on leave?.. i went on like 2 months ago ..i almost went in labor at 23 weeks..weve been good so farjust waiting for her to drop lol..aww..well if the dr. think ac section is best..then atleast you get to see him sooner lol. so do you have everything set up already?..im still unpacking stuf from my shower..been so tired latley lol
December 9

heyy.. i havent spoke to you in a while just wanted to see hows eveything going " :-)
August 24

aww..thanks ive been going crazy latley thinking about losin my baby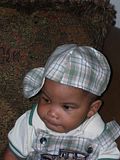 August 24

yes, im having a girl, good luck thursday! drink or eat something to make sure the baby is awake. It took forever for mine to uncross her legs lol
August 24

yea i tottally wish i did that lol.. to much worrying anfd anxiety..lol..i went for a sono today but babys likes were closed tight lol..im measureing a week behind also.so gotta go back in 2 weeks.. :-/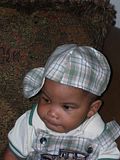 August 24

hi i just realized u asked me a ? im on the westbank of new orleans (marrero) Im getting use to the weather, i didnt thinik i was going to make it through the heat but its better now. How are u? are u still finding ot the gender in a few days?
August 16

yea me too.. some times i wake up and im like when did i fall asleep..ive been good tho.i gotta see a high risk doctor in 2 weeks because my downsyndrome test numbers came back a lil high..so im nervouse about that..but ive been ok my belly slowly growing.. and i think i feel some movement not sure tho.. how bout you?
August 16

Girl!! This thing can't stretch anymore!! It's gotten really big!!! I'm so veiny too!! Luckily ::crossing fingers:: Idont have any tummy stretch marks!! Hope to see ya'll on Tuesday!!
August 13

hey how are you feeling.where due around the same time..:-) how are you?
June 8

When do you actually plan on putting pictures up of that tadpole a*s!!! Bring those pics to work tomorrow and we will scan them so you can upload them!!
June 1

Good luck!!! I am also 25 and just found out I am expecting my 1st. I am so excited and so nervous. My 1st Appt isn't until the 29th of June, That is the soonest I could get in. I wonder if thats too far away. I've been cramping on and off since my expeted period and I sometimes wonder if it is an ectopic pregnancy.I home all goes well for you. I will keep you in my prayers.
tessafish
I have 20 kids and live in Lawton, Oklahoma
May 22

hey hun congrats your story sounds a lot like mine. I found out on the 5th of may, and it was EXTREMELY faint, so i took like 8 more in the next two days just too make sure. I went to doctor on the 7th and they did ultrasound and couldn't find anything so they were worried about ectopic, started taking my blood, and my levels were only going up 300 every four days so they were freaking out saying most likely ectopic, or early m/c. Well went back thursday for u/s and they found g-sac, yolk-sac, and fetal pole, so they said I might acctually have a normal pregnancy, Mines consider high risk because i have hypothyroidism, and have to have my levels checks all the time as well as ultrasounds every week to make sure the baby is doing okay.... Well hun congrats, and good luck :) tess