BABY CANNELLA
29 Posts | Joined BG: May 12, 2009
Last Visit: 3 years ago
Age

31



Gender

Female



Status

Married



Work

medical assistance



Location

Pierre Part, Louisiana



Interest

shopping, sleeping



My name is Amber and I'm 25. I am expecting my first child in January. This is my 2nd pregnancy but i had an ectopic pregnancy in December of 08. I'm really nervous this time and really hoping everything goes well this time...good luck everyone!!
5/7/09
- took a test just because i thought i might be pregnant and it came back positive but very very very light.
5/9/09
- woke up at 2 in the morning feeling like i need to take another test. That one came back positive but very light also.
5/11/09
- couldn't stop thinking about it so i called my doctor and talked to the nurse and told her i thought i was pregnant and that i had an ectopic pregnancy before and wanted to get some labs done. I did labs that afternoon and didn't get any results that day. I then went home and took another home test and it was positive but still kinda light.
5/12/09
- as soon as i got to work i logged on the computer and looked up my labs and the lab work came back positive and my HCG level was
32.2
. I called my doctor and told her what was going on and they had not gotten my labs yet so I told her what it was and they said they wanted to see me on 5/19/09 for more labs and an ultrasound.
5/14/09
- couldn't take it anymore so i work for a doctor and i ordered my own labs. my HCG level came back
100.3
. I faxed them to my doctor and they called me back saying that they re-caculated everything and i wasn't as far as they thought so i didn't have to get an ultrasound on 5/19/09 just do the labs.
5/19/09
- today i went for my repeat labs. my HCG level is now
1153.0
which is very good! everything is looking up for me i think. I have a doctor's appointment on 5/29/09 @ 1:50 for my first visit..Very nervous but really excited...
5/29/09
- went for my first doctor's appointment and i saw my little bean!! doctor said everything looked fine but baby's heartbeat was only 113. i think that worried her a little so i have to go back on 6/8/09 for another ultrasound to make sute the baby's heartbeat is coming up. i was really excited to see my little bean!!
6/8/09
- 2nd u/s was really good...heartbeat was 154 this time!!!
6/18/09
- doctor's appt for a check up...couldn't hear the heartbeat because my little bean is too small =(
7/2/09
- doctor's appt for a chech up and still couldn't hear the heartbeat...
7/16/09
- doctor's appt again and finally heard the heartbeat, it was 156bpm!!!! the only thing now was that i was dehydrated because i can't keep anything down =(
7/18/09
- CHAD ASKED ME TO MARRY HIM!!!! =)
7/30/09
- dr. appt for check up...heartbeat 154!!!! gaining to much weight i think =(...we find out the sex on 8/27/09!!!:D
8/27/09
- went for an ultrasound and a check up....IT'S A BOY!!! his HB was 158 today...go back on sept 24 for another check up and u/s because there were things that she couldn't see today because he wouldn't keep still and he is head down and very low...
" />
Cute Mommy Graphics and Layouts
My mom my best friend....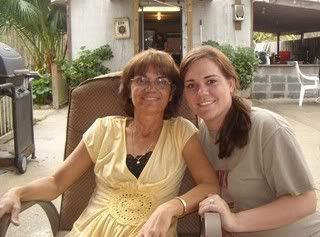 Wouldn't know what to do with them...My sister's!!