March 23

Aw your profile page is soooo cute!
January 24

Aw thank you. I was going to post the pic on FB but you can see my undies and I can just imagine my dad calling me tomorrow being like "Stephanie Paige! WTF?!"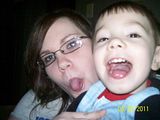 December 20

I love your Christmas profile!! Too cute! :D
December 18

Just wanted to say that I love your avi :] You have some cute kids
December 13

Just wanted to say hi! :D
December 5

Aww. Thank you for your comment on my picture. I was in the bathroom checking out my stretch marks (I got some in the last WEEK I was pregnant!) and I was like "hey, I don't look so bad, maybe I should take a picture" lol. At least you can't see my stretchies! How are you? I just told you on FB that I miss you. I need to text you more. How are Sam and Josh?
I'm glad we're friends. :D You really brightened my night. <3
Maybe I'll set up the video camera to record and he won't notice? This is an elaborate plan for something months from now. Haha. remind me in March!
I am totally going to write it on myself with marker and tell him I got a tattoo! LOL. He's so conservative. I should put it somewhere kind of n*****y too. Haha.
I should tell Kevin I want a tattoo that reads that! He'd die.
Haha. I just thought of another, if I want to include Kevin, I can love Cak. haha.
I was thinking about how your thingy is I ♥ Jam for Josh and Sam and I was thinking I could be I ♥ Caa. Haha.