About Me
My name is Andrea Rose Salter.
I had my babygirl on May 8th, 2010.
Her name is Kali Grace Amiyah Salter MacDougall.
She was 7 lbs 10 oz when she was born.
She's is such a little princess, she's my whole world.
<3
looking at my little girl kali when she was born. <3
kali's first halloween.
summertime 2011, in the pool.
fresh out the bathtub with mommy.
BABIES!
she LOVES to stick stickers on her nose & face.
big smiles before bedtime!
stylin girl.
mommy's princess
.
my beautiful daughter.
i never pulled the car over just to stare at and animal,
i was never willing to give someone else my last bite,
i never planned on handling someone elses boogers,
i never watched a show 50 times in a row,
i never found crayons in the washer,
i never had the power to heal a wound with a kiss..
until you came along. <3
I am now twenty.
I am expecting a baby boy, due August 25th, 2012, with my wonderful boyfriend Andrew.
I took the test on December 18th & another one on the 20th.
I couldn't be happier, and my LO is two now.
:D
My Stick Family from WiddlyTinks.com
November 10

AWWWWWWWW I want to see them.. and you!!! Co will be FOUR on the 23rd.. holy hell... Baby making goes so so.. In our 5th month now :( Isn't it ironic.. got pregnant while on BC yet when we are trying this is what happens? I was pregnant, but lost the baby early. I was only like 5 weeks. Still hard :( We were so excited. Hopefulllyyyy this will be our month. Hate this waiting game.
November 8

I love you!! <3
March 28

Awww! What a chubbers. I will inbox you my # and email.
March 28

Hey! How are you and the kiddos?
August 11

We're great, keeping busy! I'm still adjusting to her going away with her Daddy :( it's slowly getting easier!
August 6

Hi baby! I miss you. if you want a few newborn pics done of the bebe holla atcha' girllll<3 I wanna come see youuuu and your belllyyyy... and your daughter. SO LET'S MAKE IT HAPPEN..
August 4

3 weeks to go!! Holy wow... your pregnancy flew by! How are you and Kali?
July 11

thanks for being my date tonight ♥ I miss our date nights to yuk yuks and such!!
June 22

ummmm, can i get a picture of this belllllllyyyy ♥ k thankkkkks :)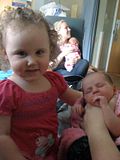 Team PINK
I have 2 kids and live in Nova Scotia
May 23

YESSS :)))) <3
May 11

happy belated birthday kali! sorry we couldnt make it to your party :( it was a longggg bus ride with stroller hating little boy :P we promise to visit soon! miss you both<3
May 10

hi i love/miss you, k bye