Kc =]
11 Posts | Joined BG: Jul 16, 2009
Last Visit: 2 years ago
Age

24



Gender

Female



Status

Married



Location

New Orleans, Louisiana



My name is Kasey,

After months of trying,the time we gave up on trying...it happened! We found out April Fool's day; I was about 7 wks at the time and we couldn't believe it lol.I had no idea.
I'm so excited an anxious to meet my lil munchkin!!
Kimi Alani was born at 2:00 am August 25th,2010 making her 3 months premature since she wasn't due until November 20th.I'm not sure the reason she wanted out so early but even as unexpected as her sudden arrival was she is doing wonderful.I can't wait till I can hold her an play with her cute little fingers an toes!
I survived natural child birth!!! no epidural an no pain meds cause I didn't know the pressure I was feeling was indeed contractions,by the time I got to the hospital I was already 5cm an even with their attempts to slow it down so she could have more time I jumped to 9 1/2 cms within 2 hrs.When I had figured I was gonna be awhile an did ask if I could get the epidural I was fully dialated,her head was comin down an my water bag was buldging from my cervix so it was straight to the operation room to break my water an start pushing for me!
According to my husband an doctor it was a quick delivery,4 pushes an she was out.How ever for me it felt like an eternity of pain or like it was all in slow motion an I don't think I've ever screamed bloody murder for so long in my life,but in the end it was all worth it!...For the next baby some time down the line though,I think I'd like the epidural so I can actually enjoy the birth an the moment rather then be so caught up in the pain.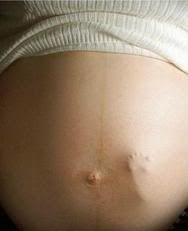 KIMI ALANI ROACH