Joey'sWife
591 Posts | Joined BG: Jul 18, 2009
Last Visit: 4 years ago
Age

28



Gender

Female



Status

Married



Work

ibo



Location

Flatwoods, Kentucky



Interest

I am a shopoholic, love working on cars,hanging out with friends and my husband,!!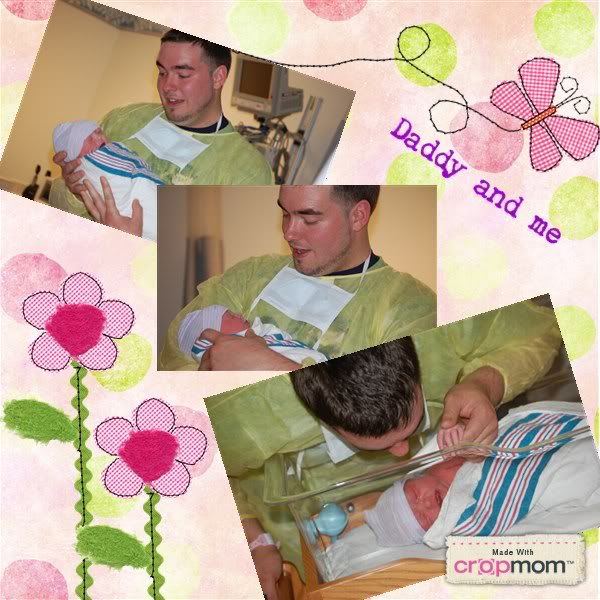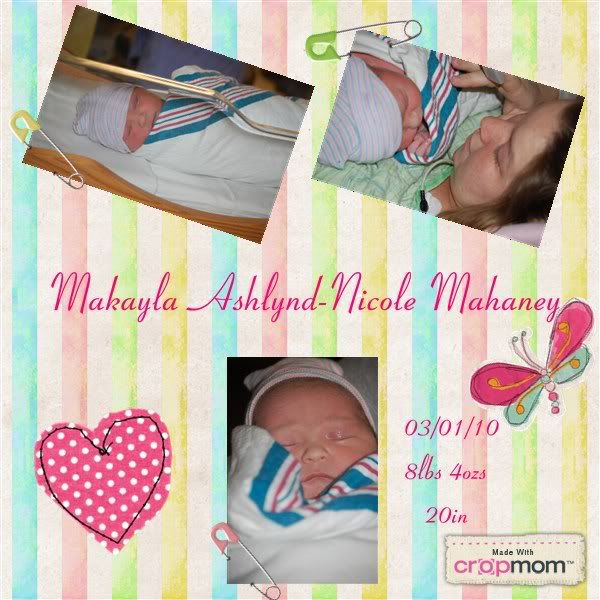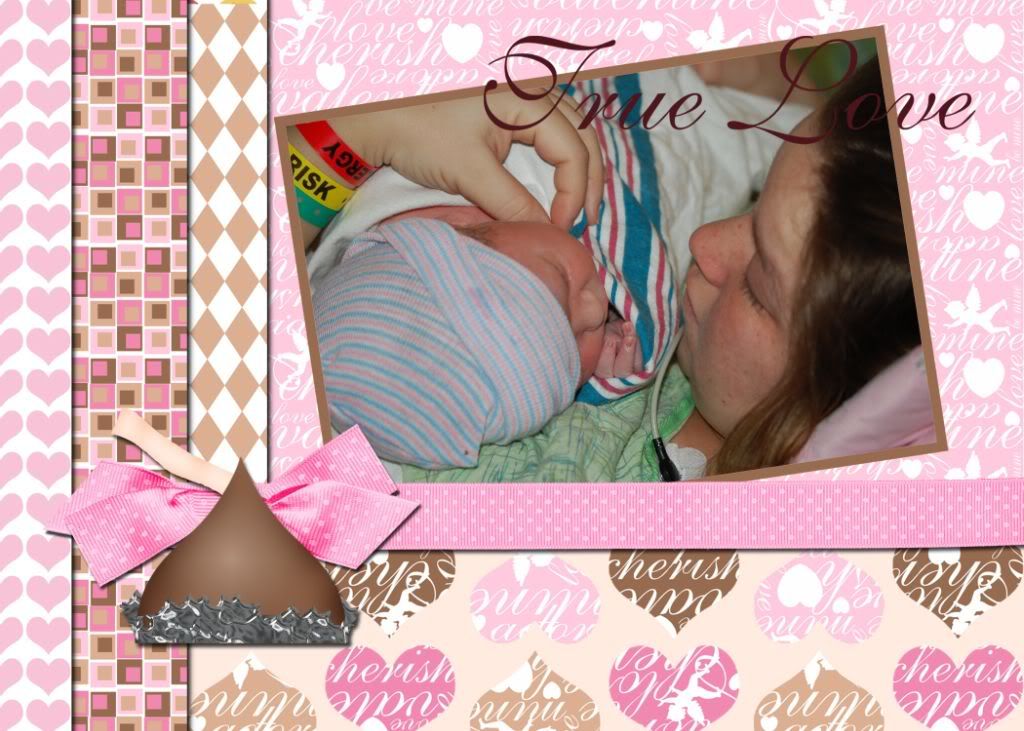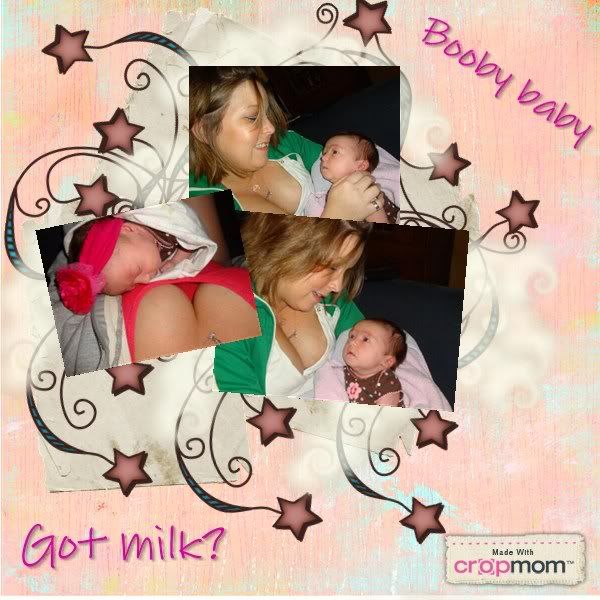 My name is Sonja. I am 22 years old and was born in Spain. Now living in Florida. Happily married to Joey, we have a beautiful baby girl named Makayla Ashlynd Nicole. I am a stay at home mom and wife.
ABOUT THE MOTHER:
Name: Sonja
Age: 22
Height:5'1
Is this the first child: YES!
ABOUT THE FATHER:
Name: Joey
Age: 22
Height: 6' 4
Is this the first child: YES!
Are you all still together: Yes married :)
FINDING OUT:
When did you find out you were pregnant: Jun 28th
How did you feel when you found out: Shocked & HAPPY
Who was with you: Ashley
How did the daddy react: he was super happy but he wasn't to surprised he had been telling me i was pregnant for weeks but i didn't believe him .
TELLING THE GRANDPARENTS:
How did your parents react: very excited and shocked
How did his parents react: super excited
How often do they call to check on you: Pretty much every day
ABOUT THE PREGNANCY:
When is your due date: March 1 2010
When was ur first appointment:
Have you had an ultra sound: YES
Have you heard the heartbeat: Yep at my ultrasound
What was the heartbeat: 157 bpm
How far along are you: shes here :)
Pre-pregnancy weight: 125
Last weight while pregnant : 190
Post pregnancy weight : 3 weeks after im 150
SEX OF THE BABY:
What do you want: Healthy baby :)
What does the daddy want: Same
What do u think you are having; a boy
Do you know what you are having: GIRL !!
Are you happy with what you are having: i will be happy as long as its healthy
ABOUT THE BIRTH:
Who is going to be with you: Just my husband
Do u know what you are taking with u: Its all over and done with :)
Natural or medicated: Spinal Block
Do you think you will have a c-section: Already did
Do you think you will cry when you first hold your baby: I already did
Do you know what you will say to the baby when you first hold it:I was pretty speachless...Mommy loves you!
Are you scared about the labor: YES I was
NAMES:
Do you have a name picked out : uh huh
Girl : Makayla Ashlynd Nicole
Boy :
Is your baby going to be named after anyone: Yes me <3
Did the daddy help pick the name: Yes we both picked it out ..... its from transformers !! lol
OTHER RANDOM QUESTIONS !!
Where was your baby conceived: Cesarean
Have you felt the baby move: Yes but not any more
What race will your baby have: Philipino,Hawaiian,Portuguese,Native American,Irish
Do you have stretch marks:Some but a lot has dissipated
What was your first symptom: Weird cravings.
What music or interests do you want the baby to know: Whatever she likes
will your baby have godparents: Yes
Who will the god mommy be: My best friend Bridget
Who will the god daddy be: Hubby's Best friend Danny
What is the baby's room theme: Its Pink& Brown & Polka Dots
What was the first thing u bought for the baby: 3 pack of unisex onsies
Are u ready to be a mommy: defiantly
Mommy Graphics
Mommy Graphics
Mommy Graphics
Mommy Graphics


My Labor Story........

We went in on March 1st 2010 for my scheduled c-section. My husbands Dad and brother had came down too super exciting. My husband, Mom,Father in Law and Brother in law,my bffl Bridget were all there with me waiting as we prepped for the arrival of our baby girl. As time went by I got more and more nervous almost causing myself to have a heart attach. So I tried my best to calm myself down with the help of others. Finally with plenty of rechecks on my blood pressure extra blood drawings we got my blood pressure and heart rate down. As my mom and Bridget cried with me :) Time was ticking and getting closer...... I was so excited but at the same time so scared. I never had to go through any kind of surgery not even stitches no broken bones nothing so all of this was totally new and of course totally new since shes our first baby too. Finally the time came for me to go back and get ready to have our baby girl. They wheeled me back and it about felt like I entered like a twilight zone ....very weird feeling. I had to get a spinal block which means the hubby couldnt be in the room for a lil bit. My anesthesiologist and the nurses that were in the room were amazing. They comforted me and the anesthesiologist made sure he let me know what he was doing and when I was going to maybe feel any pain. Which I never felt any pain at all which was a huge relief. So he numbed the area and thats all I felt. Then came the numbing sensation... I know it might sound a little weird but it was an amazing feeling. Crazy tingly feeling from my neck down.......so I felt the urge to reach down and touch my legs ...haha so crazy they felt like rubber wow. Then my hubby came in and I waited to hear my baby girls voice. You talk about an amazing feeling. It was so overwhelming. I have never saw or heard anything so beautiful in my whole life. Finally my Makayla is here !!!!! I got to see you and kiss you for a second and they took her and daddy to go get her cleaned up weighed and all that good stuff. Mean while mom was feeling great at this point so relieved !! It was finally all over with. Unfortunately dad didnt get to cut the umbilical cord because I was losing to much blood ugh. So they got done stapling and stitching me up...and on to the recovery room I went. Then we went to post pardom and everyone was able to come see her. We had tons of visitors !! The first night with her was really ruff...since she was a c-section baby they tend to get amniotic fluid in their tummy so it causes them to gag which freaked me out. Plus I couldnt get her to nurse due to her gagging. It was really scary but gradually got better. There is no better feeling like being a mommy !! Were so blessed to have such a beautiful baby girl to start our family with .

Contest We have Won :)
Our first win :)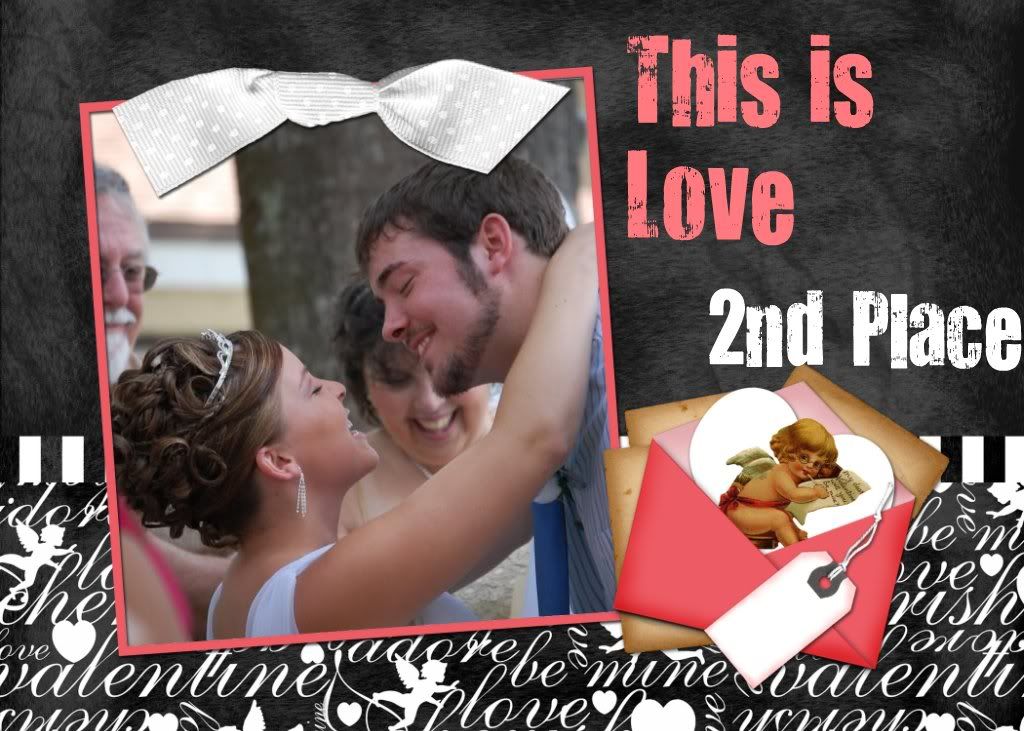 2nd