Justina*ES*
1049 Posts | Joined BG: Aug 08, 2009
Last Visit: 6 years ago
Age

25



Gender

Female



Status

Married



Work

Full time student/ and full time at McDs



Location

Northern Cambria, Pennsylvania



Interest

Desperate housewives, Greys anatomy, reading, croctheing , and spending time with my hubby as well as Facebook and POGO games




Kids

32



TTC Since

Oct 19, 2008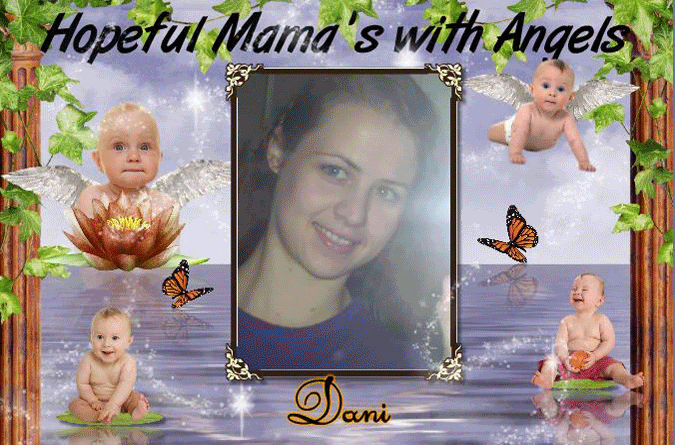 I am 19 years young and I blow the candles out on the 15th day of March. I was pregnant the first time when I was 17 and I feel that God was telling me it wasn't my time for a baby. I was involved in a relationship with my ex girlfriend we were both preg and we both lost the baby it was obviously not time. I HAVE over come some hard times and I am going to overcome some more. I am married to the most wonderful Man in my life and his name is Dennis and he is 25 years young and he will blow out the candles on the 14th day of February *yes that means he is a valentines day baby* We have been Married since the 11th day of July.
My story-
I was born to Constance Brown and to Terry Mell at 1 O'clock pm on March 15th 1990 weighing 9 lbs and 19 and 1/2 inches long. I was Sexually abused by my Mothers best friend as well as my sisters were. I was given up for adoption when I was 2 years old I was sent from home to home I was finally sent to a home that liked me and I liked them as well My adoptive father decided to adopt me as Christmas present for my adoptive mother needles to say it went over well. In February of 1997 Only 2 months after being adopted My adoptive mother died of a heart attack in her home. I was only in 1st grade. Life was hard from there on after but I am proud to have my adoptive dad as my dad he raised me as best as he could. When I was 15 I started to get depressed and remember the terrible things that happened to me. I started cutting and was sent into therapy before i was allowed to return to school. when i was 16 my adoptive brother started abusing me
and no one believed me. I stayed away from home for a couple days when i found out i was preg. the guy I was with his parents called the cops I didn't want to get sent home where I know my adoptive brother was trying to send me to a psych ward. I got sent to a detention shelter facility was there for two months then sent to a group home where I stayed till i graduated from high school
My Miscarriage-
I Lost my baby when i was about 7 weeks because while in the detention shelter facility I had to participate in gym I never thought anything bad would happen but a mentally challenged kid got made because someone was making fun of him. He hit a volleyball really hard and it hit against the back of the basketball board and it came flying down and Hit me in the stomach. I had an instant m/c it was the most devastating day of my life.
Our TTC Story.
October 2008- Af showed and started TTC around when we thought I was fertile
November 2008- af shows up again
December 2008- Af is late possible pg, told doc at yearly did blood and urine test both BFN Af showed her face a couple days later
January 2009- AF again shows her ugly face
Febuary 2009- AF shows up again
March 2009- AF shows up again
April 2009- AF is late, HPT is a BFN af was a week late
May 2009- af shows up right on time
June 14th 2009- AF shows up
July 11th 2009- Day we got married No AF
Aug 2009- Still No AF since June some cramping thought nothing of it.
Sept 2009- Still No Af went to hospital for severe abdomin pain blood and urine test BFN turns out have a cyst rupture on right ovary. Af finally shows up after cyst ruptured
Oct 2009- Had another cyst on right ovary. Af shows up after going to the doctor
Nov 9th 2009- AF shows up
Nov 30th 2009- exploritory laproscopi surgery, Found out i have endometriosis. Going to see Dr. Mall (my new ob and fertility doc) in 2 weeks
Dec 2nd 2009- Af shows up (periods may be back to regular)
Dec 6th 2009- Af ends now it's time to baby dance and get that BFP for christmas
Dec 27th 2009- AF is due She never shows her face. Stressed out may be cause of not getting AF
Dec 28th 2009- Rex my husbands puppy/Christmas present died
Jan 4th 2010- AF showed her ugly Face
Jan 5th 2010- Heavy bleeding going through super tampon in 2 hours bright red color.
Jan 6th 2010-AF is almost completely gone only spotting not even going through a pantie liner all day. Called Dr.mall to see if it is normal or not
Jan 7th 2010- Dr.Mall's office calls back said not to worry and just keep follow up Appt. on the 14th
Jan 11th 2010- Went to emergency room with bad pain in lower left abdomen. Severe UTI and possible ovarian cyst on left side.
Jan 13th 2010- Ultrasound done to see if it is a cyst or what is going on.
Jan 14th 2010- Follow up Appt. with Dr.Mall Confirms the severe UTI thought the pain was from me ovulating but I would have only been CD 7 so that is to early he said since i normally O around CD 19-CD 20 So unknown cause of pain told to take 3-4 Ibuprofen 3-4 times a day when I have the pain , he also started me on Folic acid, and wants hubby to get sperm count and to check my progesterone levels. Follow up with family Doc to make sure UTI is going away he also agrees with Dr.Mall SEVERE UTI. I didn't even feel any pain.
Jan 22nd 2010- temp not suggesting O
Jan 23rd 2010- Should have O'd already but temp is not suggesting that I did
Jan 27th 2010- Expected AF IF I O'D on CD 7 Like Dr.Mall said but temps are not suggesting that I did.
Jan 31st 2010- Blood draw to check my progesterone.
Feb 1st 2010- Having extreme pain again but since not knowing when I O'd or if I could be prego can't/ won't take anything.
Feb 2nd 2010- Fertility Friend suggests I O'd due to temp rises
Feb 7th 2010- AF is due If I did Ovulate on time
Feb 8th 2010- Calling Dr.Mall about Progesterone levels Called levels are all good now is just to wait and see.
Feb 11th 2010- CD 39 DPO 9 TEST- BFN
Feb 12th 2010- CD 40 DPO 10 had some spotting possibly implantation also had some cramping... Could this be could it really be my month. Temps are still up so that is a good sign.
Feb 13th 2010- CD 41 DPO 11 No spotting since yesterday morning. If it was implantation still to early to tell with HPT Tested anyway still a BFN... Temp dropped today but is still up. Could be implantation dip. NO sign of AF coming early. Crossing my fingers and toes that she stay's away.
Feb 14th 2010- Hubby's 26th Birthday Hoping to give him a great birthday/valentines day present started spotting after vist to er
Feb 17th 2010- No bleeding spotting stopped
Feb 18th 2010- Follow up appt with dr mall started me on two new meds one to know when i O and the other a pain pill. After appt passed what I thought was a blood clot turned out that I was pg and miscarried only between 3and 4 weeks my doc thinks. Also got the A-okay to TTC again
Feb 19th 2010-almost all bleeding is gone now just waiting to try again...
Feb 27th 2010- Should O because of the pills I am on
Like I said I went through some rough times in my life and I am prepared to deal with more.
I Strive for the rough times. I Strive for the hard times in life. You may think that I am to young and That my life situation isn't the right one to bring a baby in finacially but you don't realize how I strive off the stuff that stresses everyone else out day to day. The normal stuff stresses me out.
Don't Judge me because chances are you don't really know what is going on once you walk a day in my shoes and see the past that I had and lived the past that I had then you can tell me what to do but until then don't tell me that I am wrong for something that i have done or that i am doing. Because you truly don't know.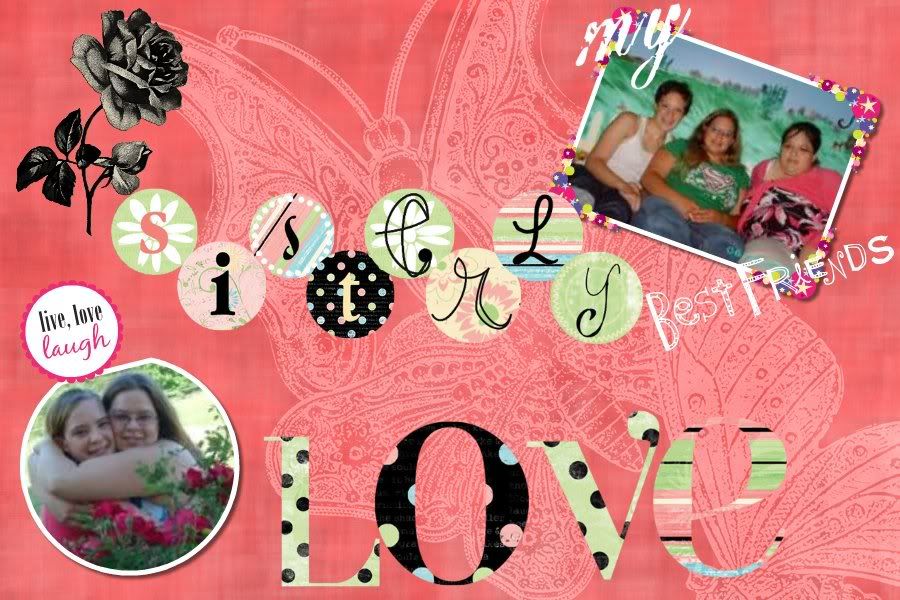 " />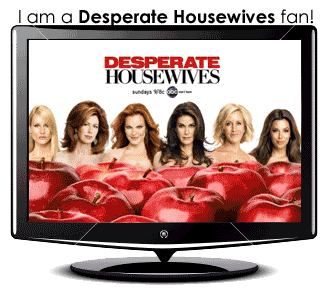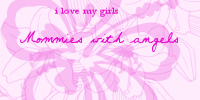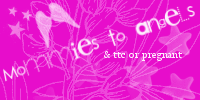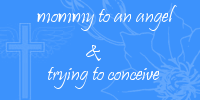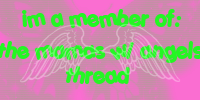 My MIL has both of the above
My best friend has/had