Haylee'sMommy! [:
4216 Posts | Joined BG: Sep 01, 2009
Last Visit: 2 years ago
Gender

Female



Status

Engaged



Work

WAHM



Location

Kentucky



I'm Laura. I'm young, but my head is on straight. I have some amazing friends, and some not so amazing friends. I love piercings and tattoos. I don't have any tattoos yet, but I have 3 piercings. I love music. I love pop/rock/rap. I'm a Twilight lover. I have BPD, if you have any questions about it, feel free to ask. I also have severe PPD but I'm surviving, it's hard - but I do what I got to do for my baby. Ummmmm... Idk really what to put here so I'm gonna go ahead and talk about some other important people!
I'm a-
*Co-sleeping
*Formula feeding
*Baby wearing
*Disposable diaper using
*Co-bathing
*Non-cio
*Attachment parenting
*Paci-giving
*Cuddling
*Pierced
*BG addicted
*Haylee loving
-Kind of Mom :D
I have one daughter, her name is Haylee Alexis. She was born on April 29th, 2010 at 8:58pm. She weighed 5lbs, 12oz and was 20in. long. She is my whole world. I love her more than anything on this Earth. She is so beautiful. She makes me happy when everything sucks. I could sit and stare at her all day and not get bored. I love to cuddle her, it's my favorite thing to do. I hate being without her. She's picked up everytime she makes a noise or a sad face. She won't lay down peacefully unless she's all the way asleep because she's used to being held. I breastfed, then mix-fed, and now formula feed. Her daddy is not in the picture, ya know how that goes - here today, gone tomorrow, but I know were better off without him.
<3
I'm a firm believer in the quote "everything happens for a reason". I try to be optimistic at all times. I try to be happy all the time. But I'm only human, I have my bad days where all I want to do is sleep. I don't believe in being pessimistic though. Life happens the way it's supposed to or else it wouldn't go on. You just have to be able to realize that if you want something to happen differently, you have to be the one to change. Only you can control your life, your future, and your destiny. (Yes, you may quote me on that lol.)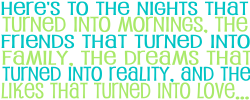 A few of my favorite things!
Haylee of course! <3 (see pic above!)
BABY GAGA! Obviously!
LADY GAGA!
I could listen to Lady Gaga allllll day. I love her music, her voice, her style, and her attitude!
MONSTER!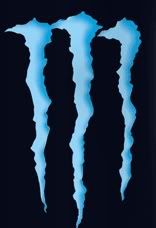 Blue only, please! 20 calories? Amazing!
AMERICA'S GOT TALENT!
SECRET LIFE! I'm a Ramy fan. Ben gtfo!
DANCE YOUR ASS OFF!
QUOTE ICONS! Can't ya tell? Hehe
I love talking to other moms and moms to be so feel free to pm or comment.
Also, random PT's are fine with me - so feel free to add!
On GSL Volume 2, page 42, 61(twice), and 63.
And in the great words of Slater....