Kai/Ameliya mom
267 Posts | Joined BG: Sep 01, 2009
Last Visit: 3 years ago
Age

28



Gender

Female



Status

Married



Work

Student at Portland State University



Location

Hillsboro, Oregon



Interest

baby makin', shopping, Kaidan, friends, taking baths the list goes on!!



I have an amazing 3 year old son who is a mommys boy to the fullest!! His name is Kaidan James and he is amazing! My husband and I have been together off and on since Junior year of highschool. About 9 years. We had a lot of ups and a lot of downs as to be expected when starting to love someone at that age but we are so strong and have been married almost two years now! I was diagnosed with PolyCystic Ovarian Disease about a year ago and struggled to concieve while gaining multiple pounds ((Im bigger then I have ever been)) and gaining a full face of acne. The side effects of PCOD has been awful and embaressing but so worth it in the end to get my new baby who is growing in my belly as we speak! We wanted and got a baby girl!!! This is our last baby as it is too hard to get pregnant and I need my body to be in shape for my career. I have an associates degree in Criminal Justice and am in the process of presuing my Bachelors in Criminology and Criminal Justice in hopes to be Probation Officer for Juveniles someday. My life is a dream and I can't wait to meet our little girl Ameliya LeeAnn
SHE ARRIVED JUNE 9th 2012--9LBS! 21inches
us in highschool lol (=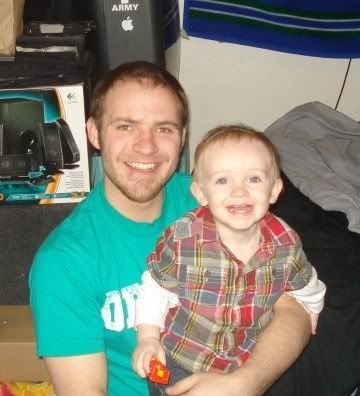 my son and husband!! This was when he was one!!
My son and I (=
Us promising forever (=
we love camping!!
04/20/2011- Started Metfomin for three months no changes
07/20/2011- DR. Preferred me to my OBGYN to seek fertility help
07/27/2011- DR started me on 50mg of Clomid
08/22/2011- Didn't ovulate starting round 2 of clomid at 100mg
08/24/2011- Started pills on day 3 of period going until day 7
09/13/2011- POSITIVE OVULATION TEST!!
09/21/2011- Dr saw 3 follicles one measure 30mm feels good that I could have got pregnant this round!!
09/23/2011- 10 Days past ovulation POSITIVE PREGNANCY TEST!!!
DUE MAY 31st based on Last period.. DUE JUNE 5th based on Ovulation!
BABY V Number 2 is Cooking!!
09/23/2011- POSITIVE PREGNANCY TEST
10/17/2011- First Appointment at 10AM saw the heartbeat and saw our little baby!!
11/14/2011- Second appointment at 11AM heard the heartbeat and the heartbeat was 171 beats per minute!
12/12/2011- Third appointment at 11AM!!
12/26/2011- Gender Determination Scan at 2PM!! --ITS A GIRL!!!!
12/28/2011- Free 3D Ultrasound!! At 11AM -- Still a girl!!
01/09/2012- Fourth Appointment at 11AM
01/13/2012- 20 week Ultrasound at 11AM -- Looks good and still a girl!!
02/06/2012- Fifth Appointment at 11AM
03/05/2012- Sixth Appointment at 11AM--Glucose Test
03/26/2012- Seventh Appointment at 1030AM--30 week appointment officially going every two weeks!!
04/13/2012- BABY SHOWER!!!
04/14/2012- 10:30AM Hospital Tour
04/16/2012- Eighth Appointment at 11AM Getting to the end of this pregnancy!!
04/30/2012-Ninth Appointment at 3:30PM 35 week appointment Group B Strep had to cancel due to scheduling conflict.. dr isn't in for rest of week so scheduling it for next week.
05/07/2012- Ninth Appointment REDO 10:15 Group B Strep test and checking for dilation.. Getting really nervous for D DAY..
05/14/2012-Tenth Appointment 10:45 routine check.. didn't check for dilation or anything.
05/25/2012- Moving!
05/31/2012- Eleventh and hopefully last appointment at 10:45 will be checking for dilation as I will be 39 weeks and 2 days. Hopefully Ameliya will not be long after that!!DR. felt and said she felt like she was pretty comfy in there and didn't think she would come anytime soon! lol so we set an induce date!
06/07/2012- 12th appointment and this WILL be the last if she doesn't come before. She will be two days late and he will check me again.
06/10/2012- INDUCE DATE!! Inducing in the evening so should have her by the 11th at the latest!!
06/09/2012-- SHE ARRIVED 2:12AM 9LBS 21 inches long!!
♥ F I R S T