&hears Meha's Mommy
538 Posts | Joined BG: Sep 13, 2009
Last Visit: 5 years ago
Age

27



Gender

Female



Status

In a Relationship



Work

Allegiant Airline Customer Service Rep.



Location

Nevada



Interest

sleep, sleep and more sleep! I don't get to sleep much due to my 60 hour work week..




Kids

16



Due

May 15, 2010 (girl)



I am pregnant with a baby girl who's name is going to be Miss. Nazaree Nayeli. I did IUI on 08.26.2009 and got a BFP on 09.09.2009 and due May 16,2010! On here looking for someone who is due around the same time I am so we can exchange stories and be a support system for each other. I have alot of worries that accompany this pregnancy, but know through the grace of God it will all be Okay.... somehow.
About the mommy!
Name:
Debbie
Age:
21
First child?:
yes
About the daddy!
Name:Angel
Age:
24
First child?:
Yes
Finding out!!
What day did you find out?:
09.09.09
How did you feel when you found out?:
Excited. Blessed
Who was with you? SO
Who was the first person you told?My SO
How did they react?: shcoked
How did the daddy react?:
shocked
About the pregnancy!
When is ur due date?:
May 16th, 2010
How far along are you?:
24w 1d.
Pre-pregnancy weight?: 200
Weight now?:
232
Are you showing yet?:
yes sir
Have you heard the heartbeat?:
yes.
What was the heartbeat?:
It varies everytime I go.
Sex of the baby!
What did you want?A girl
What did the daddy want?A boy
What do you think you are having?We know its a girl .
Have you had your big ultrasound yet?:
Yes
If so, what are you having?
A girl .
Are you happy with what you are having?:
Yes, as long as she is healthy I could have been having an elephant and wouldnt have cared.
About the birth!
Do you know what you are taking with you?:
clothes, music... my pillow.
Who is going to be with you? BD
Are you going to videotape it?We might.
Natural or medicated?:
im hoping natural, but knowing me I will medicated up the arse.
Do you think you will need a c-section?: I hope not.
Will you cry with you hold your baby for the first time?:
Im sure.
Do you know what you will say to the baby when you first holdher? I dont know .
Are you scared about the labor?: It hasnt hit me yet.
Names!!
Do you have a name picked out?:
Yes.
Girl names ; Her name is Nazaree Nayeli
Boy names ; His name was going to be Quincy Amari
Is your baby going to be named after someone?
No. She is going to be one in a million.
Other random questions!!
Where was your baby conceived?
In Dr Littmans office. lmao.
Have you felt the baby move?:
Yes. Shes a lazy girl though.
What race will your baby have?:
Puertorican/Black
Do you have stretch marks?:
I only have 1 new one!
What was your first symptom?I threw up eating an orange, but other then that Ihave been pretty symptom free.
What religion will the baby know?Whatever her heart desires.
What music or interests do you want the baby to know? Whatever she likes.
Will your baby have godparents?
Yes.
Who will the god mommy be?
My SO, just in case something happens to me she will have full custody of the baby.
Who will the god daddy be?I am not sure yet.
What is the baby's room theme?Not sure...
What was the first thing you bought for the baby? a baby book, and a few outfits... bottle liners.
Are you ready to be a mommy?
Yep
Being pregnant can be one of the most wondrous and magical adventure that you can ever experience. You will most likely feel love, patience and other emotions that bubble up within you.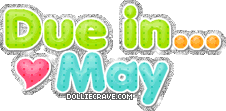 Think of stretch marks as pregnancy service stripes. ~Joyce Armor
1st Trimester
1-4 weeks = 1 month - DONE;Found outI was pregnant on 09.09.09. Doctors pregnancy test to confirm.
5-8 weeks = 2 months - DONE; Sonogram every 2 weeks with fertility clinic.
9-13 weeks = 3 months - DONE;


2nd Trimester

14-17 weeks = 4 months - DONE
18-21 weeks = 5 months -
its a GIRL!!!
22-26 weeks = 6 months - Nazaree is a lazy baby, she moves only when she feel like it... she doesent care if I eat something sweet, lay down, or sit up.. all she worries about is her nap time.
3rd Trimester
27-30 weeks = 7 months - NOT YET
31-35 weeks = 8 months -NOT YET
36-40 weeks
=
9 months - NOT YET

A baby is something you carry inside you for nine months, in your arms for three years and in your heart till the day you die.
-- Mary Mason