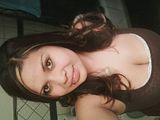 Lovely Mommy.
I have 17 kids and live in Moreno Valley, California
July 11

Congrats Mama Ur Baby Is SUPER Adorable<33 Seems Like Everyone's HAving there baby already i feel like ima be preggo forever lol
June 7

i love bein a mommy and thank you girl im sure you lo will be just as cute and yea i threw up every time i contrcated
June 7

aww girl i miss my belly so much and you look so pretty pregp! and yea girl i gave borth almost 3 weeks ago lol labor was okay alotmof pain and throwin up lol but i managed to get through it i was only in labor for 10hrs which isnt tht bad
June 6

omg mama! how you doin love? hows the belly? you look so nicee your almost due!!!
June 5

<a href="http://forum.baby-gaga.com/about1119741.html">http://forum.baby-gaga.com/about1119741.html</a> come join us:)
June 5

aw your belly is too cute! did you come into our chat thread yet?
May 12

Im the exact oppisite of that, i cant eat big meals. But i eat every hour, only really small meals.... Ill feel like im starving to death, then eat like three bites, and be full, then hungry again and hr later, haha.
May 10

Im doing great too. Eating 24/7 lol. Do you do that?
May 7

Thanks for the pt. How are you?
April 27

She was talking about my SO's grandma saying that my pictures of me in my bikini are inappropriate, which is obviously complete bullshit... she doesn't think it is. LOL. Thanks for the comment though :)
April 23

I used to live in waipahu a loong time ago. Yeah i've met alot of my really good friends on here. All my old friends didnt really care after I got pregnant so this helped alot. lol. THanks:) You are due soon are you excited?
April 23

Hey I just figured since I PT'ed you i'd introduce myself. My name is raelynn and I live in ewa beach too. I'm 17 and I have a 16 month old son. Anywho. Just thought i'd say hey:)