About Me
I'm always changing it seems like. At the moment I have teh black hair. I have 23 piercings and 4 tattoos. I'm a little bit on the heavy side but I wouldn't have it any other way. I'm 5'6" with fair skin and shoulder length hair. I'm married to my high school sweetheart. I'm expecting my first baby boy around July.

I'm different and unique. I don't care what other people think about me. I will stand up for my opinions. What's the use of having them if you don't stand up for them. If you don't like it, there's a little thing called a back button. Click it.





1st Trimester ♥
1-4 Weeks [1 Month]Complete!♥
5-8 Weeks [2 Months]In Progress**♥
9-13 Weeks [3 Months]Incomplete
2nd Trimester♥
14-17 Weeks [4 Months]Incomplete
18-21 Weeks [5 Months]Incomplete
22-26 Weeks [6 Months]Incomplete
3rd Trimester♥
27-30 Weeks [7 Months]Incomplete
31-35 Weeks [8 Months]Incomplete
36-40 Weeks [9 Months]Incomplete
May 29

Thanks momma :) You're having a boy, yay. Are you stoked?
April 27

Yeah I know what you mean about the pre mommy jitters. I am really excited, but then I will have a moment where I will realize I only have 9 weeks left and I will start to get anxious and worry. Everything has been going good for me, except for some really bad back and hip pain. And I don't get any sleep at night because Aiden moves around so much. I can't believe someone so small and kick and push so hard sometimes! My mom is coming down next week to help me paint the nursery and get stuff set up, so I am excited about that. I am anxious to get everything set up and I have been cleaning like crazy and making my husband rearrange all the furniture all over the house. I think he is ready for Aiden to be here so I will stop going crazy as he puts it.
April 15

Hey, I'm doing great. I can't believe I only have 74 days left! It seems like just yesterday I found out, and then I look at the calendar and there's hardly any time left at all. How have you been?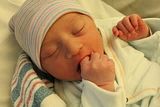 April 3

are u having a boy too?
March 11

A BOY! ALRIGHT! CONGRATS!
March 5

I'm having a boy!!
February 25

awww thank you
February 23

that's fine. i only hate people parentanking me for no reason whatsoever. like i'll get on here and have 4 new pt's from people who i've NEVER seen before. just makes me feel stalked when people don't at least say hi before pting me. lol
February 15

If it's a boy we have decided on the name Aiden Richard. If it's a girl we like Morey Avalynn, Morey Annaliese, and Morey Emmaline. I also like Liberty Faith, but my husband's not sure about it. Have you chosen names yet?
February 12

I really don't care just as long as he/she is healthy. The first time I was pregnant I wanted a girl, because my family is full of boys, but ever since the miscarriage, I don't care if it's a boy or a girl. What are you hoping for?
February 11

Thanks! :) Your lucky to have it spelled with an h, everyone misspells my name, cause they add an h. I don't know what I'm having yet, but I hope to find out soon. It's been driving me insane not knowing, I'm getting tired of saying him/her.
February 9

No, I don't know yet. I should find out March 3. That's my sono and as long as he or she cooperates, then I'll know then! Only 3 weeks and 1 day. I think it'll go by fast. It's been flying by thus far.